Hello everyone, today I have a very interesting video for you that will talk all about Diwali decoration ideas – right from the puja area to the corners of your house.
Diwali, the most popular festival of India, is also known as the festival of lights. People like to decorate their house with oil diyas, candles and lamps. So
I decided to keep my easy décor ideas centered around oil diyas, candles, lamps and of course flowers, because no auspicious occasion is complete without them.
VIDEO – Diwali Decoration Ideas for Home
Diwali Puja Area Setup Décor Idea
The puja area is the first and main area from where I will show you how to do the decoration.
Start by covering the puja table with a white cloth and then put a red fabric around the table by placing two brass lamp diyas on both ends of the table, they will also act as cloth weight for holding the fabric in place.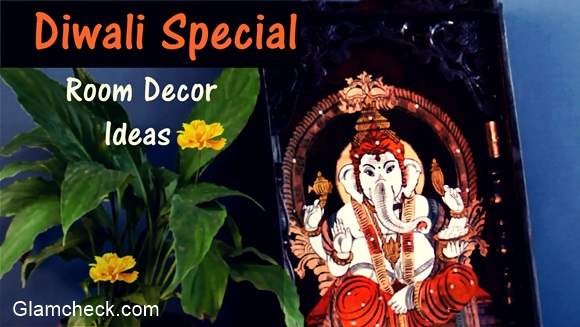 Diwali Decoration Ideas for Home
Then, keep Lord Ganesh's photo, you can also place the idol of Shree Ganesh or Maa Lakshmi (or both), as they are the deities one prays to on Diwali.
Next, place a potted plant on the left side of the deity. On the other side of the frame, place a tall diya on a plate.
You can also place a long sprig of leaves on the right side of the table.
On the other side of the table, place a big leaf on top of which one can arrange a ball of mauli (which is a sacred red thread) and cotton baati (which are basically wicks for lighting the diya).
Right in front of Shree Ganesh, place a big round brass diya, inside a clay utensil, for aarti purpose.
The next touch to the table is adding the brass puja bell (ghanti), which is an important part of a puja and especially the aarti.
I also arranged a few more earthen diyas next to the big leaf arrangement, so that there are extras for guests who want to light them.
A puja is not complete without "paath" or "katha", so I arranged aarti sangrah books of Shree Ganesh as well as other katha books.
Flowers are also an integral part of puja or any auspicious function, so the next step will be arranging yellow and red flowers around all the puja items, including the aarti diya and tall diya as well as next to the mauli and bati arrangements. Here, I would like to mention that yellow and red are also considered auspicious colors in Hinduism.
Next, arrange a stack of banana leaves on both sides of the table. In many parts of India, especially Bengal, the banana plant is considered to be the consort of Shree Ganesha. You can also arrange fruits and prasad on the table.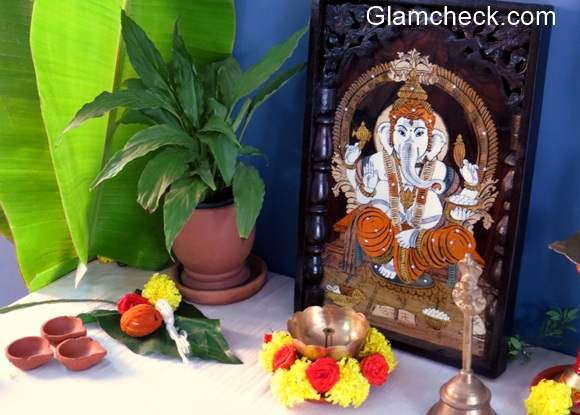 Diwali Puja Area Setup Decoration Idea
And your puja area is ready. The north east corner of the house is an area considered auspicious for praying. You can of course, do the same décor in the mandir of your house or even the drawing room.
Study Table Décor Idea
Personally, I always want a slightly elaborate decoration for my study table too. Since Diwali is the festival of praying for prosperity and success, it is but natural that one wants this blessing on the study table – an area from where a person conducts their professional work.
For this area too, you can place banana leaves next to the table, . After this, arrange a piece of folded yellow cloth on the table – this will be used as the asana (meaning seat) for the idol of Shree Ganesh. A cute pot of yellow flowers, a pretty leaf and a red flower arranged near the feet of the Shree Ganesh idol, and a pretty glass candle, will complete the décor for the study table area.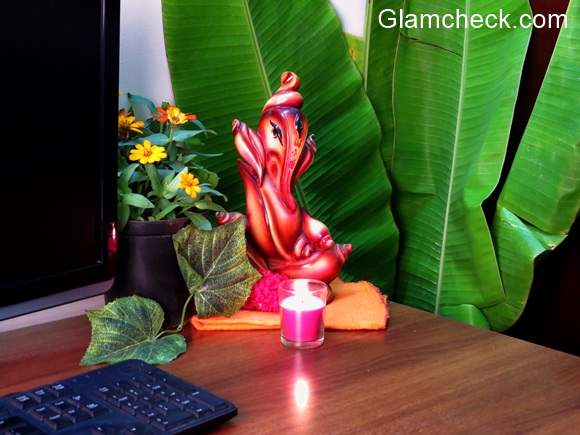 Diwali Puja Area Decoration Idea
Another option is arranging a diya on a plate full of flowers or pebbles, to decorate the study table. You can also skip placing banana leaves next to the table.
Drawing Room Center Table Decor Idea
I planned an easy floating candle DIY project for decorating the center table in my drawing room. To make it, get a wide and shallow utensil and fill it with water. Next, place a bunch of flowers in the water. . After this, keep a glass candle right in the middle of the flowers and lit it. The effect will be pretty and eye catching.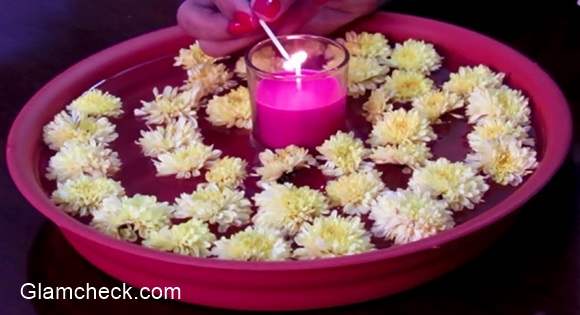 Diwali Decoration Idea
This floating candle is the main decorating item for the center table; however you can go for two other options instead of this.
Place a potted plant with a candle placed right in front of it. However, do ensure that the candle is slightly away from the plant.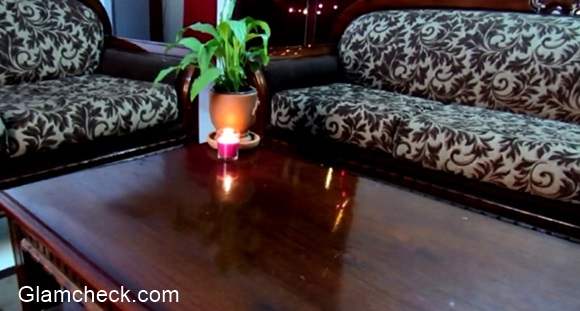 Diwali Room Decoration Idea
You can further decorate the potted plant, by keeping it on a base and placing yellow flowers around it.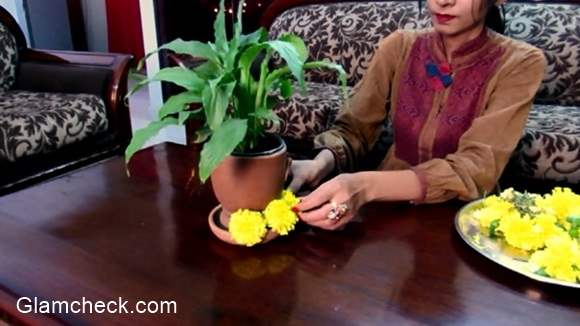 Diwali Decoration Ideas
Entrance and Corners of the House Décor Idea
For the corners of the house and entrance I decided to keep the decoration around diyas, First take a small clay utensil, with a shallow base, and fill it with colorful stones and pebbles.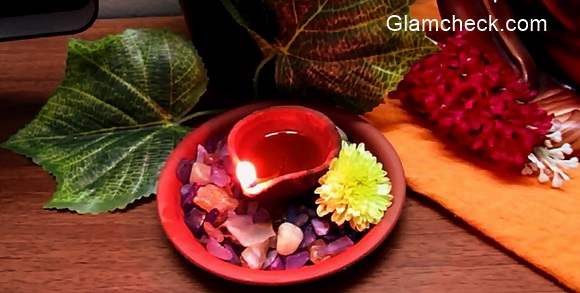 Diwali Diya Decoration Idea
Then, place the oil diya and baati in the center and place a flower next to it. Light the diyas and the effect will turn out to be really beautiful. You can do this arrangement in twos threes or even more numbers around various spots in the house.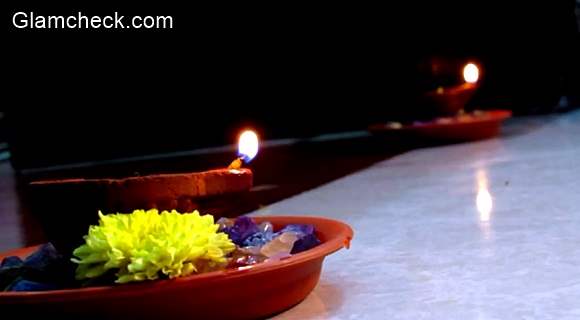 Diwali Diya Decoration Ideas
However, do ensure that you keep the diyas on a plate, it will not only add an aesthetic effect but it will also make it easier to move around the warm diyas.
TV Area and Miscellaneous Areas in the House Décor Idea
Since many of them are centered on electronic and electrical appliances, you can keep the décor idea around flowers and not diyas or candles. Take a deep tray, and fill it with multicolored stones and pebbles and then place a flower on top of it. Arrange this tray next to the TV area and also place individual flowers in a trail next to it. You can also use potpourri instead of pebbles.
So there, these were my easy tips to decorate the house for Diwali. They made my house look all set to celebrate the joyous and auspicious occasion and brought in the festive spirit. All of these ideas are easy to implement and are not at all time consuming, which makes them even more interesting to do. I hope you liked the video, and especially all the ideas. Do let me know your thoughts on the same. And, till next time, I wish you all a very happy and prosperous Diwali.