Style Inspiration – Mix polka dots and stripes like Anushka Sharma
It's time for another fabulous celeb inspired look. We've hunted the best of street style, summer fresh look from our favourite Bollywood celebs that you can easily put together for your summer wardrobe.
So on our hunt; we spotted Anushka Sharma during the screening of her highly acclaimed film NH10 in Mumbai on March 12, 2015. This lovely lady has really pumped up her style of late; we just don't seem to get enough of her fab appearances.
Looking oh-so-gorgeous, Anushka shows us how to mix two classic prints – stripes and polka dots. If you've got the eye for details, you'll easily spot how Anushka has got all the nuances of this look right to the T.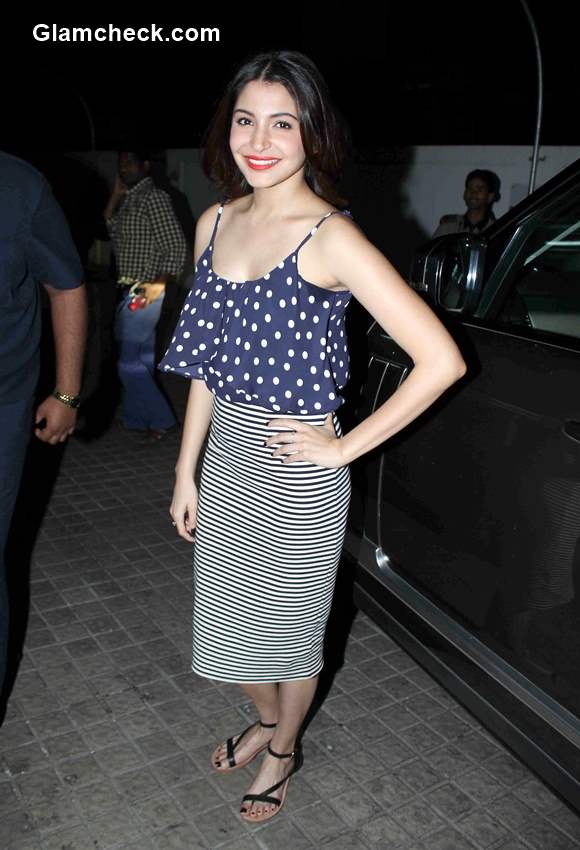 Style Inspiration – Mix polka dots and stripes like Anushka Sharma
Let's start with the two most important points to be kept in mind –
Color – It's quite simple, while mixing two different prints, always tone down the color coz you don't want the ensemble to look too busy. Black and white makes for the safest bet.

Volume and proportion – When prints are juxtaposed together make one bolder than the other. Why you ask? So that while one print stands out, the other compliments rather than clashing it.
Anuskha chose black, white and navy blue as the color tone. It's white & blue polka dot top, black & white striped skirt and basic black strappy flats. A safe choice since all the colors are subtle and do not distract the overall look.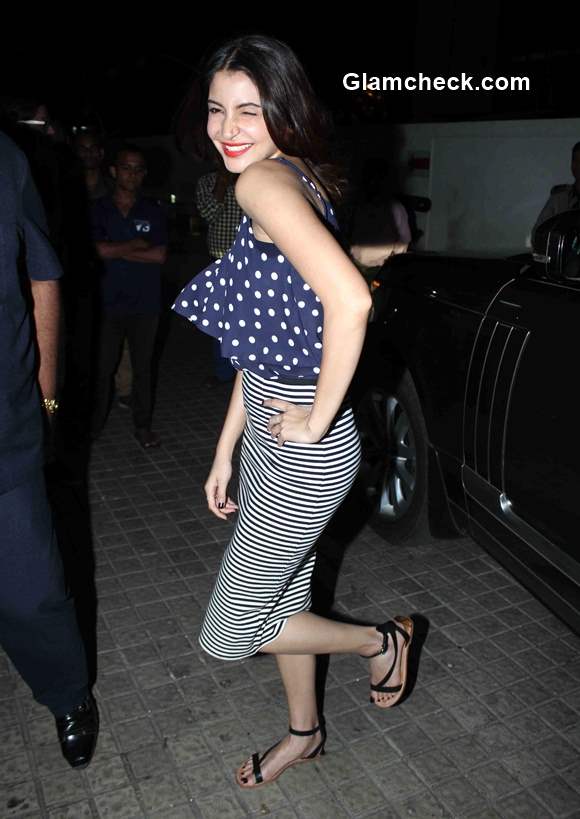 Style Inspiration – wearing polka dots and stripes like Anushka Sharma
Check out how Anushka maintained the proportion of the prints. The big polka dot has been paired with thin stripes. So here, the thin stripes of the skirt complimented the striking bold polka dots of the top.
Also, since her striped pencil skirt is figure hugging, Anuskha has decided on a ruffled top to add volume to her upper body. Smart we say.
The final step is all about holding the look together. Some prefer adding a plain solid kimono top, blazer or a scarf, either in neutral or bold colors. For Anushka, it's her choice of bright tangy red lips that really pulled the look together. That's what we call perfection H2T!
It's a great summer look. We say, don't be hesitant of mixing prints, just keep the two tips in mind. This summer, get fun and playful like Anushka.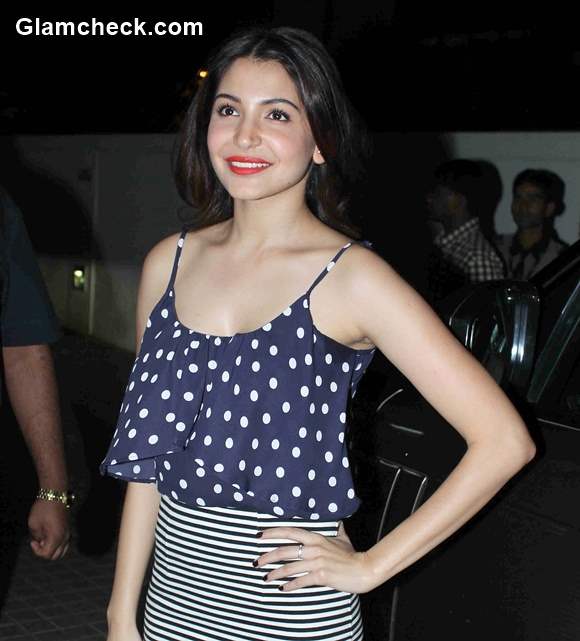 Style Inspiration – Mix polka dots and stripes
Solaris Images