Anushka Sharma is a breath of fresh air and her presence on screen enthrals the audience and critics alike. The lady always dresses according to her persona and comfort factor. She wears trends and makes them her own, we are always overjoyed to see this actress dress up!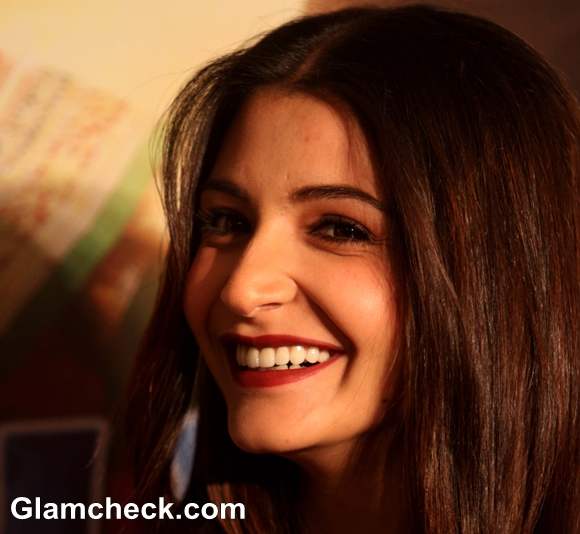 DIY – Anushka Sharma Winter Makeup Look
This time Anushka Sharma was spotted in all her winter glory while promoting her movie, 'Matru Ki Bijlee Ka Mandola' in New Delhi with her co-star Imran Khan. The actress chose a crimson fleece dress which was hemmed just above her knees. A pair of opaque black stockings and knee-high boots gave her an edgy look at the press conference.
The Look: Charisma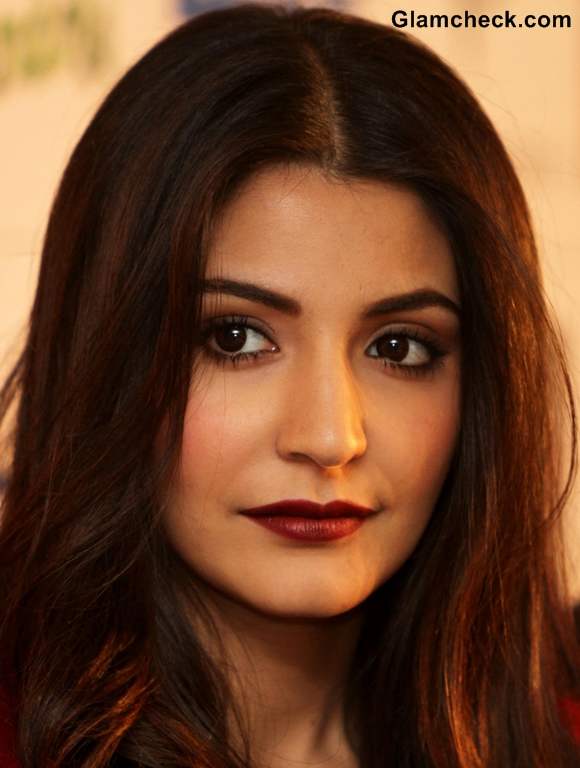 Anushka Sharma Winter Makeup Look
Actress Anushka Sharma exuded charisma when we spotted her in New Delhi. A flawless complexion, neatly etched eye-brows, clear eyes, a pink blush and a Burgundy lip colour was seen on her. The thick lush of hair was sported loosely on her shoulders. The flush of red on her cheeks and the dark pout lent a seductive appeal to her look.
Get the Look
The look was apt for the winter and Anushka Sharma sported it with élan. This look simple to sport and you can achieve this look in a few simple steps.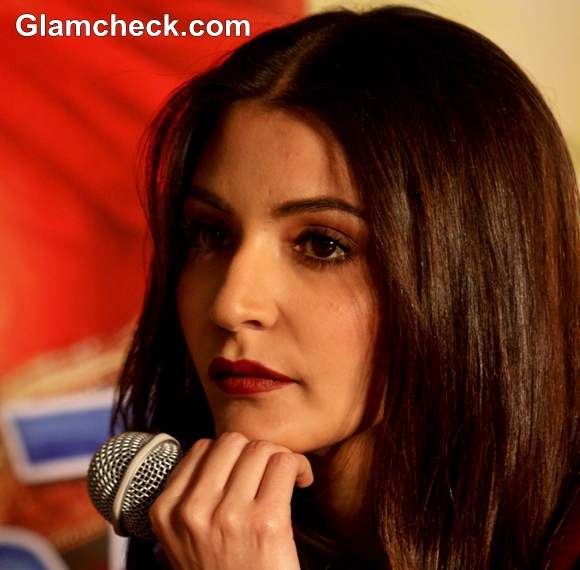 DIY Anushka Sharma Winter hairstyle  and Makeup
Hairstyle
Thick wavy hair is so in this season, you only have to keep it natural and add a bit of volume to your mane
Go for a head wash before conditioning it thoroughly. It is the best way to keep your scalp clean and your hair soft and beautiful
An oil massage before shampoo will do a lot of good for your hair
A volume enhancing mousse and a heat-protectant serum should always be in handy when you are blow-drying
Blow-dry your hair with jets of low heat waves, comb it with a wide-tooth brush
Curl certain sections of your hair by rolling it with a round brush and blow-drying on a medium temperature
Choose the end of your locks and the crown for these subtle soft curls
Your beautiful mane is now ready to see the light of the day!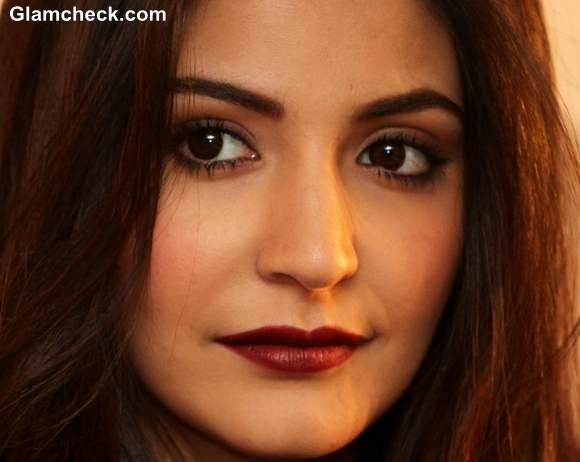 DIY Anushka Sharma Winter Makeup , Burgundy lips
Makeup
For the make-up choose the deepest of Burgundy for the nails and your pout
As the color is dark, it will usurp all the attention, thus, you have to keep your face and eyes clear of any make-up
A concealer is a must with this look. Choose your own shade and blend it well with your skin
A foundation and compact will seal your complexion and let you glow throughout the day/night
A burgundy lip color in matte or a moisture-enriched one is your next bait for securing the look
Apply a lip liner of the same hue before filling your pout with the color, this helps in the color staying in. Apply foundation on your lips before applying lipstick. It will ensure that the color doesn't bleed
Avoid the blush if you want to go with this look, keep your face clean and flawless
Highlight your eyebrows, ridge of your nose and the apple of your cheeks with a highlighter
Keep a compact handy for some touch-ups during the day/night. Now, you can happily snap yourself in this winter look and update your profile. We are waiting to see how ravishing you look!
Indian Photo Agency, IANS