The regular kohl eyes is a look that most of us don everyday. The winged eye on the other hand is its more glamorous and updated sister. Been around since the 50s, it is an easy way to let the eyes do the talking and be the focus on your face.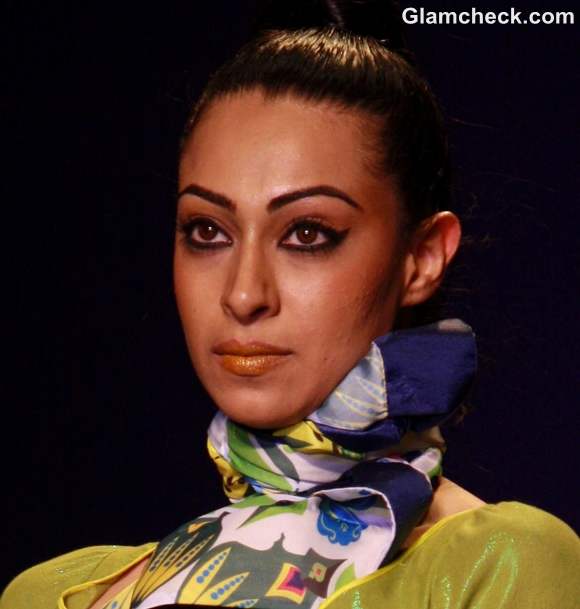 Indian Makeup DIY Glamorous Winged eye tangelo lips :  S-S-2013 Nida Mahmood
The best part being, it is fairly simple to achieve and looks great on almost everybody. With a little practice, it could also be done quickly and is so addictive for some that it becomes the everyday makeup.
Beauty Pointers
Thin Arched eyebrows, neatly plucked are a must for any look that highlights the eye.
For a flawless skin, the base has to be well executed. Rub some ice if you need the makeup to stay longer hours.
Apply the right shade of foundation evenly on the skin and use a concealer for extra coverage if necessary, while making sure the it is not overdone and noticeable.
Use a light bronzer on your cheeks, applied with a large soft brush – to define the cheekbones well. Thing to remember here is that the shade of the bronzer should not be too dark and the skin should not be oily or the bronzer will crease.
 How To: The Glamorous Winged Eye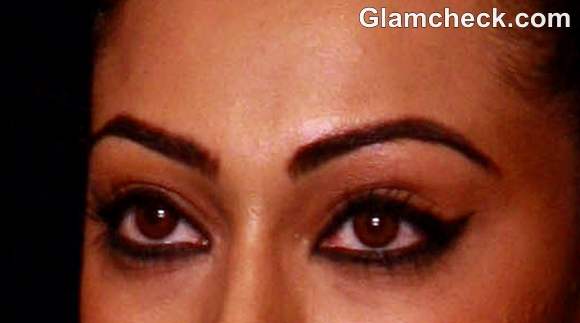 Indian Makeup DIY winged eyeliner
Steady hands will get you the perfect winged eye. If it is your first time, place your elbows on your dressing table or any flat surface. You can adjust the mirror at a lower level from your face, at an angle, so that your eye is fully visible to you while you look down.
Apply a thin stroke of your eyeliner along the upper lashline and extend it outwards from the outer corner in an angled stroke.
Now draw inwards towards the eye from the outermost point of the line you drew in the last step. Note the triangular shape of the 'wing', where the tip is thin at the outermost corner and thick where it meets the eye.
Draw further along the shape of the lashline and connect to the inner corner.
Now along the natural shape of your lower lashline, connect the inner corner to the wing.
Repeat the same for the other eye.
 How To: Tangelo Lips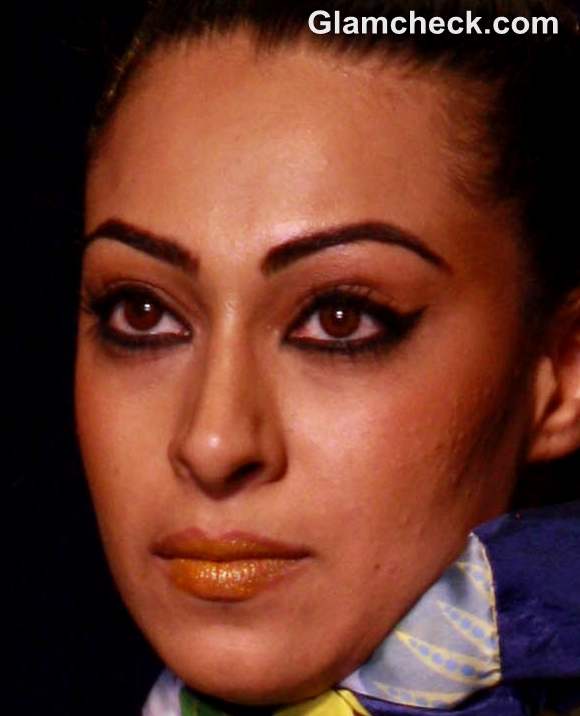 Indian Makeup DIY winged eye tangelo lips s-s-2013
This delicious shiny tangerine hue is great for a dusky tone. But the lips need a base too.
Exfoliating lips once in a while enhances their texture greatly.
Apply a moisturizing balm first for soft and supple lips.
Apply the lip color evenly.
Try this chic and dazzling look to add life to any outfit – traditional or western. It is great for the day when the lips are kept matt in the same hue. Reserve the glossy metallic version for an evening.
IANS