The Embellished jacket has been curated in our wardrobes this season by Indian couturiers like Tarun Tahiliani, Vikram Phadnis, Anand Kabra, Payal Pratap Singh and so on. Gone are those days when androgynous meant Boyfriend jeans and over-sized tees; today, it has seeped into our traditional wear in a fashionable style. The androgynous jacket is infused with traditional embroidery and bling. The fashion craving Indian fashionista will definitely be on a high with this piece of clothing on her.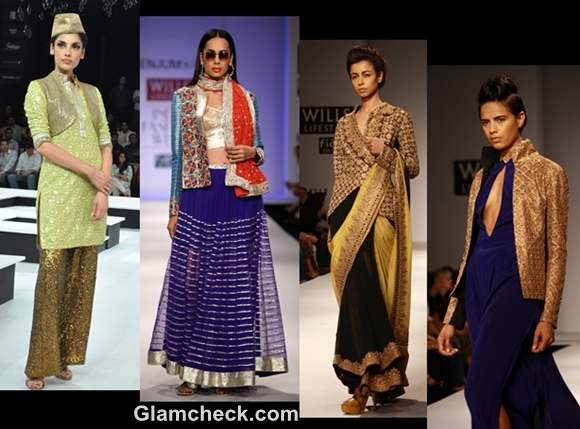 How to Wear Embellished Jacket in Traditional Indian Style
We at GlamCheck tell you how to wear this fabulous piece of garment in style!
Wear Embellished Jacket with: Lehenga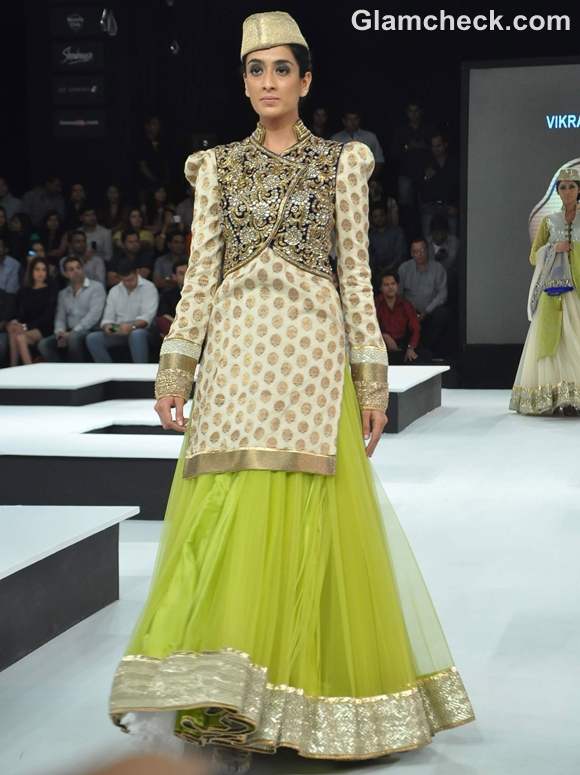 wearing embellished jackets with lehnga
The embellished black and gold jacket can be worn over a lehenga just as Vikram Phadnis has styled his collection; look at the picture above.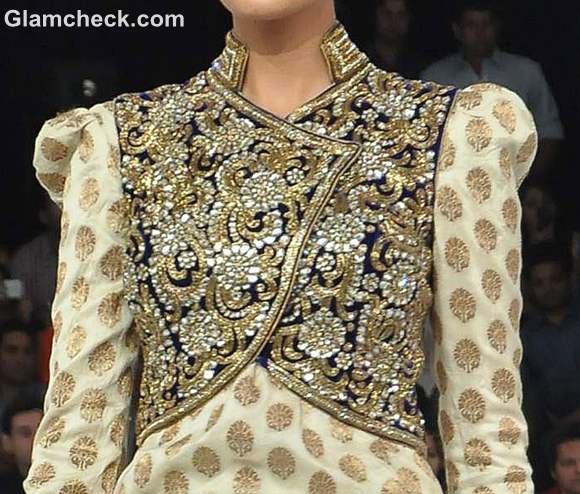 The beautiful floral motifs, with asymmetrical lapel which imitates the double-breasted jacket look with a gold collar is fascinating when worn with a flowy lehenga.
Wearing Embellished Jacket with: Sequins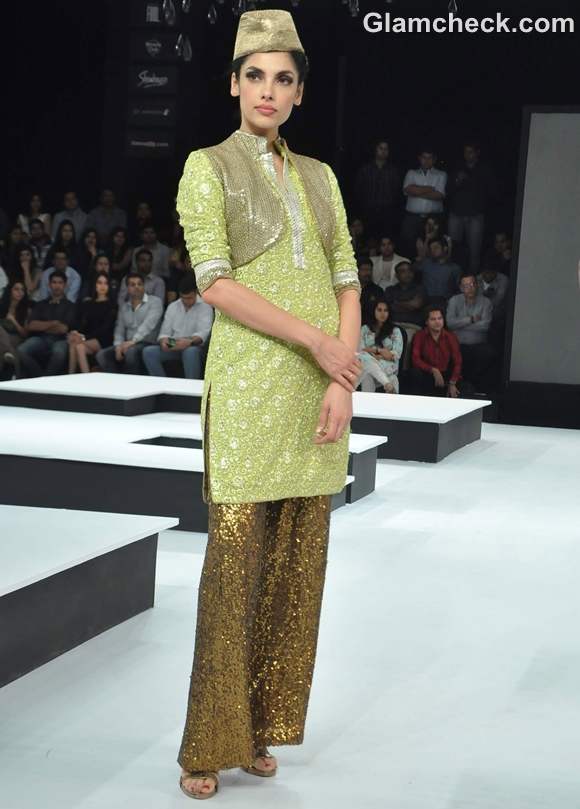 Sequined jacket with kurta Indian style
The silver sequined bolero paired with a kurta and shimmery palazzos in Punjabi style is another great option for your wardrobe.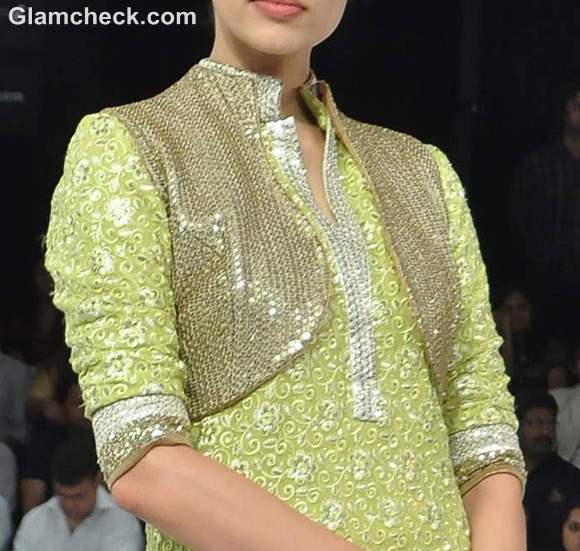 Sequined jacket for women Indian style
Here, supermodel Indrani Dasgupta has been styled for Vikram Phadnis's collection at the Blender's Pride India Fashion Week 2012 in a sequined bolero over a neon green kurta and a sequined gold bottom.
Wearing Embellished Jacket with: Thigh-Slit  Gown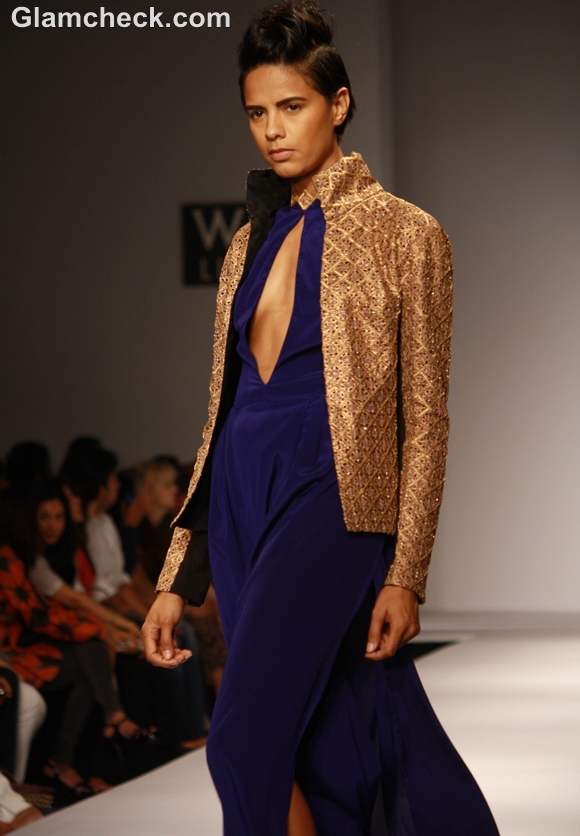 Wearing embellished jacket with gowns
Anand Kabra presented his collection at the Wills Lifestyle India Fashion Week 2013 in New Delhi. The fusion of this embellished jacket with a violet gown in a high thigh-slit and a cut-out neckline fulfils the criteria of the western sensibility merging with Indianness in a beautiful way. Bhavna is wearing a tan gold jacket with a sherwani style and gold embellishments with a hint of red. This look is androgynous in its approach and fit for the modern Indian woman to fuse her love of the East and West.
Wearing Embellished Jacket with: Mod Sari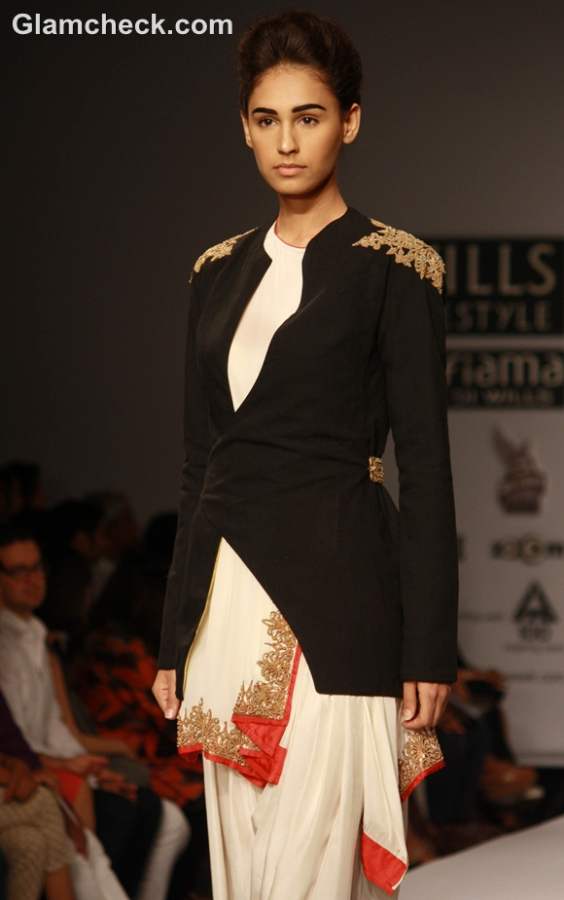 How to wear embellished Jacket with Modern Sari
The sari is such a traditional garment that modernizing it has a lot of risk. The designer here, Anand Kabra, has given the sari an unexpected twist and styled it interestingly with a black bandhgala jacket with armour-style gold embroidered shoulders and sharp lines. This jacket gives the ensemble a bold outlook and an androgynous touch.
Wearing Embellished Jacket with: Traditional Sari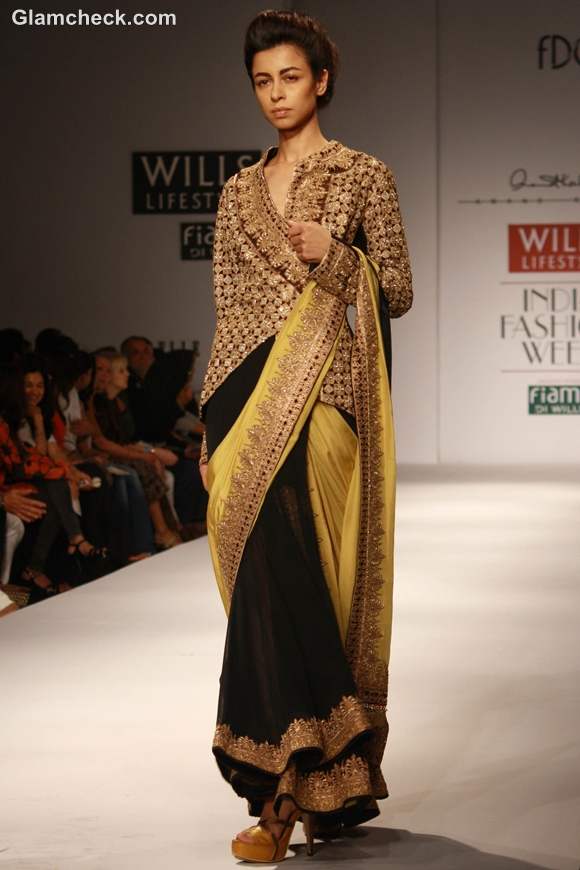 How to wear embellished Jacket with  traditional Sari
Black and gold gives a new life to the sari look with this embroidered jacket. The asymmetrical lapel style imbibes the design elements of a kimono-cum-shawl collar.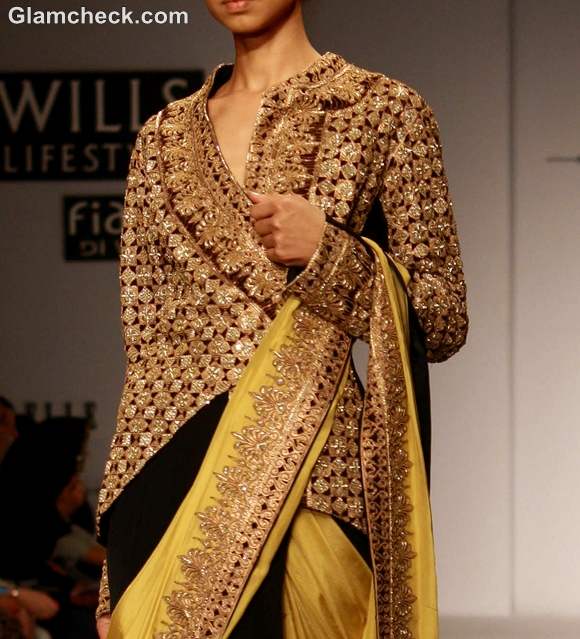 Wearing Jacket with traditional Sari Indian style
The heavy embellishment on the jacket spells opulence.
Wearing Embellished Jacket with: Sheer Lehenga Choli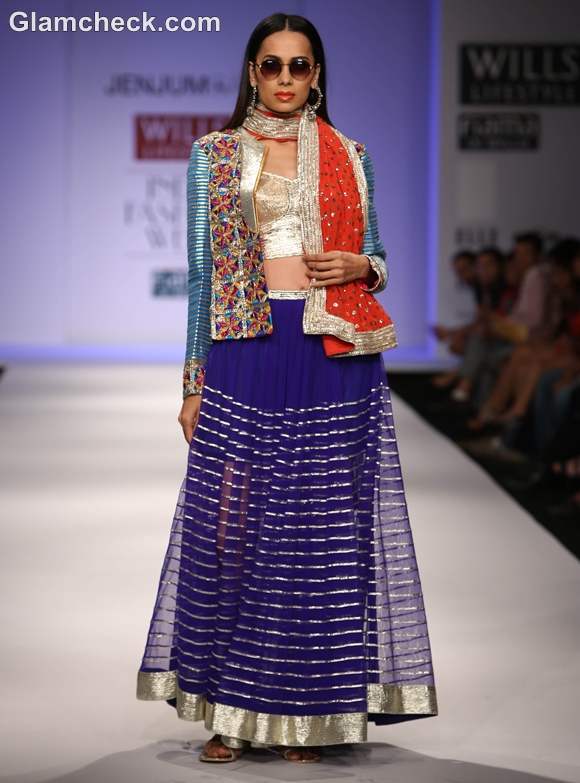 Designer Jenjum Gadi displays a colorful repartee with the embellished jacket in fuschia, yellow, blue and silver.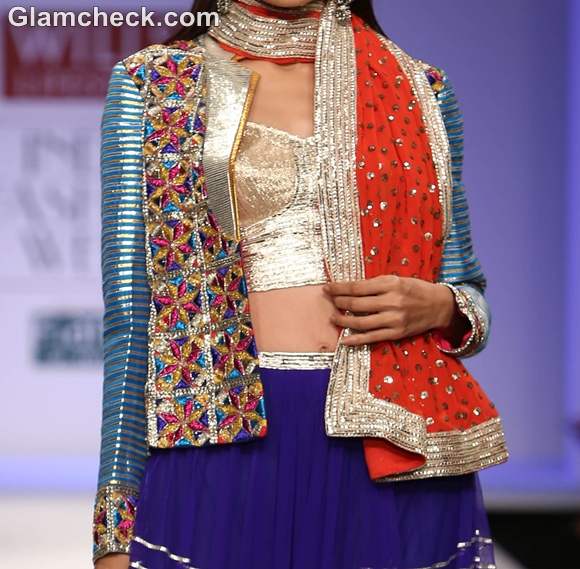 Indian style wearing Jacket with lehenga choli
The village-siren look was replete with color blocking and shimmers.
Wearing Embellished Jacket with: Printed Sari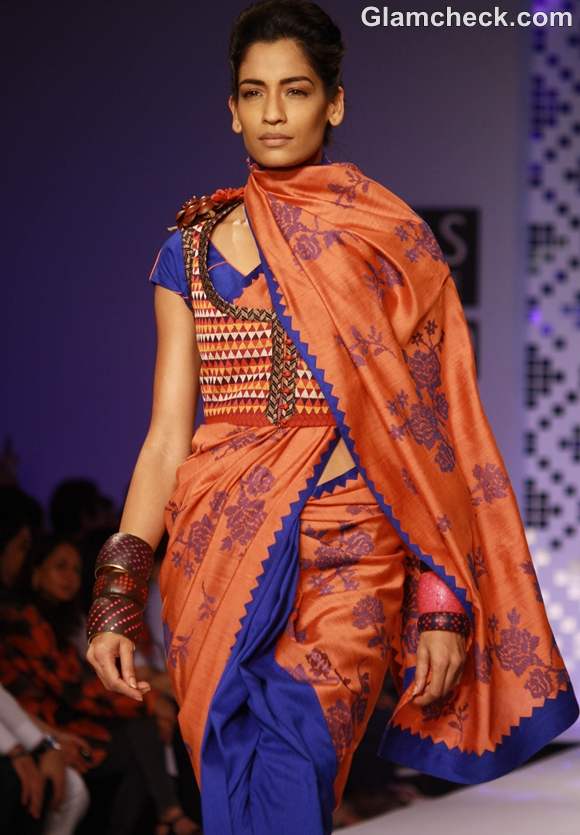 wearing jackets with printed sari
Knit has its own credentials in Payal Pratap Singh's collection. The short jacket in a waist coat style was flat-knitted in a diamond pattern. Indigo blue and burnt orange sari was paired with a knitted waistcoat in her collection.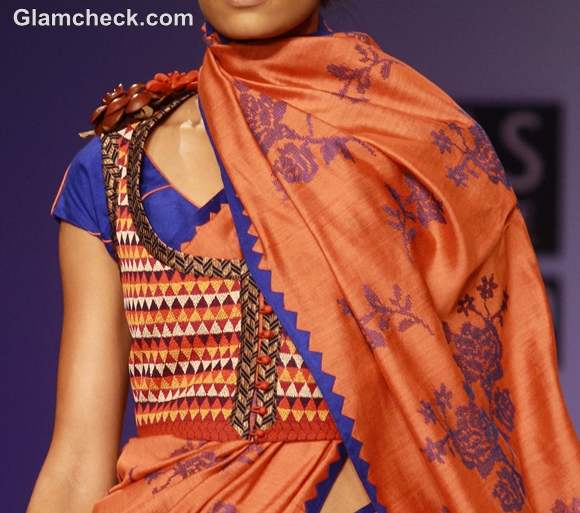 wearing embroidered jackets with printed sari
She knows how to design for the modern Indian woman and we especially love the knit pairing with the printed sari. It was a fabulous pairing and we love it.
How to Wear the Embellished Jacket
We have showed you ways to wear the embellished jacket with your traditional ensembles. Now, we give you a DIY on how to wear it GlamCheck style. Read the tips below:
Find an embroidered jacket in black and gold, the embroidery placements should be all over or, in a specific place drawing attention, either to the borders, cuffs and collar or, the waist and others
A white one will also work fine for the pastel saris with silver embellishments
Velvet is a go-to-fabric for this season, but if you are not in love with the fabric, then opt for silk and other luxurious fabrics
Take a different take on waistcoats and jackets with a knitted one, be experimental
Colour-block your look or just keep it simple, this jacket will take you from being a simpleton to a princess in a leap
Accessorize with danglers and bracelets
Wear heels to complete your look
The make-up should be dewy and not loud
These tips will definitely help you to oomph your style. Wear the look this wedding season and look as glamorous as ever.
Indian Photo Agency, IANS