The festive season in India has arrived and it would hence call for a lot of dressing up in traditional attire. The jewel colored clothes with their intricate trims and embellishments call for stunning make-up too. In forming a complete look, the clothes, accessories, makeup and hair all go hand in hand. One must complement the other to achieve a perfect ten.
Today's 'beauty how to' will match your traditional outfits and make your face appear prettier and brighter.  With a salwar suit or a lehnga or saree, we believe defined eyes and lips simply look gorgeous. We would be using hints of pink eye shadow to light up the eyes – yes it actually makes the white of your eye appear brighter.
Makeup Tutorial for the Indian Festive Season: Winged Eyes & Bold Lips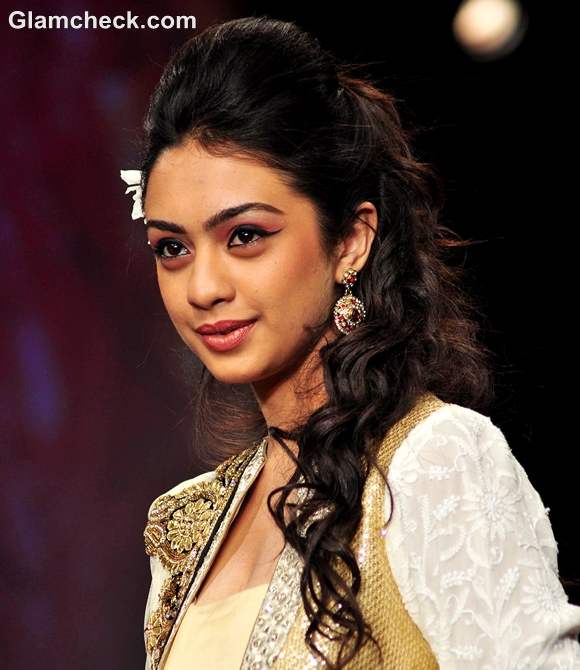 Makeup Tutorial for Indian Festivals – Winged Eyes Bold Lips
Follow the steps to rock a traditional look.
Step 1 – For  a festival glow, instead of the regular regimen of cleaning and toning – why not start with an isntant glow pack if you have the time.
Step 2 – With your skin clean and mosturized apply a foundation matching your skin tone exactly.
Step 3 – Festivities often leave the skin dull due to stress, but add glow instantly by dusting luminizer on your cheek bones. Then bleand in a little blush too.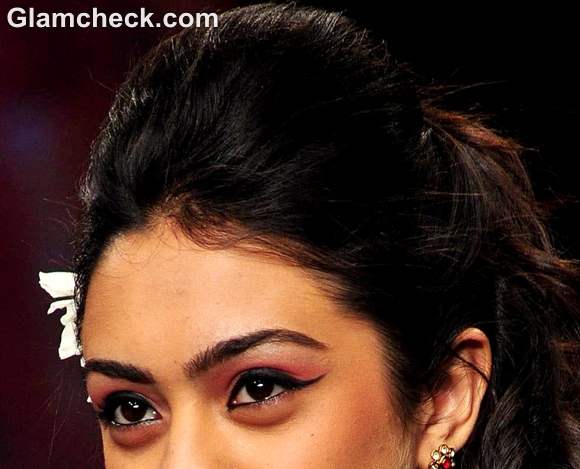 Makeup for Indian Festivals
Step 4 – Before starting with the eyes, make sure your eyebrows are well trimmed and plucked.
Step 5 – Start with applying a pink-peach eye shadow over the eye lid. If you apply a darker pink to eye lids you would only end up looking allergy-ridden.
Step 6 – Blend in a brighter pink on the crease and brow bone. Reduce the color concentration towards both corners of the eye.
Step 7 – Highlight the arch below the eyebrow and the inner corner of the eye with a lighter pearl eye shadow, again adding luminosity.
Step 8 – Apply slightly thick eyeliner on your upper lashline while stroking it's end like  a wing  – extending all the way over the outer corner of the eye. Make sure the thickness reduces drastically towards the outer corner.
Step 9 – Apply a thin stroke of eye liner to the lower lash line too.
Step 10 – Finish the look by applying a rosy lipstick on well moisturized lips.
Tip: If your outfit demands an even more traditional face, just add a small pearl or crystal bindi to our forehead. An accessory addition could be a fresh blooming flower set on one side of your hair.
Indian Photo Agency