There are few who can resist the inherent charm of a well-draped sari in a pretty print and fabric. Former beauty queen Yukta Mookhey shows us that you can even convert those few into admirers with one simple addition to the ensemble.
Style Identity
Traditional Glam
She Wore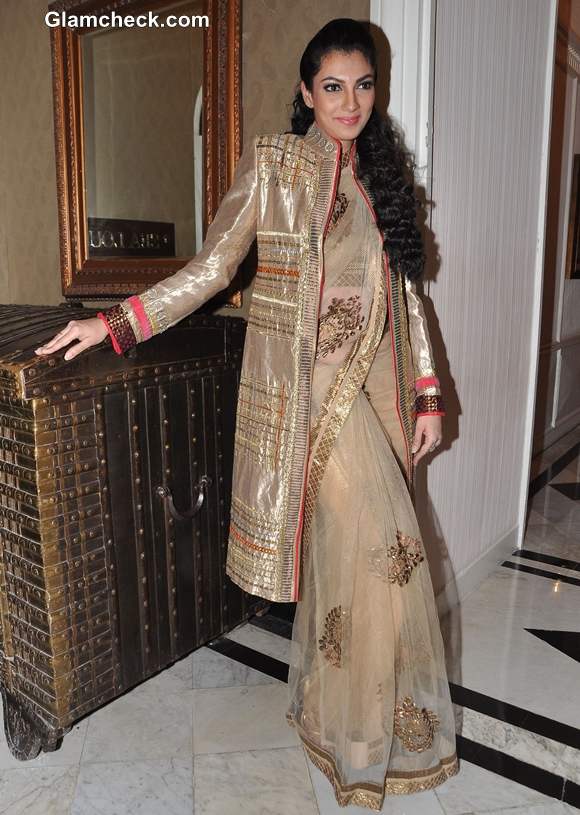 Yukta Mookhey Shows How to Wear an Ethnic Coat with a Sari
Glamour was oozing from Yukta thanks to her sheer gold sari with gold embroidery as well as a gold zari border. As lovely as it was, the sari was not the main appeal of her look. The piece de resistance was the ethnic coat she donned with the sari.
Now we've seen coats with saris on the ramp before, but we haven't see it translated in the real world well enough – barring Sonia Gandhi, of course – until now. The coat added a luxurious feel to her ensemble. It featured accents of pink with red and black printed cuffs adding other dimensions of color and texture to the look. Silver, gold, bronze and orange embroidery blazed along it in geometric designs.
The gold coat has completely transformed her look. The ensemble has taken on a Western aspect with a traditional twist. Not all fashion fusions end up working well but this one is definitely inspiring!
Hair and Makeup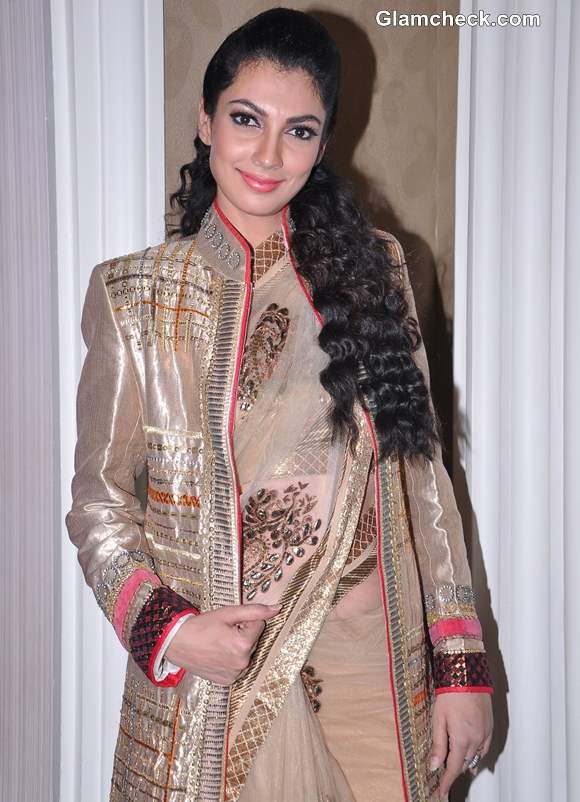 Yukta Mookhey 2013
Yukta's tight curls were styled half-up half-down and swept over her shoulder. Her almond-shaped peepers were accentuated with generous mascara and black eye liner, defining them to perfection. She rounded off her look with a peachy-pink lippie that matched the accents on the coat.
How to Wear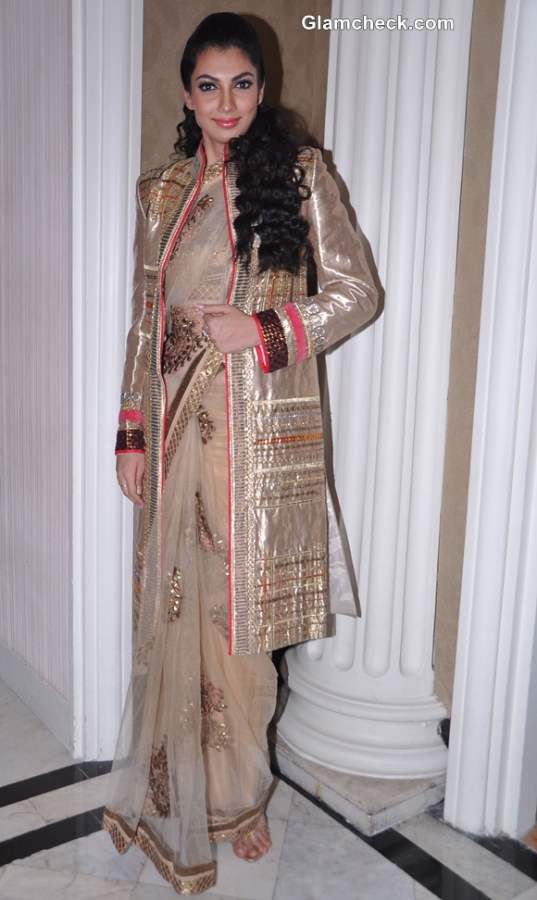 Yukta Mookhey 2013 Style
Your first step is to get a coat that matches the sari you are wearing. It does not have to match exactly – in fact, it's better if it does not – but the major elements like color and print should not clash so garishly that it looks like you dressed in the dark. It's also important to go with a piece that fits you right.
Don't limit yourself to long coats. Waistcoats and blazers can also look very smart with a sari. Why not try them out for your next traditional office look?
Look for these coats and waistcoats cut in a slightly traditional style so that it complements the ethnic feel you are aiming for.
IANS