Navratri means nine nights and signifies the worship of Goddess Durga. She is the supreme power, also known as Ma Shakti. Goddess Durga is worshipped to annihilate the demons inside us. During the Navratri, Goddess Lakshmi and Saraswati are also worshipped. Goddess Lakshmi is the giver of wealth whereas; Goddess Saraswati is the giver of Knowledge who also, cultivates artistic pursuits.
Parandi Hairstyle for Dandiya & Garba Night – VIDEO
Traditional Dance Forms
Garba dance was first organised by Rani Rukhmini, Lord Krishna's wife who celebrated navratri in Dwarka. This dance form is done by clapping of the hands and going round a lamp in groups. Garba is done by women before the Aarti.
Dandiya on the other hand, is a dance where, both the genders can participate. It is performed with two decorated sticks as props. This dance is generally done after the rituals.
Dandiya Outfit Ideas – VIDEO
Traditional Clothes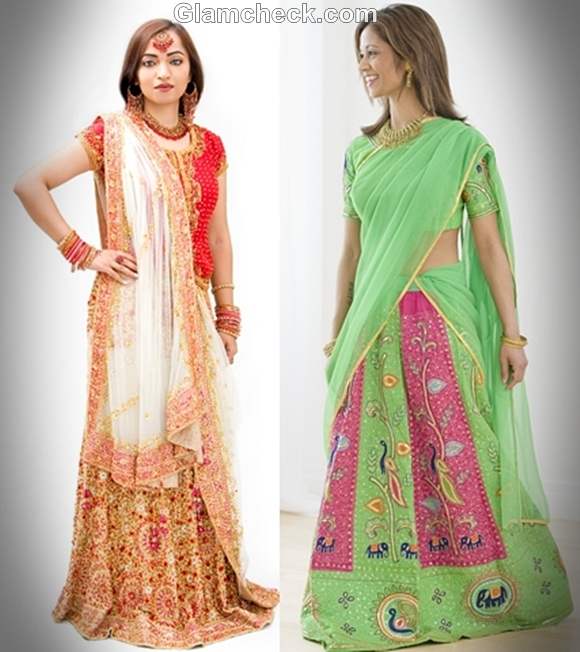 Traditional attires are preferred during these dance rituals.
Women
The chaniya choli:

Women wear embellished chaniya cholis for the dance. These cholis are heavily embellished with beads, mirror work, embroidery, and shells and so on.

Ghagra:

Colourful long skirts are worn with the cholis. These ghagras are also adorned with embroidery and mirrors. They are usually in contrasting colours and with a dupatta.

Accessories:

Traditional accessories like Kadas, Jhumkas, maang-tikas are worn with this attire. Kamarbandh and payal are also worn by the Gujarati women.
Men
Kediyu:

This garment is worn by men during the dance. It is a short kurta with a flare at the bottom. It is embellished just like the chaniya choli with mirrors and embroidery

Kafni Pyjamas:

These pyjamas are loose and breathable. Men wear it under the kediyu.
The attires are usually bright with red forming the major colour influence.
Indulge in pure fashion with Glamcheck's style tips this Navratri. Enjoy the Navratri in style.
Durga Puja – Traditional Bengali Look  – VIDEO
Flavour of Gujarat
Garba and dandiya have a long-term romance with Ghagra-choli. Mirror-work and bright colors go hand-in-hand with this look.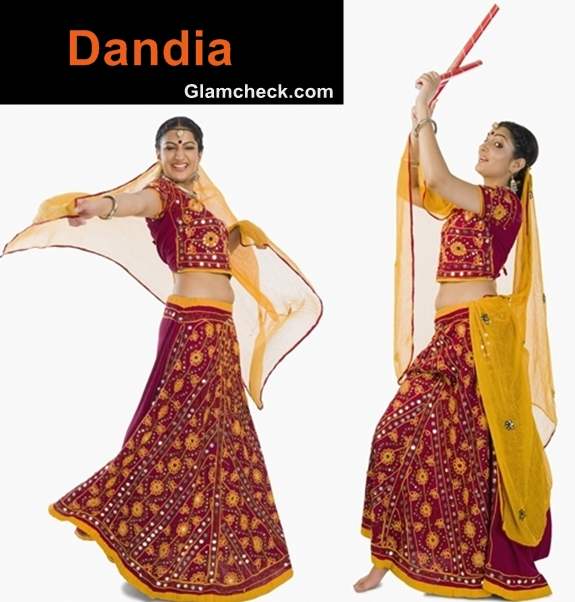 Traditional attire for Dandia during Navratri
Pair a bright piece of ghagra and chaniya-choli with a contrasting dupatta
Look for the complementary hues.
Mirror- work and embroidery is a must
Keep your bangles to a limit, the dandiyas don't need any distraction
Maang-tika is a preppy addition to your look along with an armlet or baajubandh
TIP: Stick to cotton based materials for these events. Keep the sweat from squashing your delightful play. Fly away the night playing Dandiya!
The Garba night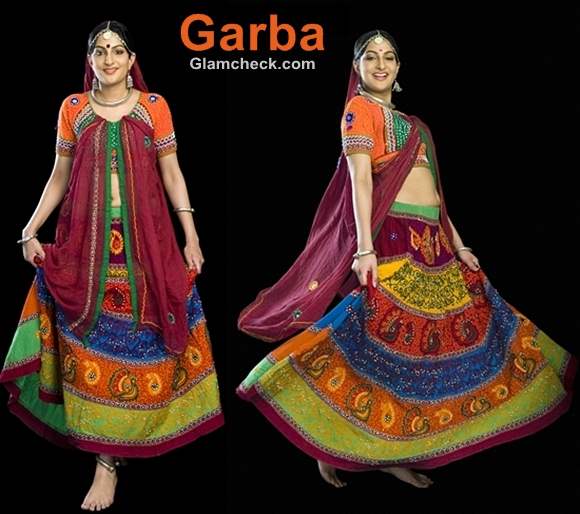 A multi-coloured ghagra will just put you on the threshold of limelight.
Choose a multi-coloured ghagra
Tiered versions are in. Go for them in various hues
Bandhni is a fabric that you should wear on your dandiya night. It's a part of the culture
Kadas on your hands and neck can replace the unnecessary burden of jewellery
You can wear the jhumkas though! They will add the traditional flavour
TIP: Be as traditional as possible. Wear mirror-embellished ghagras and cholis. Gujarati-stich should be the preferred embroidery on your garment.
Lehenga-Culture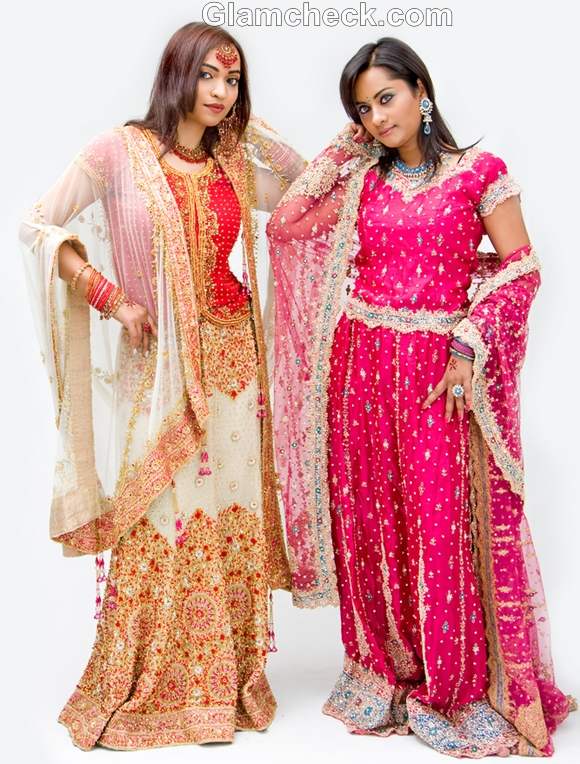 Traditional lehenga choli for Dandia & Garba

The lehenga is a part of our traditional Indian attire. This look can be worn on the night of the dandiya.
Whether you are dancing or not, this attire can make you look stunning
Wear a sequined lehenga with opulent embroidery; either in a sober or contrasting combination
A lovely bunch of bangles paired with a magnificent neck piece and jhumkas will uplift your look
Adorn your eyes with mascara and eye-shadow
Look the Bollywood beauty that's hidden in you
Tip: Your dandiya night can be made special if you pair up your ensemble with that of your partner. You can pair only the hue though; if you are wearing red-white, he can wear white or red. Do not play the whole matchy-matchy game here, or you will end up looking like twins.
Especially for You:
You are always welcome to experiment with new looks and style.
Designers are introducing ombre-coloured lehengas for the navratri. Style yourself in one of those.
Indian textiles are always a good investment.
Indian designers like Aneeth Arora, Rahul Mishra are playing with various Indian textiles to make you look gorgeous in those valuable textiles and silhouettes
We are waiting to hear about your fabric exploits! Have fun this Navratri with this fabulous silhouette and dance! Dance! Dance!
Shutterstock