Fashion designer Shehlaa Khan showcased her Summer/Resort 2013 Collection 'Boudoir' at the ongoing Lakme Fashion Week in Mumbai, India on March 23.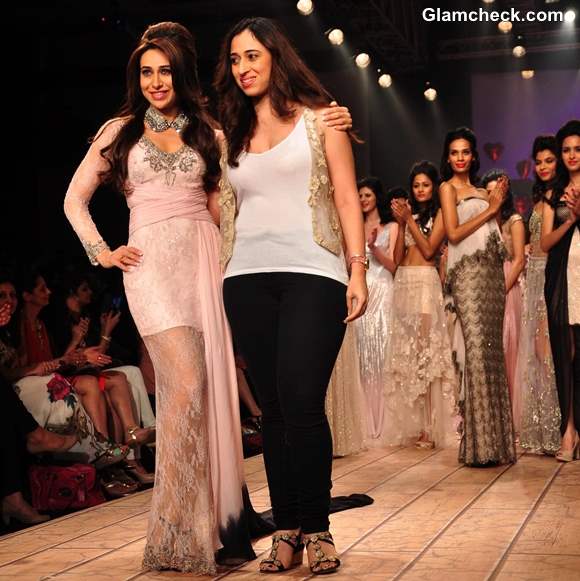 Karisma Kapoor & Shehlaa Khan at Lakme Fashion Week Summer Resort 2013
Made up primarily of lace, the line was overall quite provocative. Gowns and dresses were embellished with embroidery offering equal amounts of glamour and sophistication. Shehlaa loves her pastels and the new collection stayed strong to the designer's ideas while still taking some risks through color combinations and textures that are new to her work.
The show ended to thunderous applause as Bollywood actress Karishma Kapoor walked down the runway in one of the ethereal creations.
Her Look
Delicate elegance
What she wore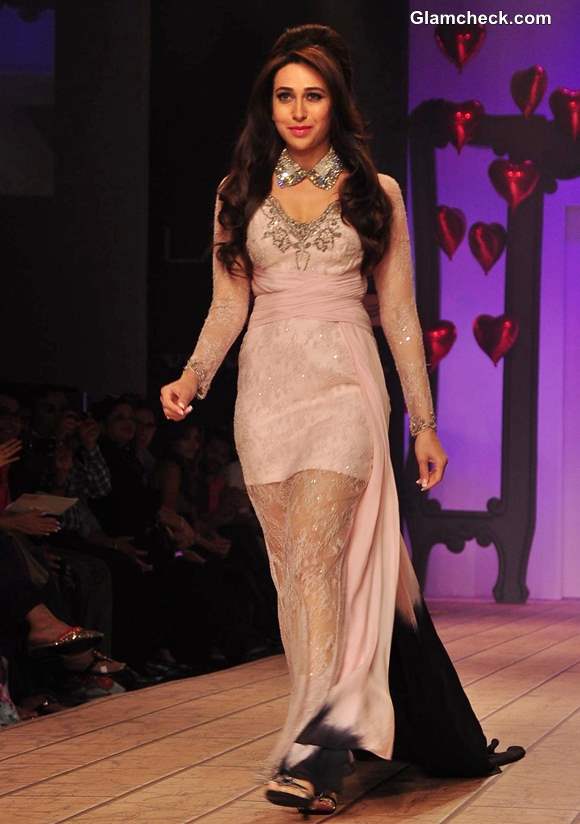 Karisma Kapoor for Shehlaa Khan at Lakme Fashion Week Summer Resort 2013
Karishma wore one of the most feminine pieces from Shehlaa's Colelction. The foundation of her ensemble was a floor-sweeping peach dress with a lace overlay, the latter sheer from the thigh down. Delicate silver embroidery embellished the V-neckline and the hem of the sleeves. Similar embellishment enriched the statement collar that was clipped around her neck.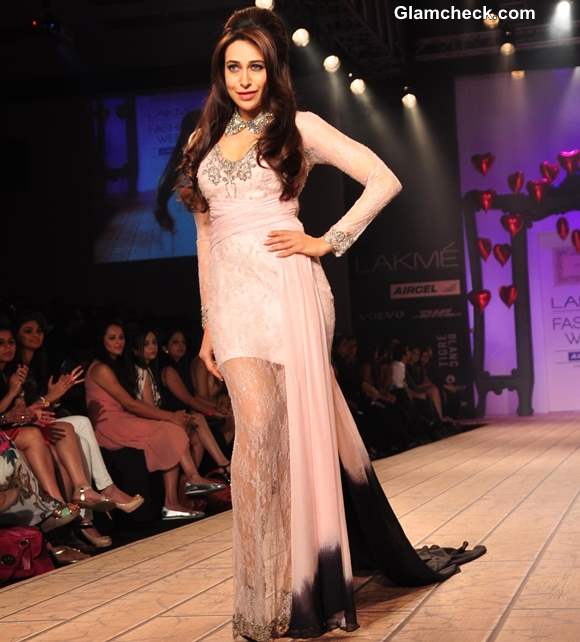 Karisma Kapoo at Lakme Fashion Week Summer Resort 2013
Meanwhile, a sash the same color as the dress was wrapped around the waist in imitation of a belt and it then trailed down the sides and on to the floor to create a train. The portion that dragged along the floor was black, adding an interesting tie-and-dye touch to the look.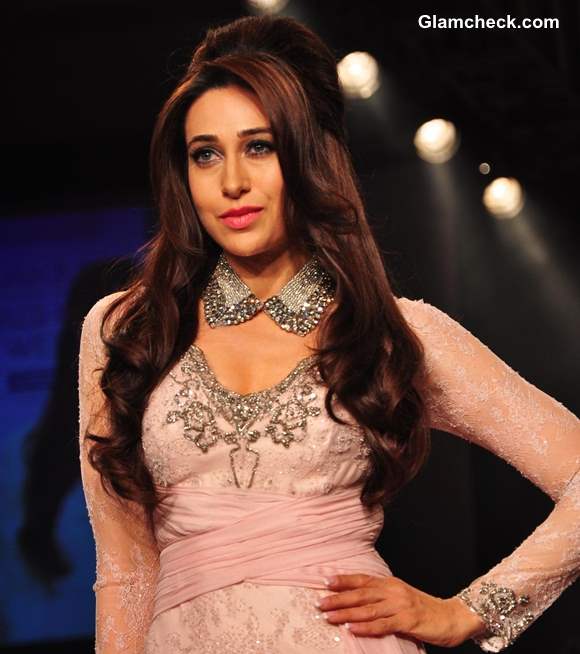 Karisma Kapoor Walks for Shehlaa Khan at Lakme Fashion Week Summer Resort 2013
We're not too happy with the hairstyle for this look – Half-up, half-down, bouffant-esque with the bangs curled out wards on the sides. Maybe they were going for a retro touch there but it just ended up looking outdated. The saving grace was the curls on the ends which fell over both shoulders.
A pink lippie and smokey eyes completed the picture.
Indian Photo Agency