Jewellery house Shringar, which is also quite popularly known as the "House of Mangalsutra" showcased its collection titled "Kal Aaj or Kal" at the India International Jewellery week 2013 in Mumbai.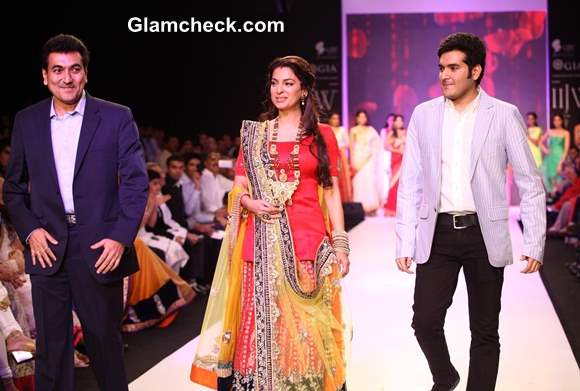 Juhi Chawla Showstopper for Shringar Mangalsutra at IIJW 2013
The main focus of the show was on mangalsutras – an ornament worn by brides and married women. It is the traditional symbol of marriage and signifies that the wearer is married, as per Indian traditions and customs. Shringar displayed a wide range of these very mangalsutras in exquisite and creative designs.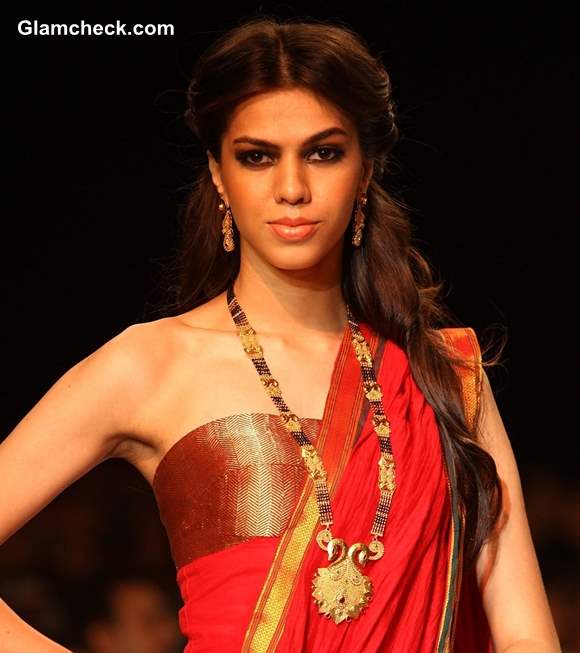 Shringar Mangalsutra at IIJW 2013
On display were beautiful mangalsutras featuring precious stones and gold, which showcased designs inspired from floral and peacock motifs. One saw the use of gold circles, triple rows of gems and beads, pendants featuring deities like Ganesha, round and triangular gold or diamond centers and long gold chains. Some of the mangalsutras even featured 3D designs. Apart from mangalsutras, one also saw earrings, jhumkas, rings and bangles make an appearance on the ramp.
Shringar Mangalsutra collection at IIJW 2013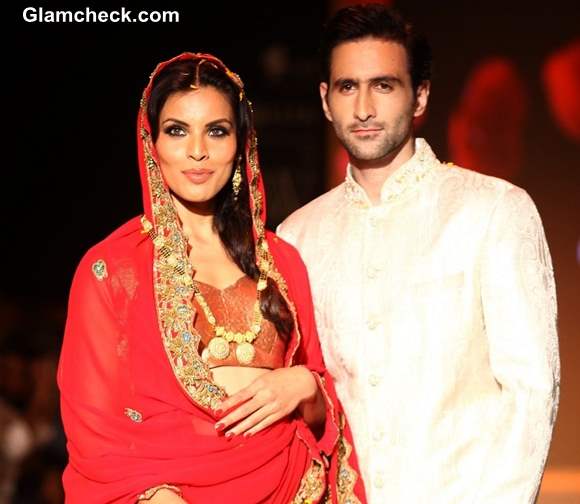 IIJW 2013 Shringar Mangalsutra collection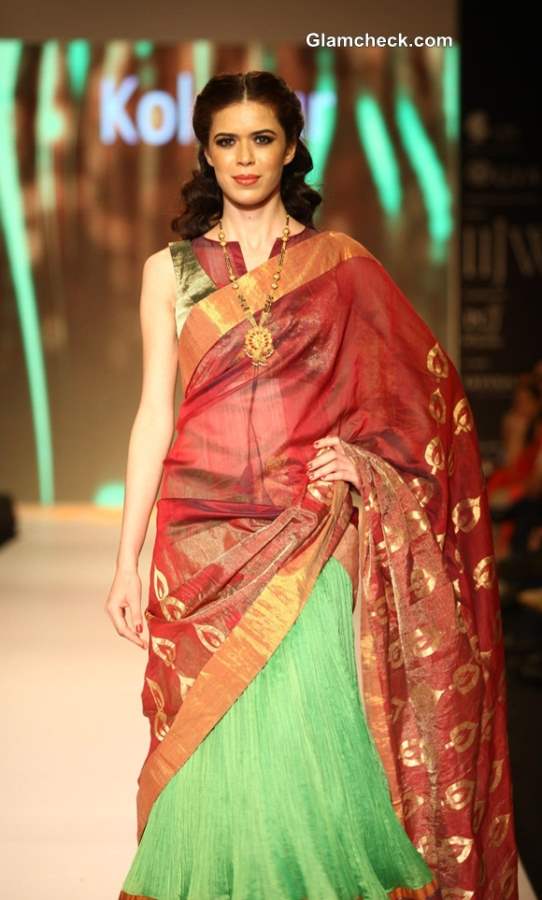 IIJW 2013 Shringar Mangalsutra
Bollywood star Juhi Chawla was the showstopper for the event and was seen in a double layered Mangalsutra – which had a very raani haar like appearance. A four stringed mangalsutra with gold center was attached to a more elaborate longer mangalsutra featuring a big triangular center made of gold.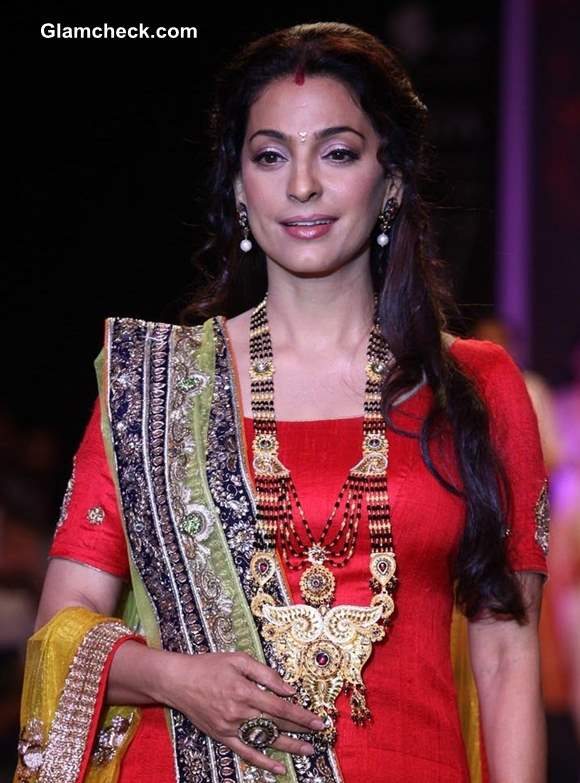 Juhi Chawla for Shringar Mangalsutra at IIJW 2013
The entire piece featured exotic beads and precious stones. She also wore a cluster of bangles on one hand, a big floral ring as well as pearl drop earrings.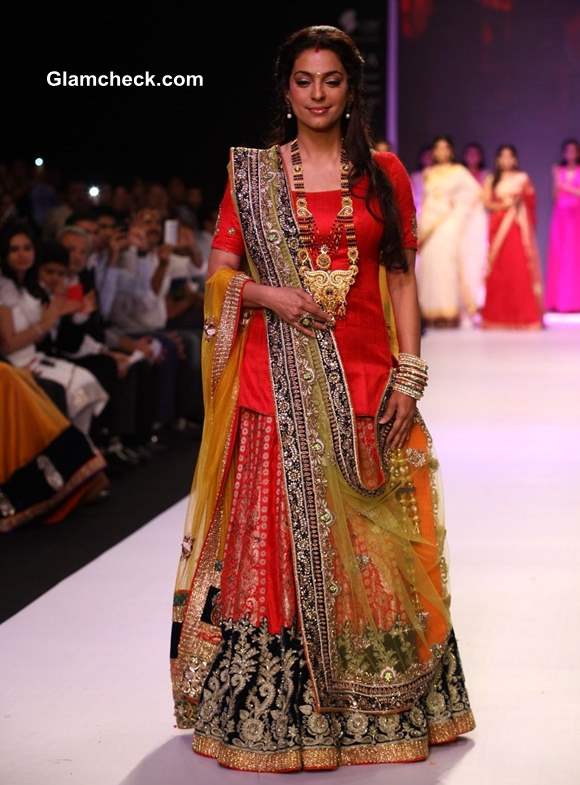 Juhi Chawla at IIJW 2013 for Shringar Mangalsutra
The actress was dressed in a bridal lehenga by Bharatis. It comprised of a long pinkish-red kurti type of choli worn on top of a brocade red and black lehenga – which featured intricate embroidery and zardozi work. The dupatta made a nice contrast in yellow. The showstopper looked beautiful in her attire and of course the mangalsutra was the piece de resistance.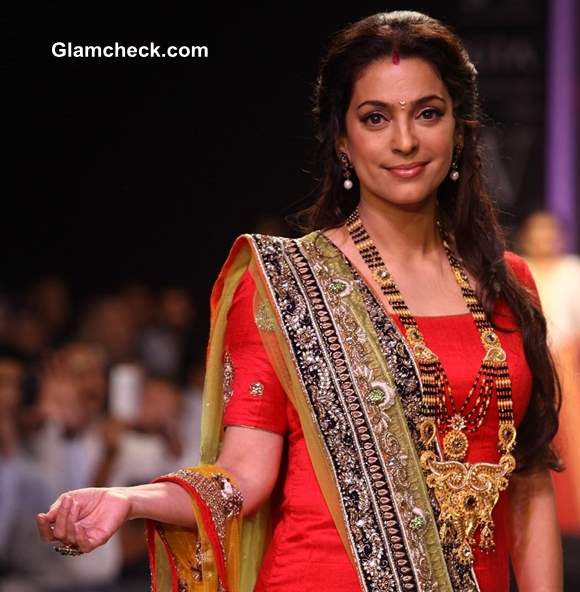 Juhi Chawla IIJW 2013 for Shringar Mangalsutra
Image: IANS