Bollywood actress Shilpa Shetty was joined by her husband Raj Kundra, her dad Surendra Shetty, mum Sunanda Shetty and sister Shamita Shetty for a procession leading to the immersion of a Ganesh idol one and a half days after Ganesh Chaturthi in Mumbai, India on September 10.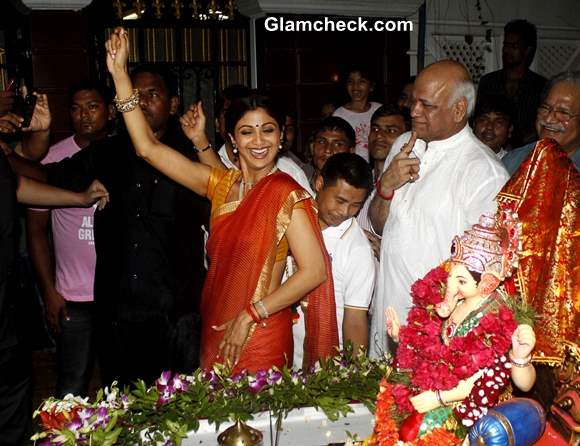 Shilpa Shetty and Family at Ganapati Visarjan 2013
At the puja prior to the procession, Shilpa was seen praying for the success of her IPL cricket team, the Rajasthan Royals. Her look for the day was truly spot-on!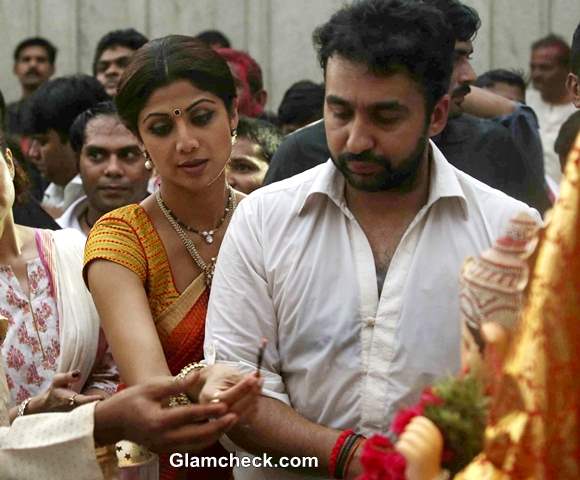 Shilpa Shetty with Raj Kundra at Ganesh Visarjan 2013
Outfit and Accessories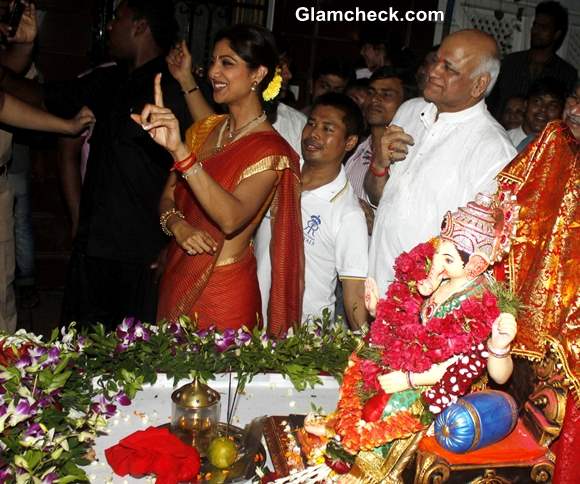 Shilpa Shetty with Family at Ganesh Visarjan 2013
Shilpa, who looks terrific after losing oodles of pregnancy weight, was in full-on Marathi mulgi mode. We couldn't stop admiring her orange sari with a border in gold and her colorful, short-sleeve blouse. Every aspect of her ensemble was inspired by Maharashtrian culture from the color of her outfit to the smattering of ethnic jewellery she sported. She went to great pains to make it an authentic look and we definitely think the effort has paid off.
Makeup and Hairstyle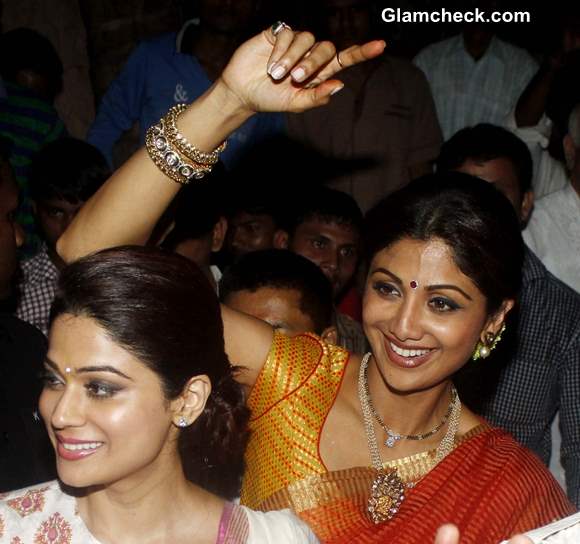 Shilpa Shetty and Shamita shetty at Ganesh Visarjan 2013
She rocked a traditional low bun embellished with yellow flowers and went with neutral makeup color to balance out all the already-existing effervescence of her outfit. A maroon bindi with a silver, shimmery lining rounded off her look.
There was a festive, fun, playful feel to her which suited her mood that day. She was seen dancing enthusiastically as she joined the procession, almost with the energy of a child and just as cute!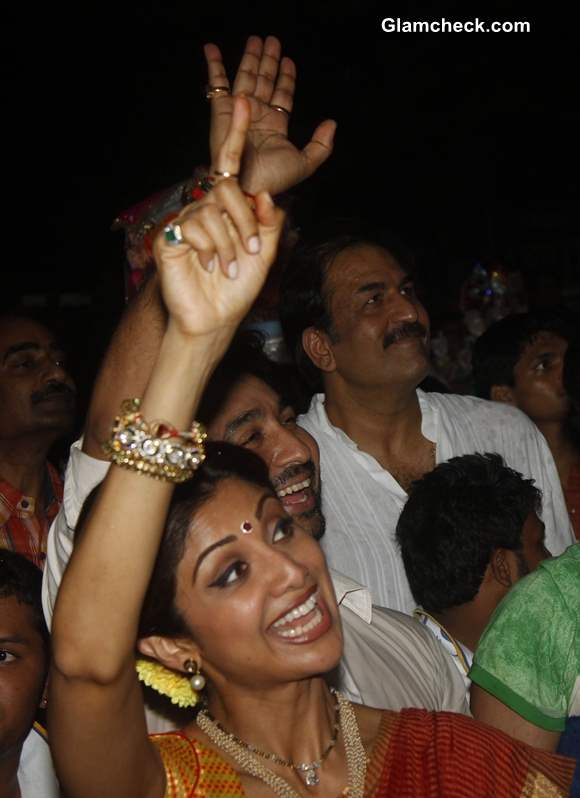 Shilpa Shetty at Ganesh Visarjan 2013
Compared to Shilpa's ultra-festive look, Shamita's was almost low-key. She wore a regular white salwar kameez with a pink patterned print. But her hairstyle outdid Shilpa's. Shamita styled her long locks in a bun too, but hers was more intricate and sat to the side, just under her ear.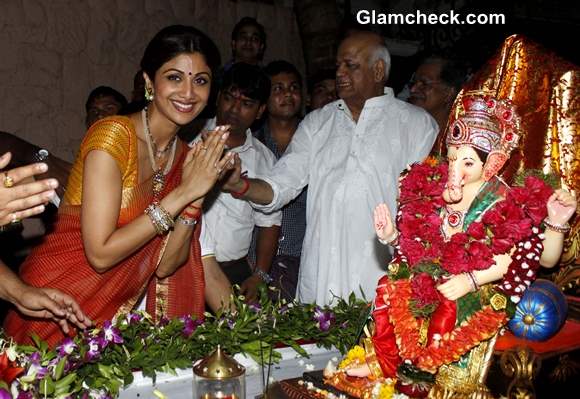 Shilpa Shetty and Family at Ganesh Visarjan 2013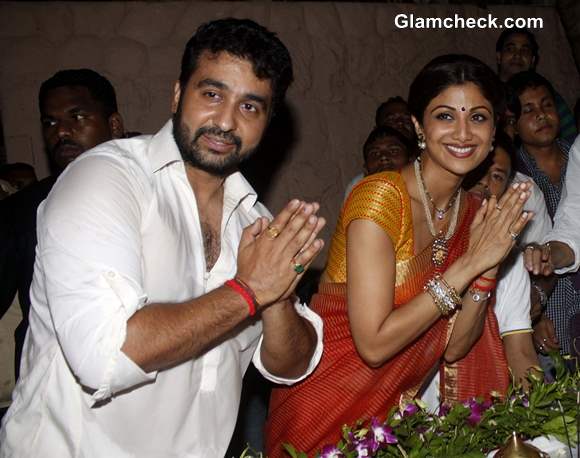 Shilpa Shetty and Raj Kundra at Ganesh Visarjan 2013
The procession was watched by fans and Bollywood celebs alike as it made its way down to Juhu beach where Raj immersed the idol in almost waist-deep water as the family watched on.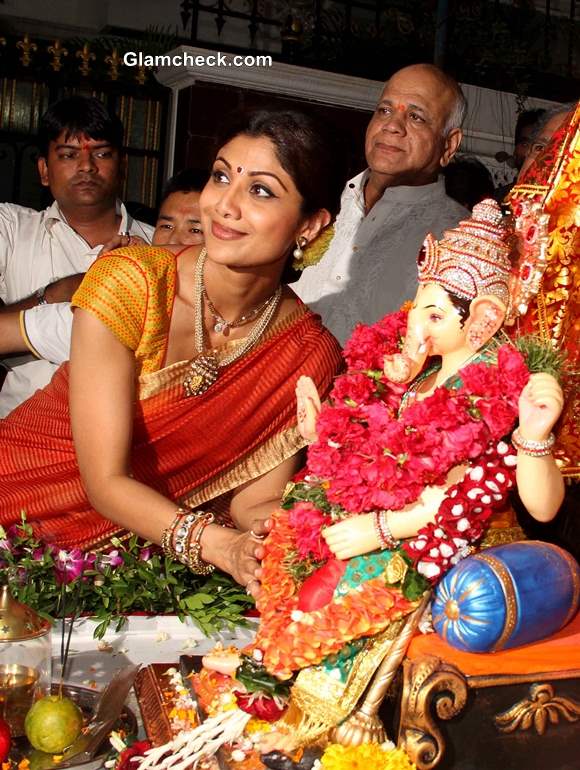 Ganapati Visarjan 2013 Shilpa Shetty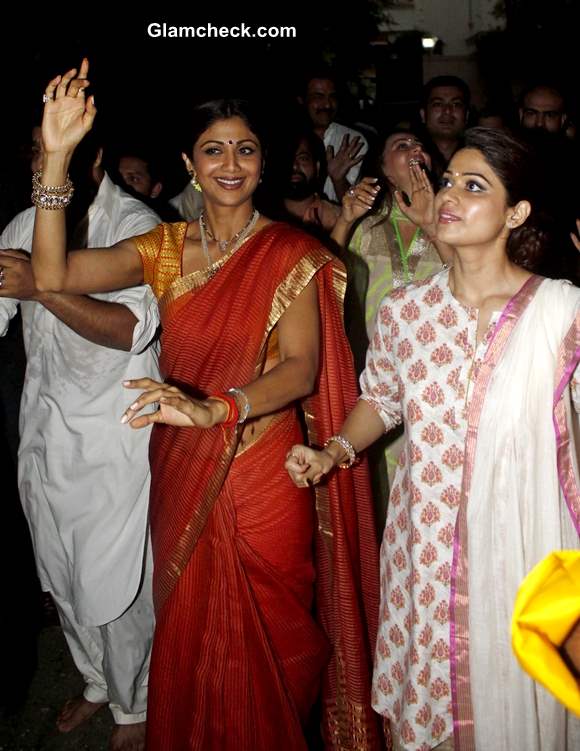 Shilpa Shetty and Shamita Shetty at Ganesh Visarjan 2013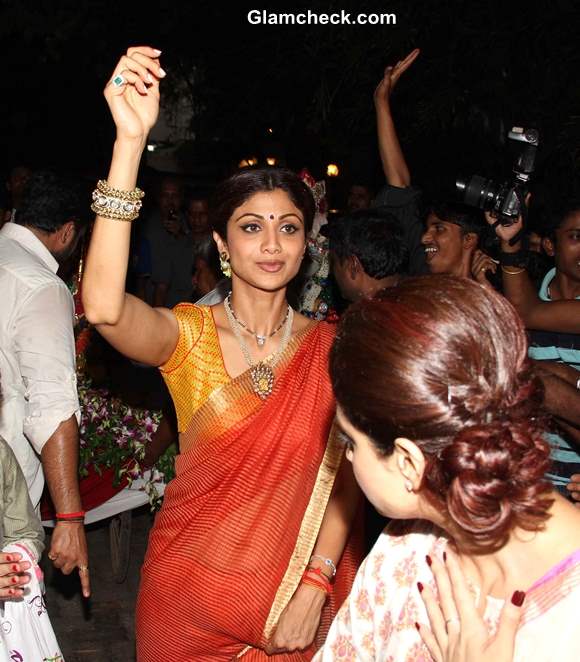 Shilpa Shetty at Ganesh Visarjan 2013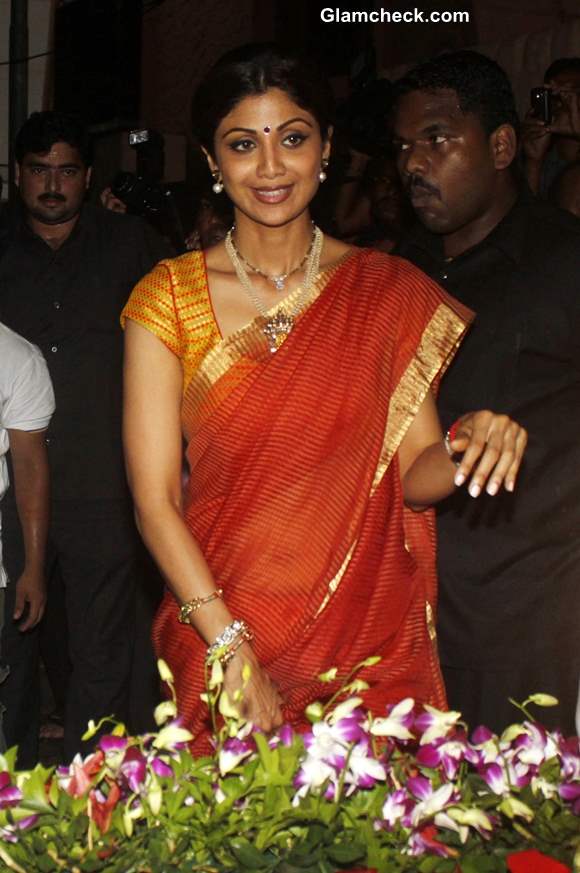 Shilpa Shetty and Family at Ganesh Visarjan 2013
Ganesh Visarjan 2013 Shilpa Shetty
Solaris Images