Sisters Sonam and Rhea Kapoor make a stylish sibling pair, and it won't be farfetched to say that they are among the forerunner fashionista siblings in Bollywood. Sonam is the more seen of the two, this is natural owing to the fact that she is an actress and a public figure. However, this does not mean that we don't get to see Rhea – who is a producer, fashion designer and Sonam's stylist. In fact whenever Rhea makes an appearance her ensemble is something that many fashion watchers take a tip from.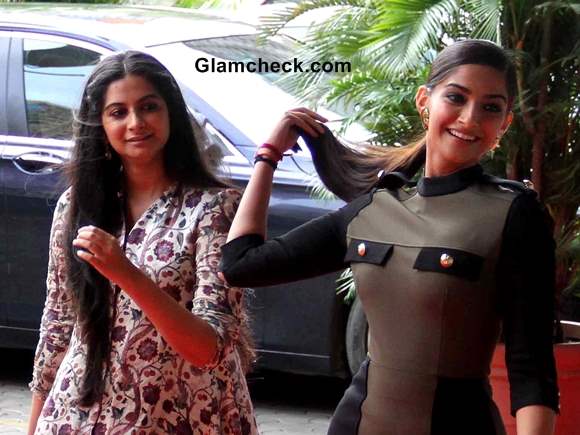 Sonam Kapoor with sister Rhea Kapoor 2013
Both the girls, who are daughters of Bollywood superstar Anil Kapoor, have their own distinct style. They maybe sisters and fashionable – but they are definitely not fashion clones of each other. Each redefines fashion in her own terms. We recently saw the pair make an appearance at the trailer launch of television series 24 in Mumbai, a project that their father is associated with. Incidentally, Anil Kapoor also starred in the original American 24 television series produced for FOX network. At the launch event, both the girls made a fashionable picture, but of course.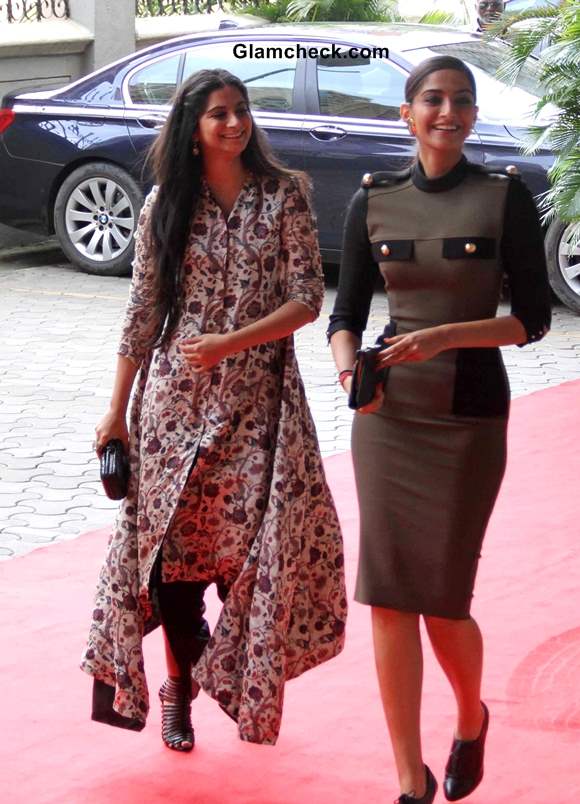 Sonam Kapoor with her sister Rhea Kapoor
Sonam wore a pencil silhouette Victoria Beckham military dress for the occasion. Her feet were enclosed in a pair of brogues. The hair was done up in a sleek ponytail. The older Kapoor sister looked chic with not a hair out of place.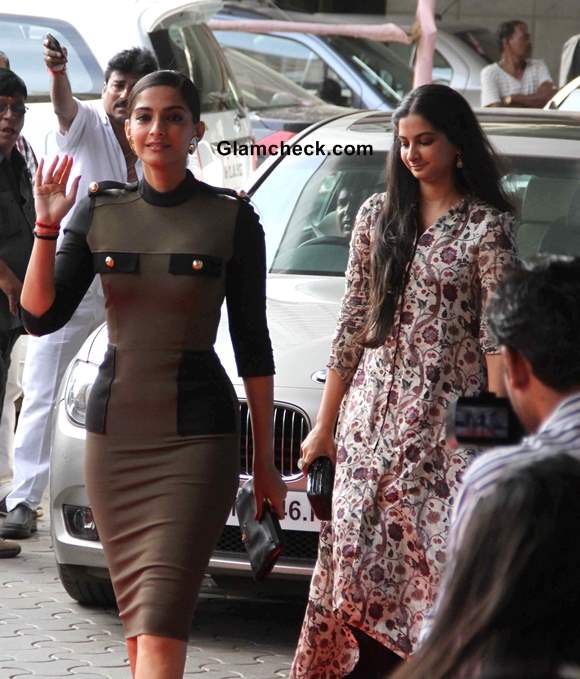 Sonam Kapoor with sister Rhea Kapoor
Rhea chose to go with an Anamika Khanna creation, from the designer's Delhi Couture Week 2013 collection. The voluminous and asymmetrical piece was worn over dhoti pants. In contrast to her sister's gathered look, the younger of the two went for a more carefree and playful hairstyle.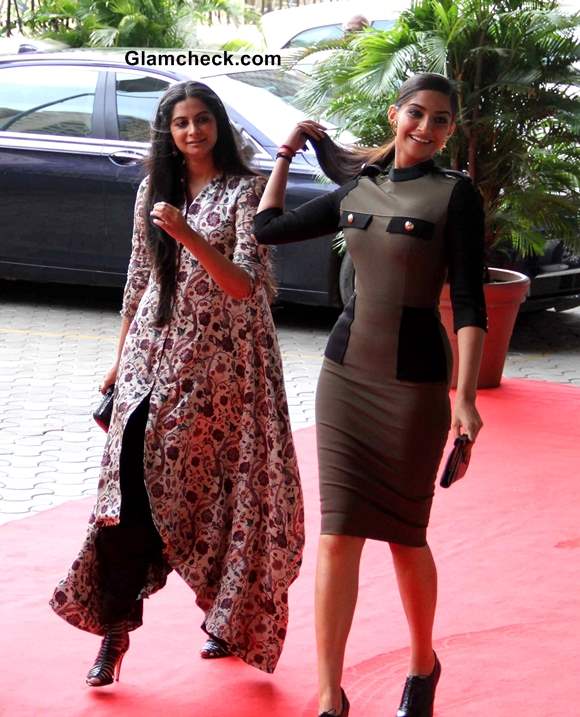 Sonam with her sister Rhea Kapoor – The Fashionista Sister Duo
The sisters couldn't look more different from each other in terms of style statement – and they both looked stylish. Sonam and Rhea Kapoor are sisters but not style twins, and each makes sartorial choices that we look forward to.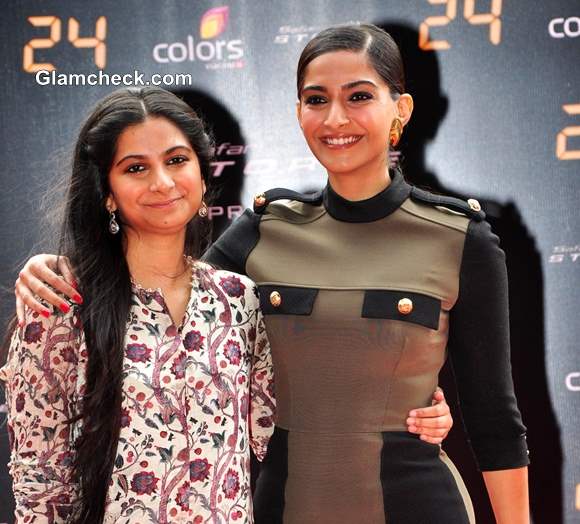 Sonam Kapoor and Rhea Kapoor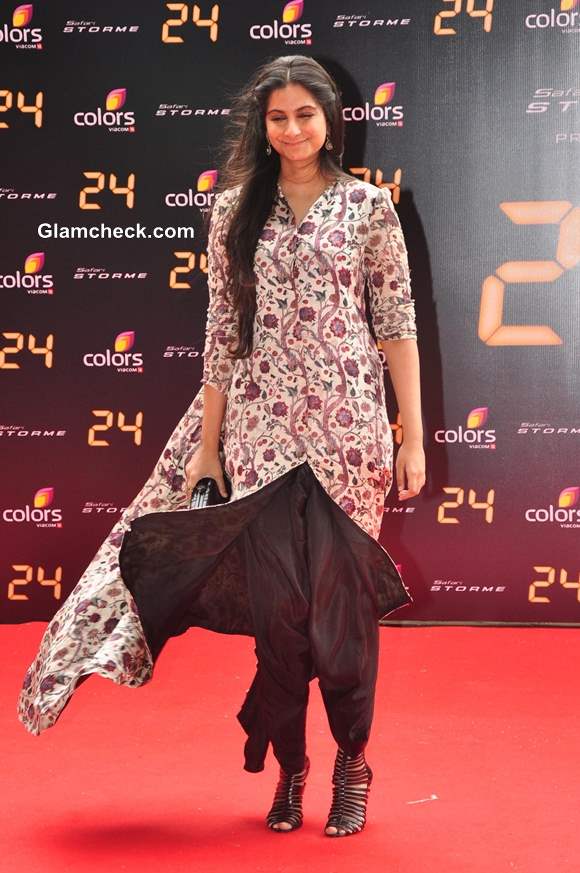 Rhea Kapoor 2013 Anil Kapoor's daughter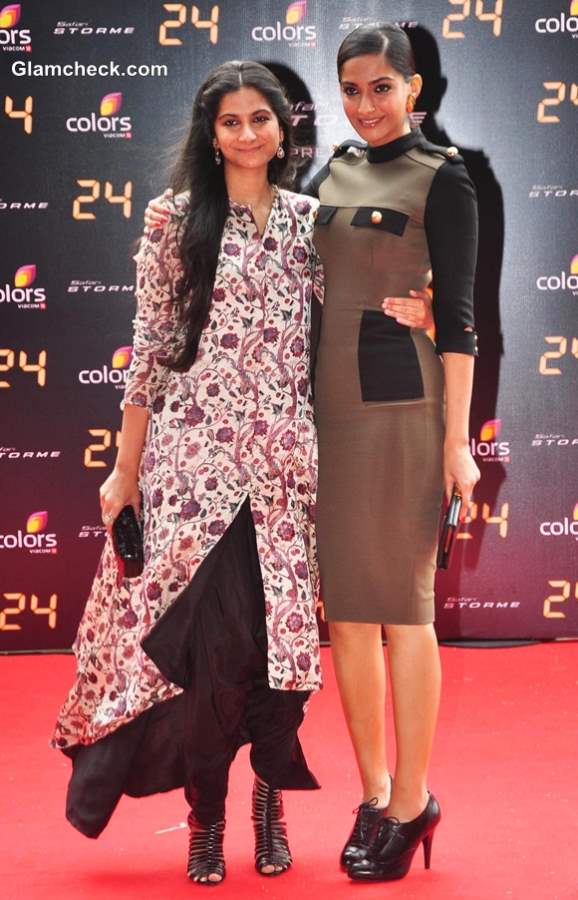 Anil Kapoor daughters Sonam and Rhea Kapoor
Solaris Images