Bollywood actors Urvashi Rautela, Sunny Deol, Amrita Rao and Anjali Abrol, singer Sonu Nigam and director Anil Sharma got together in Mumbai, India on October 28, 2013 to launch the music of their upcoming film "Singh Saab The Great".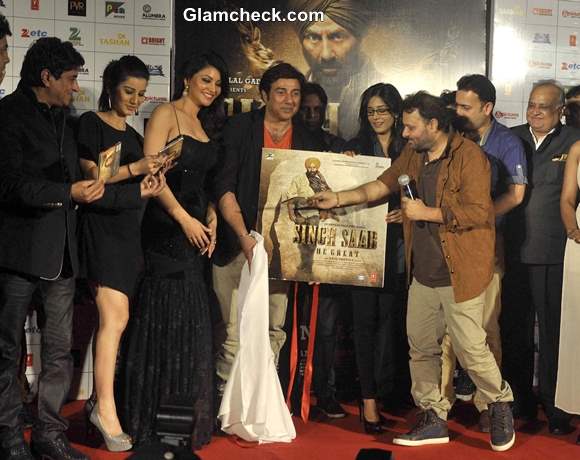 'Singh Saab The Great' Music and Trailer Launch  in Mumbai
The two leading ladies were dressed in very differing styles with Amrita pulling off a geeky look like her journo character in the film and Urvashi going with a sexy siren avatar.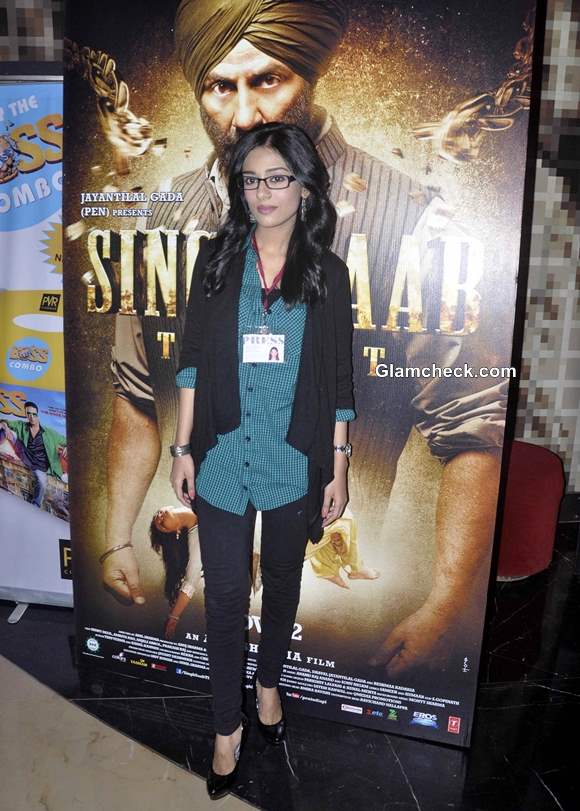 Amrita Rao at Singh Saab The Great Music and Trailer Launch in Mumbai
Amrita wore dark jeans, a turquoise shirt and a long black jacket. Black pumps, a silver watch, silver bangles and dangle earrings accessorized the outfit while a pair of rectangular black frames helped up the nerd quotient of her look. She was totally in character, even joining the other press members at the promo and asking the rest of the cast questions.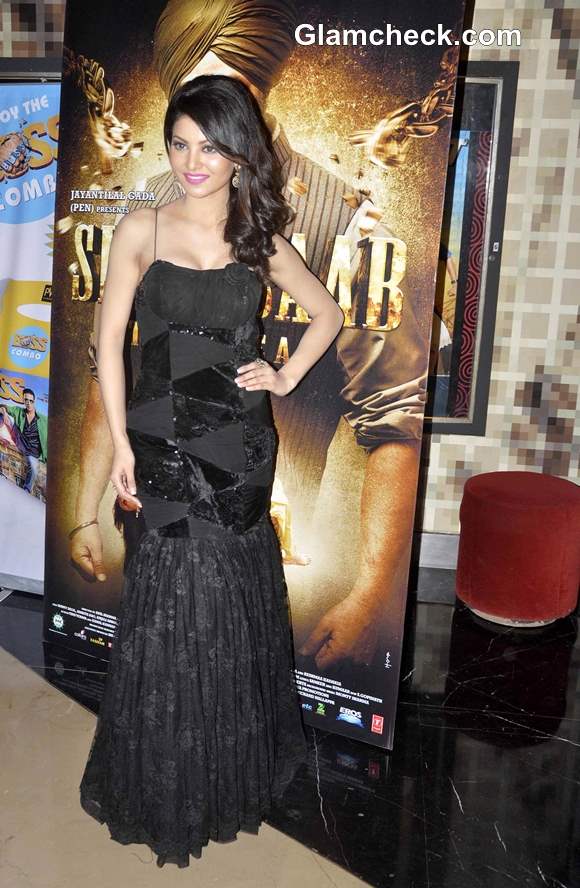 Urvashi Rautela at Singh Saab The Great Music and Trailer Launch in Mumbai
Urvashi sported a black evening gown with a fishtail silhouette, frilling out from the thigh down. She too opted for dangle earrings, cocktail rings being her other accessories. A glamorous side-swept hairstyle and a bright pink lippie rounded off her ensemble.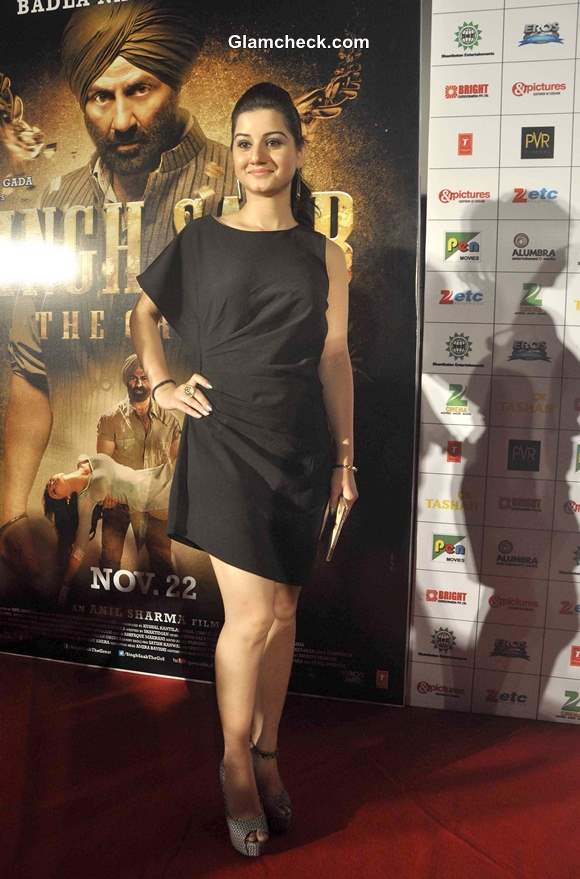 Anjali Abrol at Singh Saab The Great Music and Trailer Launch in Mumbai
TV's Anjali who plays a pivotal role in the film wore a black dress that had an asymmetrical hemline and differing sleeve styles too. It was teamed with silver peep-toes, a couple of bracelets, a cocktail ring and dangle earrings.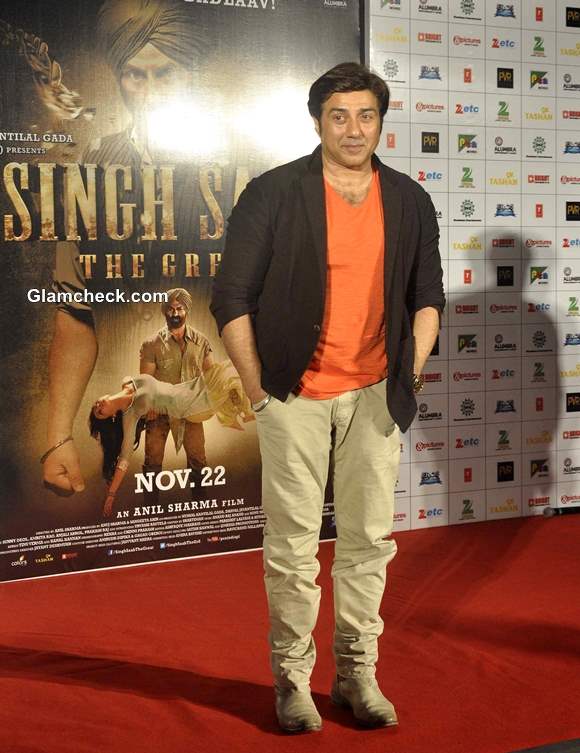 Sunny Deol at Singh Saab The Great Music and Trailer Launch in Mumbai
Sunny's look was very laidback for the big day. He wore khaki pants, an orange tee and a casual brown blazer with flesh-tone shoes.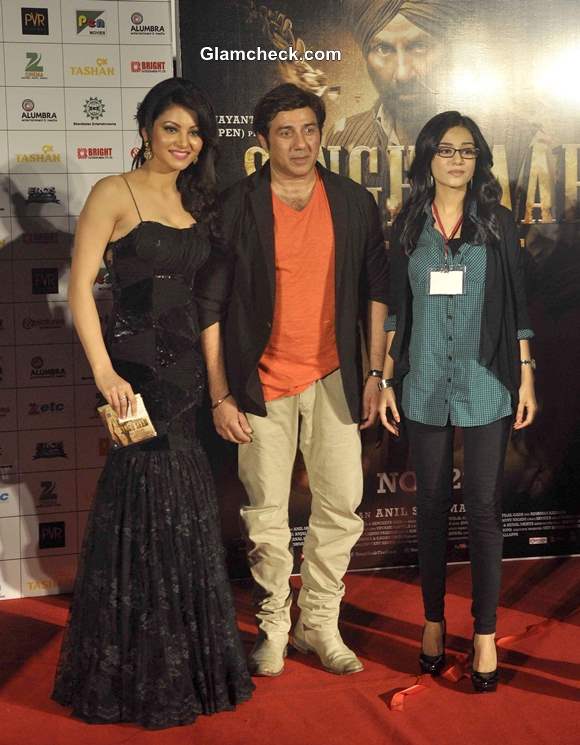 Cast of Singh Saab The Great Launch Music and Trailer in Mumbai
He expressed to the press that promotions nowadays had become very 'weird'. He felt that the trailer of the film should be more than enough to draw in an audience and that the hectic back-to-back promos that are the norm today are just not necessary. He had done them in the past, he said, but got tired. However, he feels that the spate of them in the last few years has made them so expected now that he has no choice but to jump on the bandwagon.
Sonu Nigam, who debuts as a composer with this soundtrack, said that he had a good time composing music for the very first time. He clarified that he had not composed all the tracks and that some of them were the creative works of music director Anand Raj Anand.
Singh Saab The Great release on November 22, 2013. 
Solaris Images