Bollywood actor Deepika Padukone unveiled the special Diwali edition of Star Week magazine in Mumbai, India on November 5, 2013. The cover features the leggy star in a sexy black velvet choli and red lehenga, both exquisitely embellished with gold embroidery. The title of the feature article calls her Bollywood's Empress – an apt moniker for the superbly sexy star with the acting skills to match, not to mention her record as a trend-setter.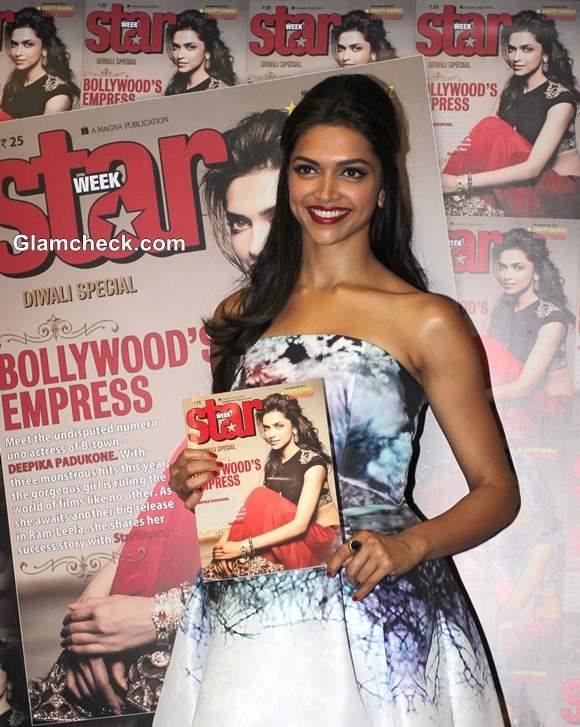 Deepika Padukone Unveils Star Week Magazine Diwali Edition in Strapless Blue Dress
She defended her fashionista title in a stunning baby blue strapless dress at the event. The bodice featured a serene scenery of a lake midst the backdrop of trees in winter. The tea length skirt flared out a bit and so there was plenty of space for that image to be displayed.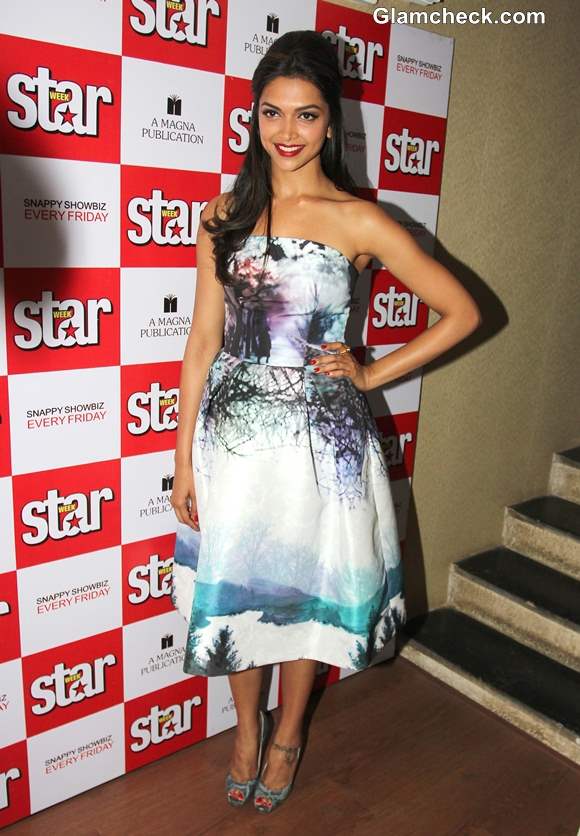 Deepika Padukone Unveils Star Week Magazine Diwali Edition in Blue Dress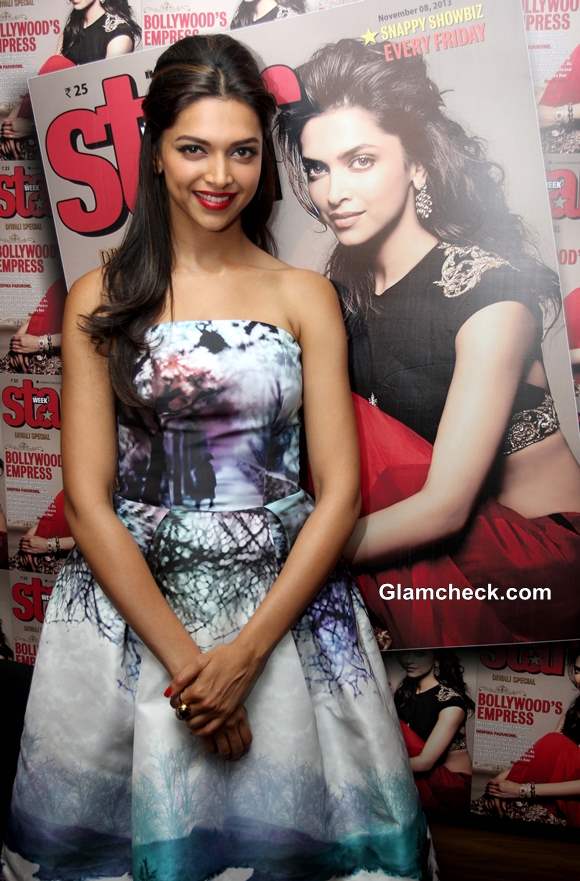 Deepika Padukone at Star Week Magazine Diwali Edition Unveiling
It was a stylish, elegant and surprisingly calming number, the latter thanks mainly to the cool, dreamy print in several shades of blue and purple, with darker inflections lent by abstract black trees.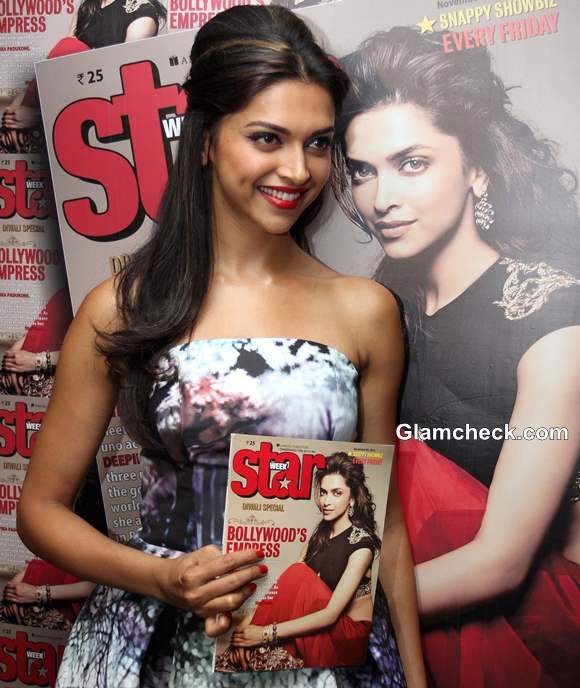 Deepika Padukone at the Unveiling of Star Week Magazine Diwali Edition
She accessorised the dress with a black-stoned finger ring and really pretty blue peep toes. Deepika chose red as the mainstay of her makeup – red lips – the bold color making a striking contrast to all that serenity of her attire. Then there was the sensuous thick cat's eye sweep and generous mascara that served to infuse the look with even more mystery.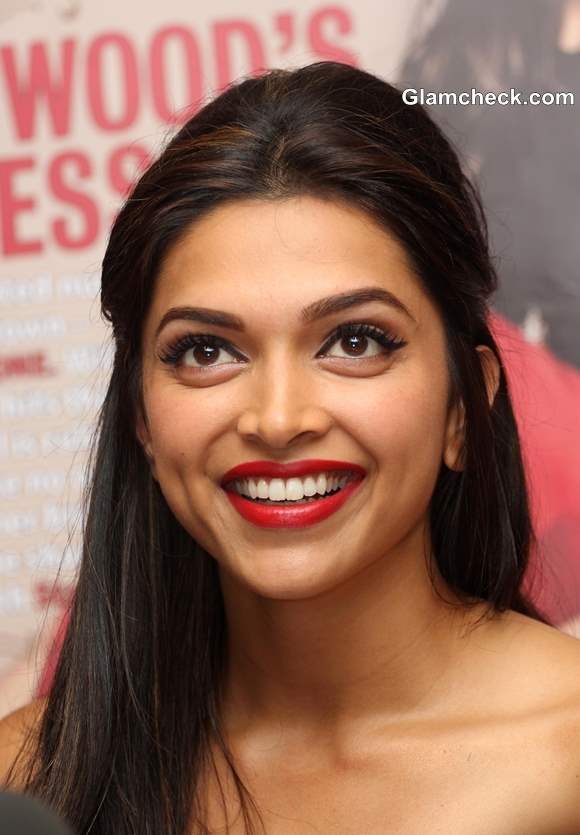 Deepika Padukone 2013 Hairstyle Makeup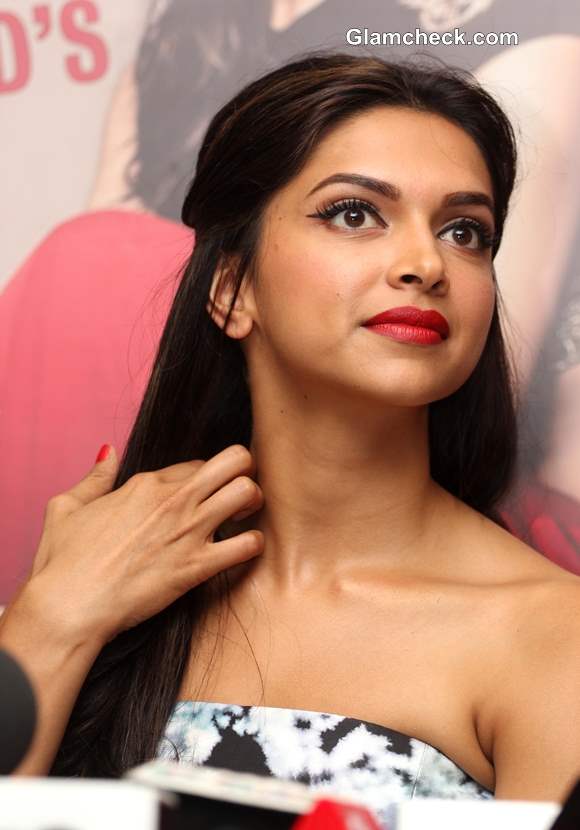 Deepika Padukone 2013 Star Week Magazine Diwali Edition
At the unveiling, talk obviously turned to her upcoming film Happy New Year for which she is currently shooting. Her second with Bollywood king Shahrukh Khan, the film also stars Farah Khan, Abhishek Bachchan, Sonu Sood and Boman Irani. She said she was having a real fun time with the crew and called them all 'mad', referring to their sense of humour and the way that they are protective of her since she is one of the youngest of the cast.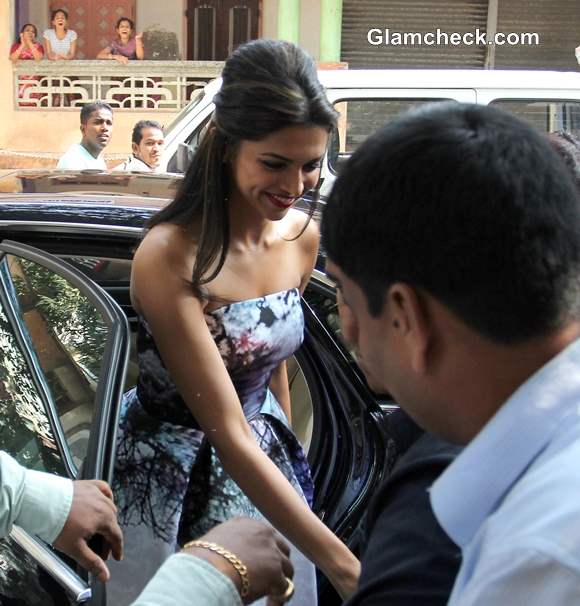 Deepika Padukone 2013 at Star Week Magazine Diwali Edition Unveiling
Solaris Images