The premiere of the film "Dedh Ishqiya" in Mumbai, India on January 9, 2014 was a night to remember. After all, the comeback of someone as amazing as actress Madhuri Dixit can hardly be ignored or left uncelebrated. A host of celebrities came out to the premiere and we love how they all banded together in traditional outfits to show their support for the period drama.
The red carpet was a catwalk of sorts, welcoming the film's heroines followed by the other lovely ladies who graced the event with their presence.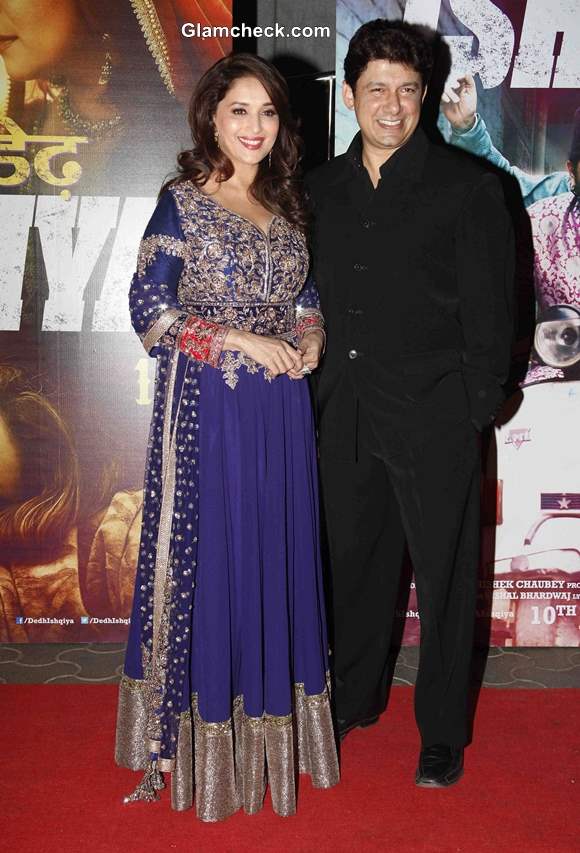 Madhuri Dixit with Husband Sriram Nene at Dedh Ishqiya  Premiere
First up was, but of course, the enchanting Madhuri Dixit herself with her husband Ram Nene. She was decked out in a blue lehenga choli by Manish Malhotra. Silver embroidery and sequin work embellished the bodice, hemline and dupatta, negating the need for heavy jewellery to jazz the look up.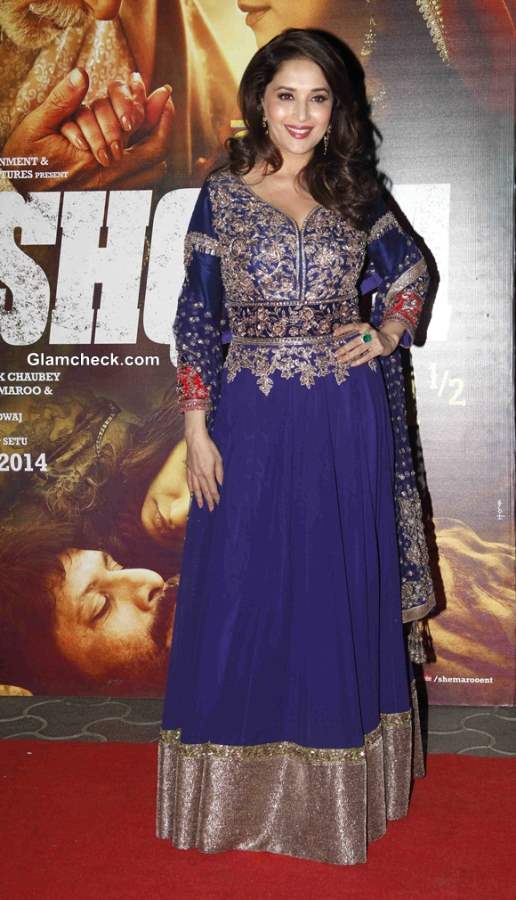 Madhuri Dixit at Dedh Ishqiya  Premiere
The ensemble was a perfect one for the premiere since it closely reflected her avatar in the film too.
Huma Qureshi, the film's other leading lady, was next up in a fuchsia lehenga choli embellished with gold and silver embroidery on the arms, dupatta and lower half of the lehenga.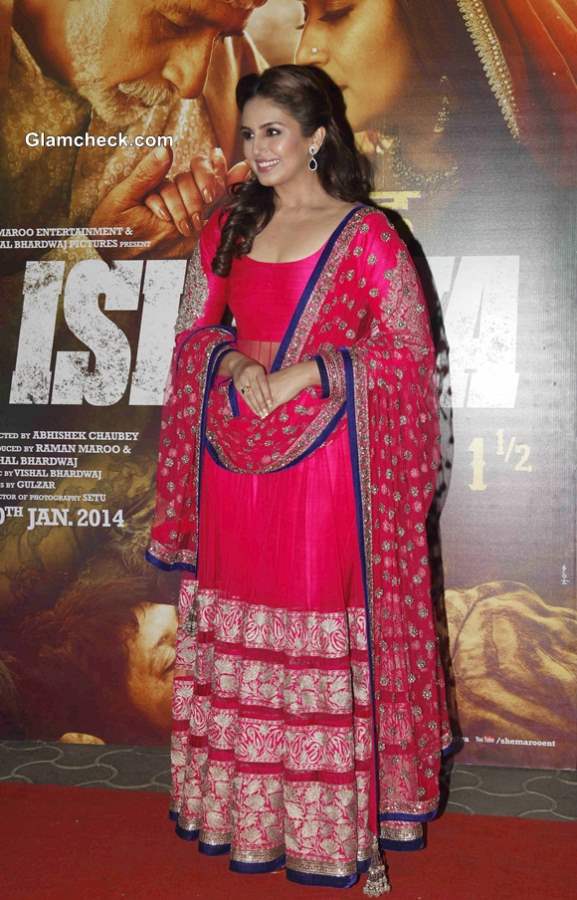 Huma Qureshi in Pink Anarkali at Dedh Ishqiya  Premiere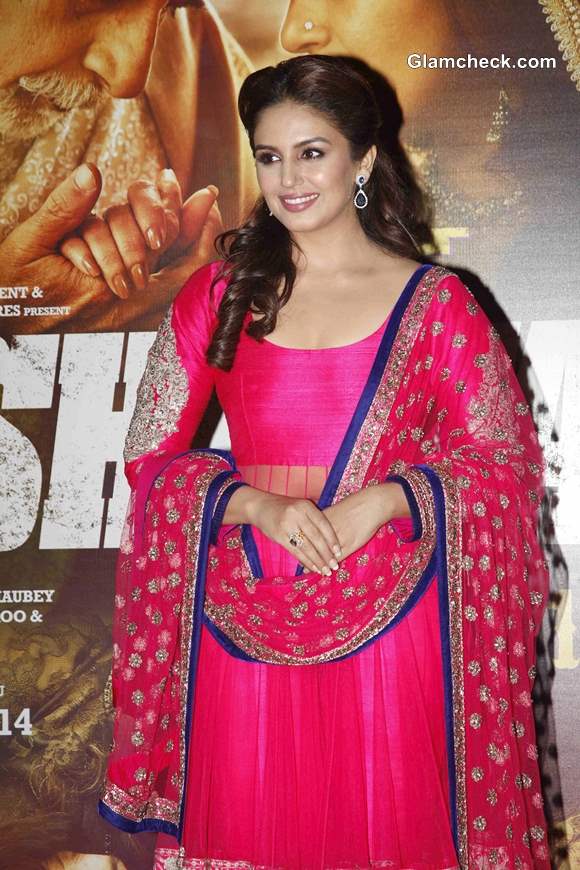 Huma Qureshi at Dedh Ishqiya  Premiere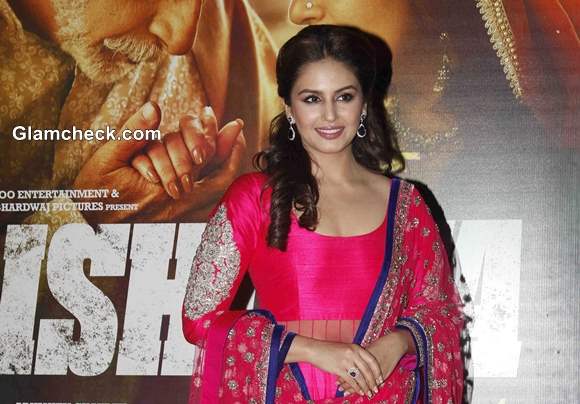 Huma Qureshi 2014 at Dedh Ishqiya  Premiere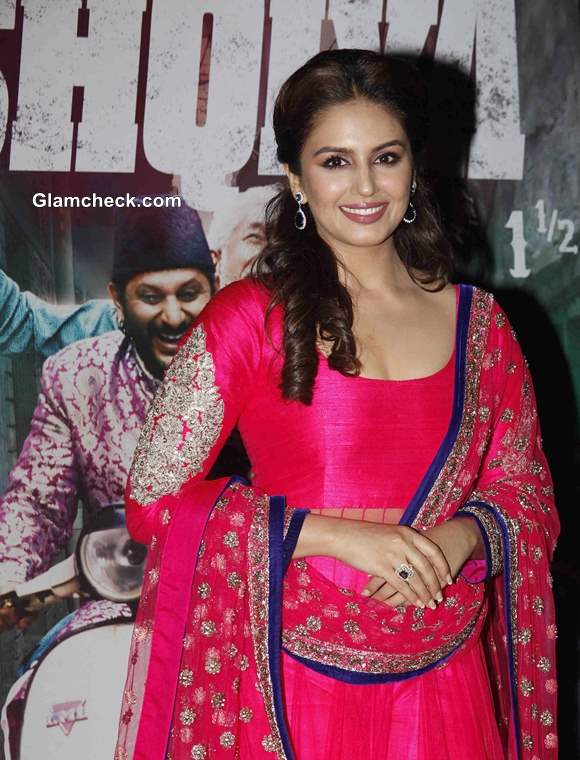 Huma Qureshi Pictures at Dedh Ishqiya  Premiere
Of course, she didn't come anywhere close to matching up to Madhuri, but she nevertheless looked great in her own right.
Maria Goretti and husband Arshad Warsi attended as well. He wore an all-black pantsuit and shirt minus a tie while she matched in a modern asymmetrical long black blouse paired with a red, green and gold saree.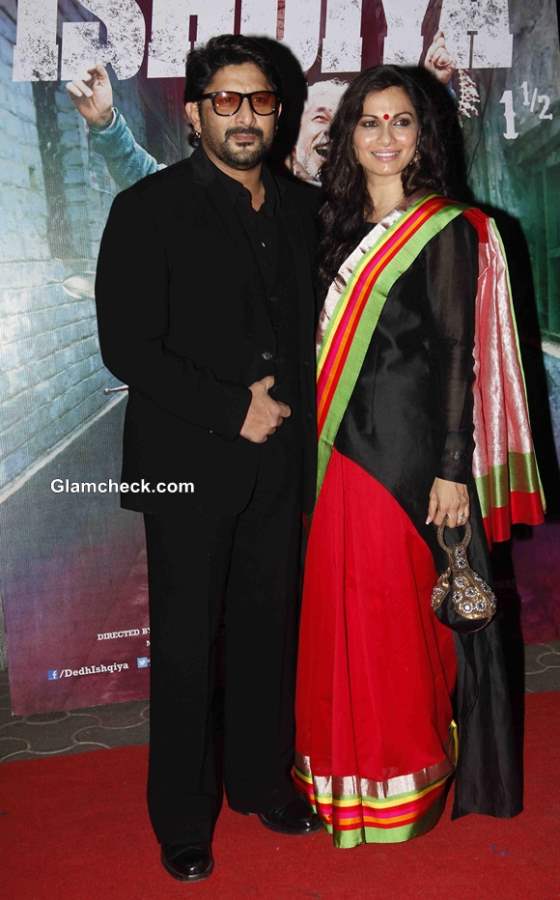 Arshad Warsi along with his wife Maria Goretti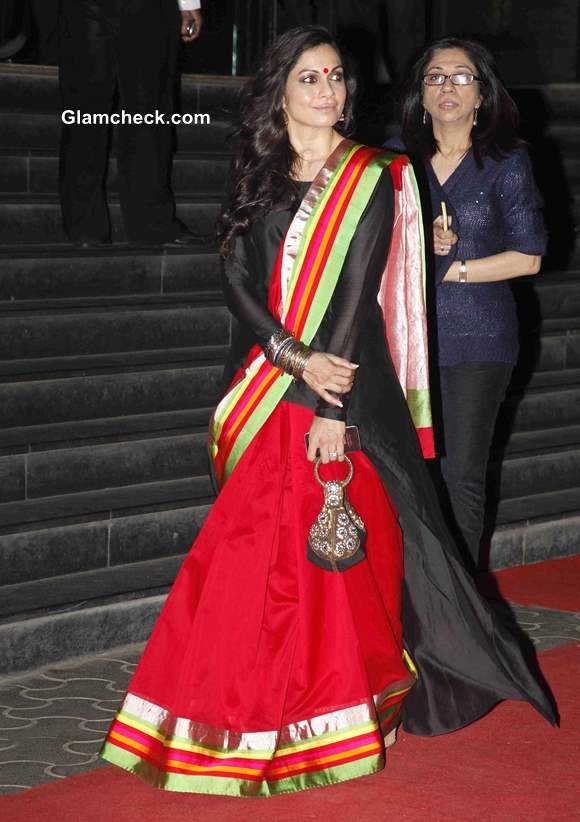 Maria Goretti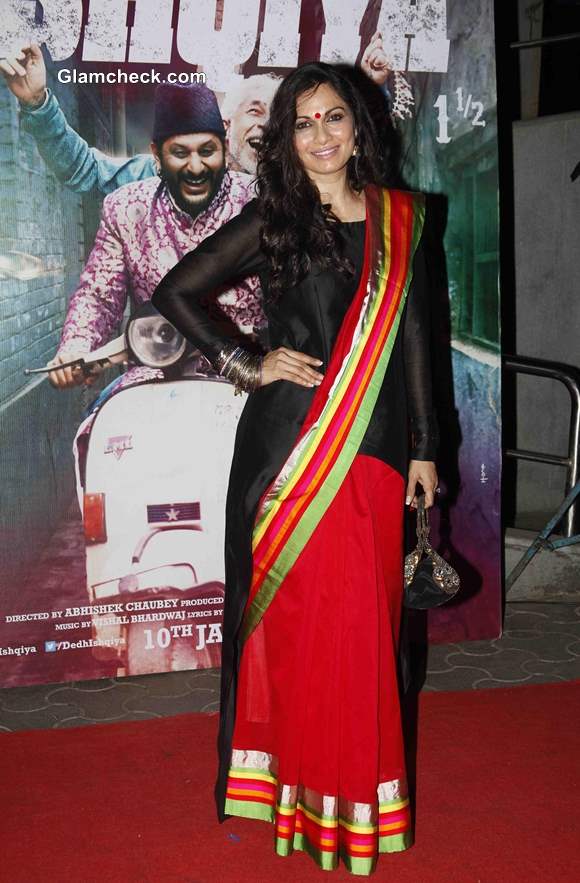 Maria Goretti in Red Sari at Dedh Ishqiya  Premiere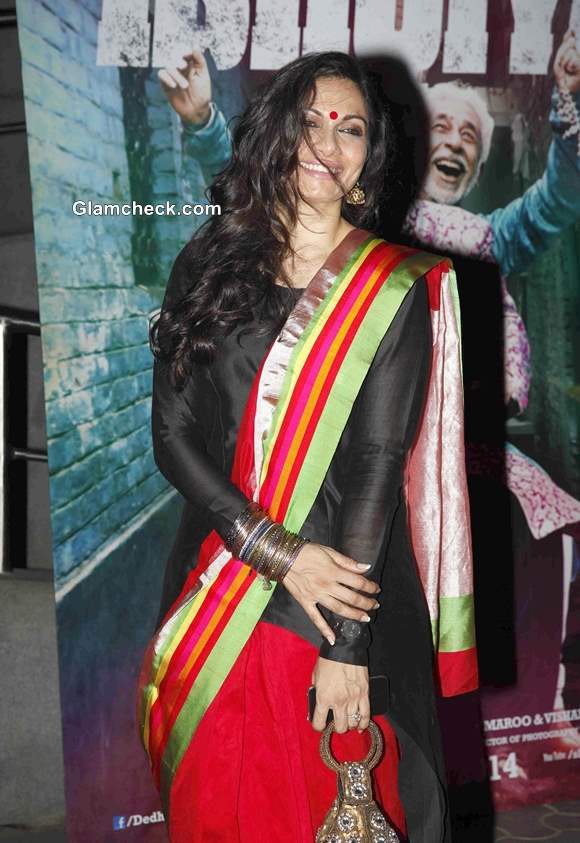 Maria Goretti Wife of Arshad Warsi at Dedh Ishqiya  Premiere
Kalki Koechlin looked very fetching in black and white sari with a red, elbow-length blouse. She added a contemporary twist by wrapping the pallu of the sari around her neck like a scarf. We like.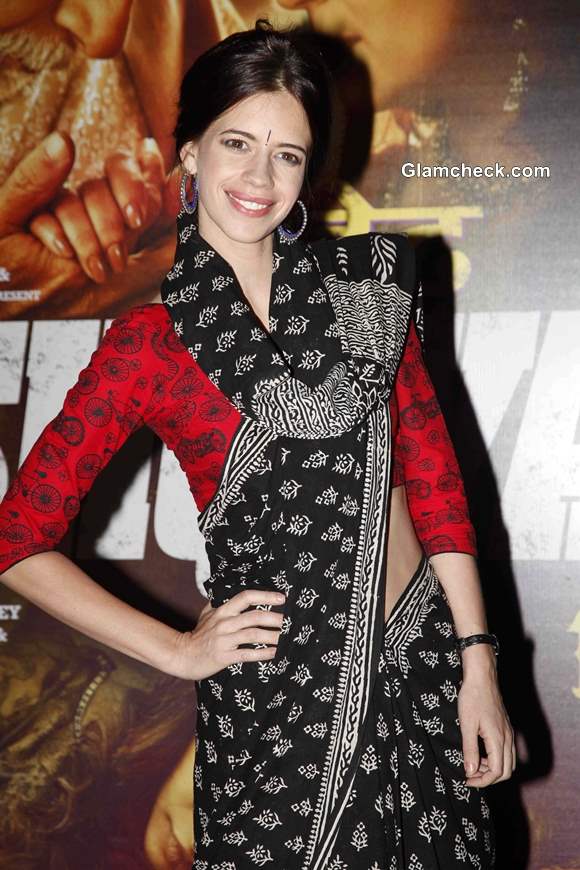 Kalki Koechlin in Sari 2014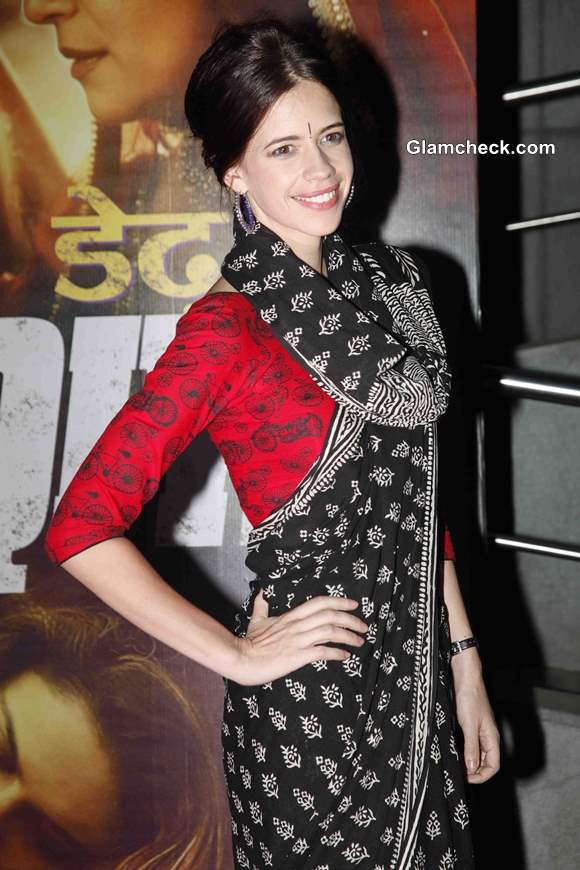 Kalki Koechlin in Sari 2014 at Dedh Ishqiya  Premiere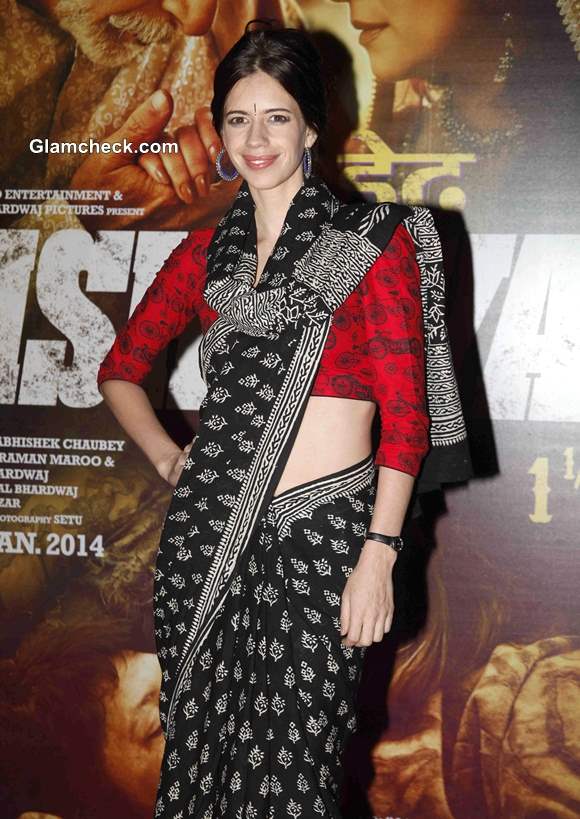 Kalki Koechlin in Sari at Dedh Ishqiya  Premiere
What surprised many was that the film's lead actor Naseeruddin Shah failed to show up to the premiere. But then, he is known to shy away from all types of publicity and media-heavy events and this premiere definitely falls into the latter category.
Also conspicuous by their absence were Sridevi and Vidya Balan. Madhuri has been a strong supporter of Vidya ever since the actress made her debut in Bollywood. And as for Sridevi, Madhuri even extended a personal invitation to her. But neither of the lovely ladies turned up for the premiere. Maybe they'll catch the film on DVD later.
Here are a few other celebs who won't have to bother with the DVD, having caught the film on the premiere night itself – Amit Sadh, Vijay Raaz, Rekha Bhardwaj with her husband Vishal Bhardwaj, Abhishek Chaubey, VJ Andy, Vikramaditya Motwane, Saqib Salim, Tannistha Chatterjee, Adil Hussain and Rajkumar Rao. 
Solaris Images