Hello everyone, in today's short video I will show you guys how I celebrated dussehra this year.
This time, I and my husband decided to make full utilization of the holiday and headed for a day trip to Lepakshi temple on Dussehra 2014. In fact, this was our third trip to this beautiful and sacred place. Of course, along with the recounts from my journey, which includes a glimpse of the temple, I will also talk about my outfit of the day that I wore to the temple.
We started early in the morning for Lepakshi Temple, it is a 2 hrs drive from Bangalore where we live.
Since it was Dussehra, there was already quite a crowd at the temple by the time we reached. On arrival we first purchased Prasad and then proceeded to enter the temple, after removing our shoes at the entrance. We offered our prayers to Lord Veerbhadra Swami (an incarnation of Lord Shiva), we also offered our prayers to Maa Parvati and Maa Lepakshi (both are forms of goddess Durga),
After offering our prayers, I decided to film my outfit of the day.

Temple Outfit Details – VIDEO
Since I was in a festive mood and it was a temple visit I chose Indian ethnic wear in bright colors. My pick for the day was an orange and red combination outfit; these colors are also considered auspicious in Hindu tradition. I chose to wear a salwaar – kurta, which was not just an ideal attire for a temple visit but also a comfortable clothing option when one has to travel for hours. 
Lepakshi Temple Outfit Nalli Silks
My silk kurta is from Nalli Silks in Bangalore; a retail chain considered an icon of South India and has become synonymous with silk and kanchipuram sarees. This pretty 3-4th sleeved kurta has a lovely detailing in the front and on the sleeves, and the fabric feels awesome on the skin.
I teamed my silk kurta with a reddish maroon cotton dhoti pants which I bought from Akriti in Bangalore. My bright red cotton dupatta is a buy from Biba.
For my hair, I went for a casual half looped in ponytail. Then, I accessorized it with a bright red artificial flower hair clip which I made myself. Do let me know, if you want me to make a separate DIY tutorial for the hairstyle, in the comments section below.
For my makeup, I just applied moisturizer, black eyeliner, mascara and red lipstick. A bright red bindi and sindur on my forehead completed my Indian look.
Moving on to my accessories for the look, I wore silver toe rings, a gold finger ring, gold bangles and yes, I painted my nails in a bright red shade as well.
I think this outfit was the perfect choice for my temple visit on Dussehra….. What do you say? 🙂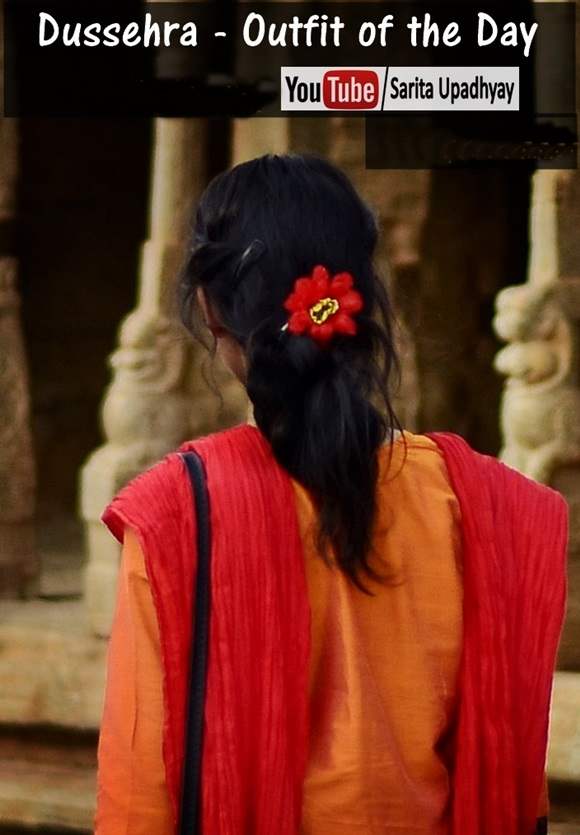 Indian Youtuber Outfit
After filming the outfit, we wandered around the temple for a while filming clips just for you guys 🙂 
About Lepakshi temple
:
NOTE – You can see the lepakshi pictures here – https://www.exposureeffects.com/lepakshi-anantapur-district-in-andhra-pradesh-india/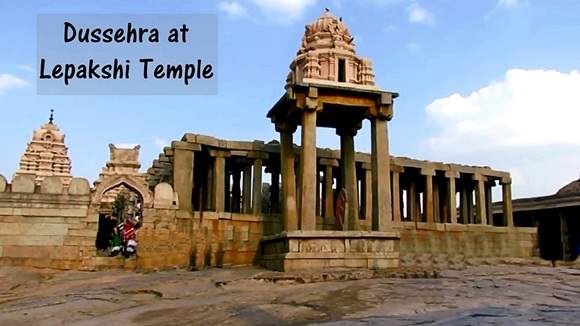 Lepakshi Temple
The Lepakhsi Temple collocated with the Veerbhadra Temple is a glorious example of the Vijayanagar style of temple architecture.
Lepakshi Nandi
One of the main features of the temple is the huge Nandi on the main road, about 200 metres from the temple and has been positioned such that it faces the Huge Shiva Lingam shielded by a huge serpent inside the temple. 
The huge Nagalinga or serpent with three coils and seven hoods can be seen cut out of granite rocks to create a breathtaking structure. Here the Shiva Lingam is protected by the hood of the serpent and legend has it that the entire structure was carved out by a craftsman, while his mother prepared lunch for him.
Other Points of interest in the Temple are:
On the entrance of the temple is Natya Mantapa which has pillars with life-sized images of dancers, musicians and other sculptures, created by the artisans of the Vijayanagar Empire

Giant footprint of Sita Amman which always has a trickle of water coming into it from somewhere, the exact origin is not known

A couple of steps ahead of the footprint, you will find circles scooped into the rock. Those are thalis (a plate with multiple bowls), where workmen sat for lunch and food was served in these various 'bowls'. 

The temple also has an incomplete marriage hall – Kalyana Mantapa built at the spot where Shiva and Parvati were supposedly married many yugas ago. 
After spending a couple of hrs at the temple, we checked out a couple of other nearby places and finally it was time to make our way back home. It was getting dark and also raining while we hit the road back to bangalore. All in all it was a pleasant and beautiful day.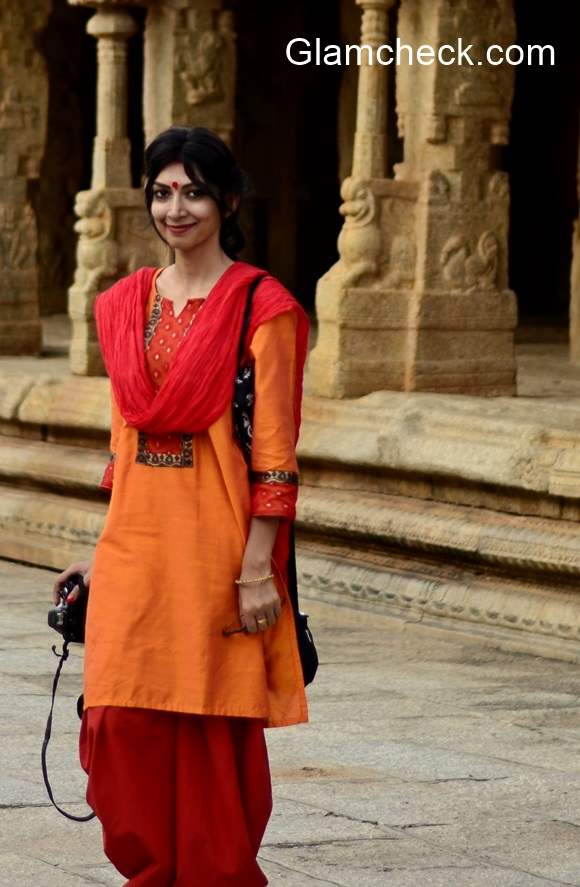 Nalli Silks Bangalore Temple Outfit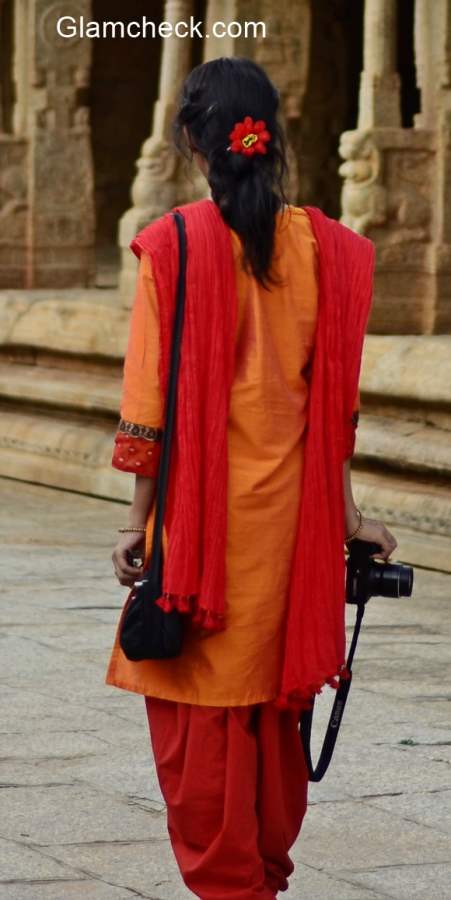 Temple Outfit
I was glad to celebrate Dussehra at the Lepakshi Temple; it allowed me to connect to the almighty on an auspicious day. My bright, colorful and comfortable temple outfit of the day also helped me to fully enjoy the festive feel of the outing. I feel when you are dressed the part then any event, occasion or celebration becomes all the more special.
I hope you liked this video, do let me know your thoughts in the comments section below.