Swimsuits are wardrobe essentials. Whether you are planning to swim in a pool or going to have fun on the beach, swimwear not only make the activity easy but wearing the right kind can make you appear well toned and attractive.
It is very important to choose the right kind of bikini. Pick up a bikini that can hide your flaws and accentuate your figure by highlighting the best part of you.
Swimsuits are not just the regular one-piece or two-pieces, but have evolved with time. There are now a variety of swimsuits available in different cuts, prints and designs; suitable for women with different body types. Now every woman can feel confident and look gorgeous in the water.
Swimsuits for all:
Check out the link below to find out which is the best swimsuit for your body type:
Types of Swimsuits / Swimsuit categories:
The differentiation between bikinis is made on the basis of amount of coverage they offer and in turn, the meters of cloth that is used in manufacturing the bikini.
A typically traditional bikini will enclose the breasts fully and also offer full coverage at the rear and bottom
Brazilian bikinisare different. They may not provide you such modest coverage. These Brazilian bikinis are marked by low rise bottoms and skimpy breast coverage.
A micro bikini also know as a microkini barely offers any coverage at all. But still you would be wearing a bikini!!!
Some most erotic styles are designed to feature strings at the rear and a little triangular piece of cloth at the front. The most extreme styles have just a string at the rear and a tiny triangle of material at the front. The bikini tops may be as small as to provide coverage only at the highest points, at the contours.
1) Bikini:
One piece as well as two piece swimwear in bold, bright colors, exotic prints, feminine cuts, laces and trimmings may help you grab all that attention you ever desired.
1.1 Two-piece bikini/ swimsuit:
The two piece bikini is conventional, never out-of-style and always in vogue. As the name suggests, two-piece bikini is a bikini with two-parts, one for covering the breasts and the other covering the bottom, exposing the area between the two. (except tankini)
Some offer a large amount of coverage while others cover the bare minimum. The two piece bikini is conventional, never out-of-style and always in vogue. These are available in bright, bold colors and prints.They range from halter-tops, tube-tops to the bandaged look.
They look good on almost all body types.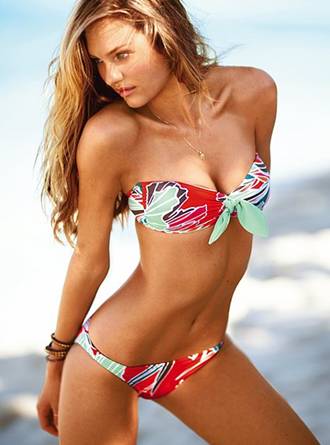 Two piece bikini, Bandeau style, Victorias secret
1.2 One-piece bikini/ swimsuit:
It is usually a body hugging one-piece swimsuit that covers the torso. These are often considered the most modest ones and preferred by women who don't wish to expose more of their skin.
Variants include bandeau styles, halter-necks, racer-backs and noodle straps. These are also known as athletic swimwear.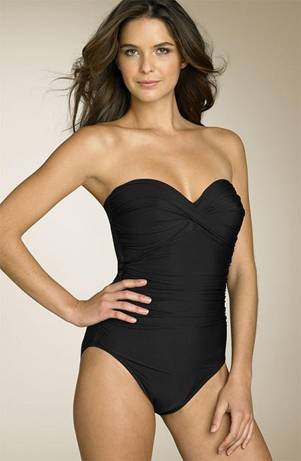 One piece bikini / swimsuit, black strapless / swimwear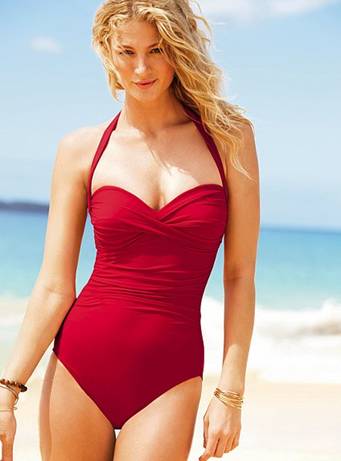 One piece bikini / swimsuit, red, halterneck / swimwear

So while you adorn yourself with the bikini always remember, whether you chose a one-piece or a two-piece bikini, to choose a style that suits your body shape and helps you flaunt the best of your assets.
2) One-shoulder swimsuit
This type of swimsuit comes as a one-piece swimsuit or a two-piece bikini. As the name suggests, the diagonal strap running across your shoulder in asymmetrical designs will give you a diva-look to flaunt. It helps you get more tan on your back.
Good for: The style goes well with those with a petite body frame. You may flaunt your well toned arms by wearing a one-shoulder swimsuit.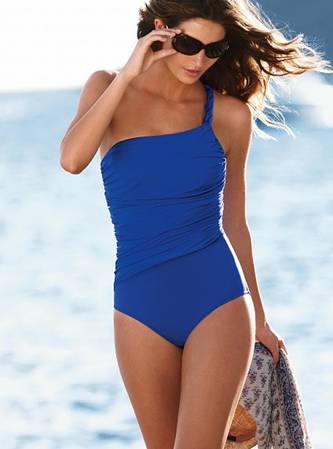 Blue, one-shoulder swimsuit / swimwear
3) Monokinis
Monokinis are an evolved version of classic bikini combined with a one piece. The top usually has deep plunging neckline and consists of a thin strip of cloth that runs all the way down your abdomen offering a great cleavage. Monokinis are cut-away bikinis that will hide your body flaws and accentuates your curves. Monokinis paired with a mini denim skirt is a hit.
Good for:Monokini looks good on a petite body frame.
4) Tankini:
The tankini is a variation of a two-piece swimsuit. It has a tank top combined with a bikini bottom. One can combine different bikini bottoms such as boy-shorts, low rise bikini or a string bikini as desired with this style. It offers a sporty swimsuit look. A tankini can feature a halter neck or a strapless style as well.

Tankinis come in different cuts and styles and have built-in push-up bras. Tankinis offer least skin exposure and provide a modest coverage to the wearer.

Camikini, a tankini variant, comprises a string bikini along with a camisole top.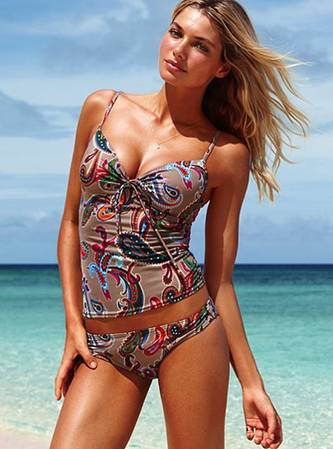 Printed Tankini, Victorias Secret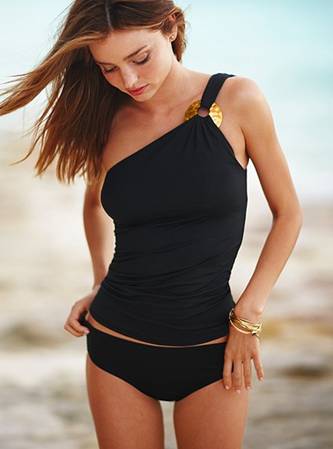 One- shoulder black Tankini , Victorias Secret
Bandeau style swimsuit:
The Bandeau style swimsuit features a top that is made from a single piece of material to cover your breasts like a band does. A bandeau style can be incorporated in other types of swimsuit such as a two-piece bikini, one- piece bikini or a tankini.
The design may feature strap or none at all. Most of these feature either two or more thin straps placed asymmetrically.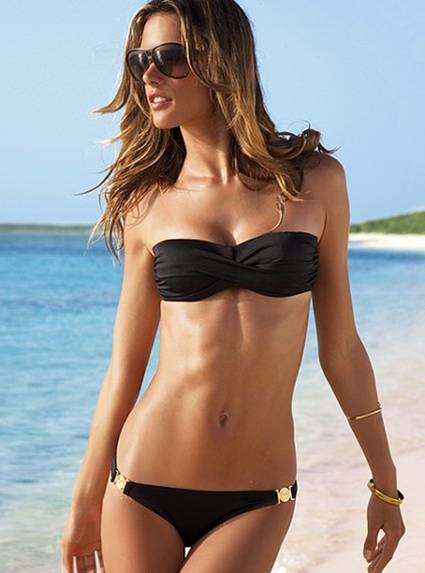 Bandeau style bikini , Victorias Secret
Good for: The design is apt for those with smaller breasts, as the support that a bandeau provides is minimal.
Triangle bikini:
A triangle bikini consists two triangular areas of fabric that are held together, in a line, with the help of a thin string.
Good for:The style works well with smaller breasts as they provide minimum lift and support to the breasts.
Halterneck bikini:
Halterneck bikinis features a a halter neckline. The style can be incorporated in one-piece bikini, two-piece bikini, Monokini or a tankini.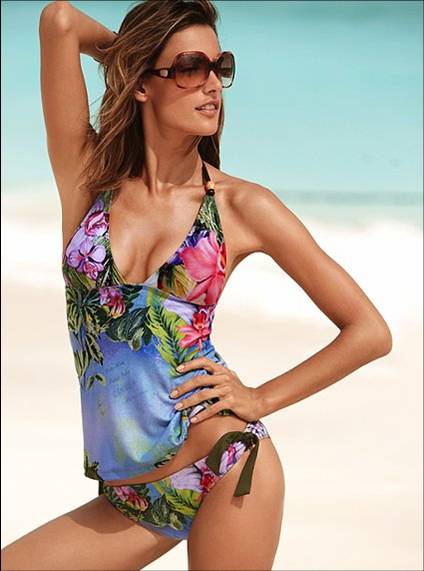 Halterneck tankini / swimwear, Victorias secret 
Good for: The style is apt for voluptuous women with a larger bust area. They feature straps of adequate width to provide support and lift to the breasts.