This spring summer 2010, welcome the season with all  hues and shades that are vivid, refreshing and revitalizing. Paint yourself in the colors of the refreshing spring season and the flowers that bloom herein. You may have your wardrobe updated with garments and accessories that sport the color of the season and make you a part of the trend that is hot and sizzling for the Spring-Summer 2010.

As per the color scheme opted by the designers participating in the New York Fashion Week for the Spring Summer 2010, keep the lighter tones of colors reserved for the day time whereas reserve the electrifying strong hues of reds, blues, yellows and fuchsias for the evenings.

The French designers have selected a color palette that is warmer in tone. Warm shades of ivory, beiges, light browns, oranges, golden yellows are in trend. Few designers have also presented their likeness for greys, pinks, fuchsias, midnight blues and reds in their respective works.

The neutral colors for the season include khakis, blacks, browns, taupes, grays whereas, the bright and vibrant colors included turquoises, oranges and hot pinks, particularly at the Anna Sui. At Carlos Miele, the colors were softened corals and turquoises.

Beiges and whites :
These are cool, evergreen and are going to rule the colour trend of the season. Do not forget to sport Bordeauxs, creams and ivory.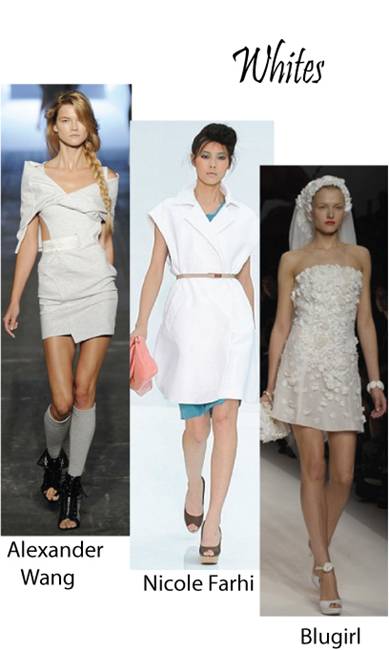 Blacks:
Black is also trendy but is strictly reserved as evening wear and as a color for accessories.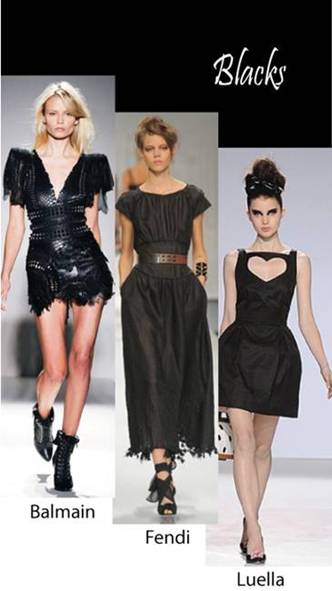 Browns:
Light and dark shades of browns are good for casuals.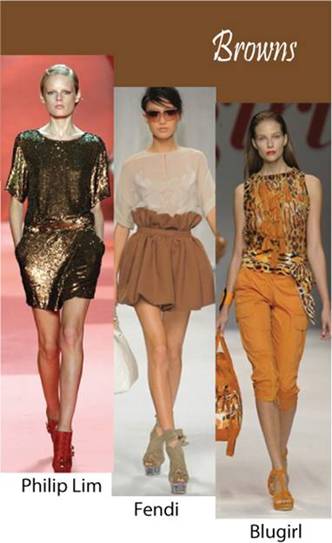 Grays:
Light tones of greys  are also going to take the center stage.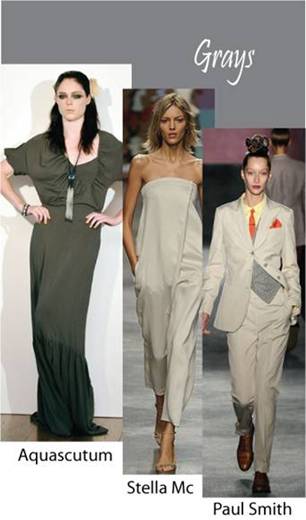 Pinks:
Add light shades of pinks, yellows as well as blues to your wardrobe. You may combine or mix match your light tones of pinks, blues, yellows, greens with beige, creams and ivory. Light pink and light pink is going to make a hot combination this season.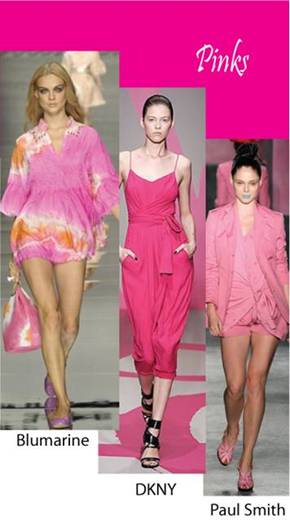 Yellows:
Even yellows have been a hot favorite amongst the fashion designers, for the season.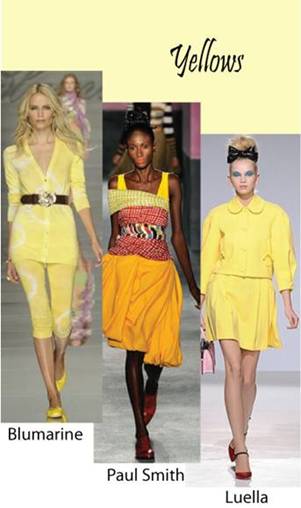 Blues:
Blues are going to rock the season. Wear sea greens as they are considered to be the seasons most exciting color, as per the view of the American fashion designers. To wear blues you have greens to complement the look. You may mix- match your blues with various tones of greens and add a dash of colors to your wardrobe. Even blue green accessories may help you add to your look.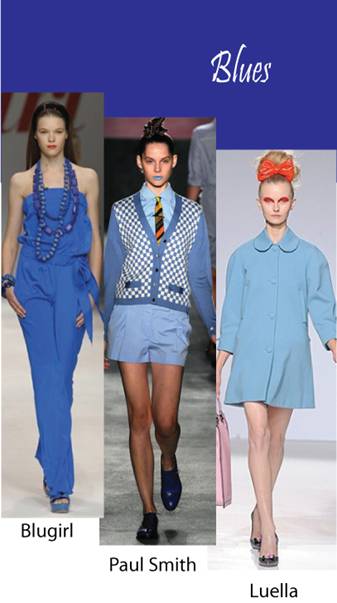 Reds:
Red is also the color for the spring summers. Phillip Lim's lipstick-red suit with a double-breasted jacket and fold-over waistband pants are remarkable and so is Derek Lam's red wool front wrap skirt with gold toggle closures. Even DKNY's rose stretch silk Shantung wrap dress, and DVF's red-tan, palm tree-beaded sheath dresses are unforgettable and remarkable.
For the evenings sport strong colors for the cooler evening such as Reds, Fuchsias and blues. The electrifying shades of these colors are also a welcome.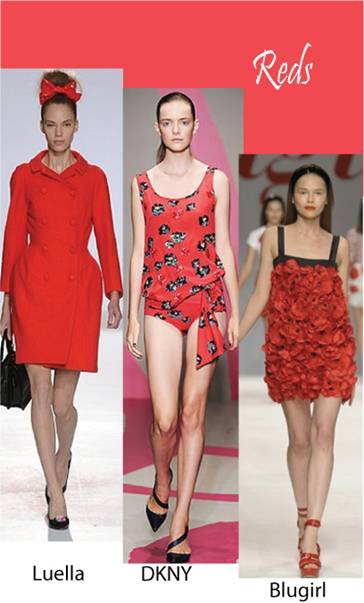 Paul Smith's collection was inspired from the Congolese dany musical style. The collection included red shoes that were paired with orange bowler, a pink suit and shirt with orange strips.
Greek designer, Mary Katrantzou, exhibited through her designs her liking for strong colors. Her dresses were in sharp monochromatic shades as well as colorful.