A corset is basically an undergarment / shape wear that is worn to re-shape and re-size the body frame. They are regarded to be the predecessors of what we call the modern day bras. Corsets are generally used to slim the figure and mould the torso into a desired shape for aesthetic or medical purposes. The garment is worn by both, men and women alike. But women are more frequent wearers.
Corsets have been used, for centuries, to achieve an hourglass figure and also to achieve a tubular straight up down figure. For the former, the corset works so as to reduce and slim the waist and highlight the bust and hip region. And for the other, the corset works to minimize also the bust and the hips.
Corsets may also include garters to hold up stockings and hosiery.
Corset is made of flexible stretchable materials like leather, spandex, etc.
A Corset is stiffened with the help of boning that are lined underneath, into inbuilt channels. Steel, feather bone, plastic, wood, cane, ivory may all be used for boning.
Corsets are held together by incorporating lacing. A typical corset features lacing at the back. Though modern versions may feature front lacing, zippers as well as hook and eye closures.
Types of corset
Over bust corset
An over bust corset / Corset bustier extends from under the arms and down the hips. Some of these may reach up to the knees, but in rarer cases.
Waist cincher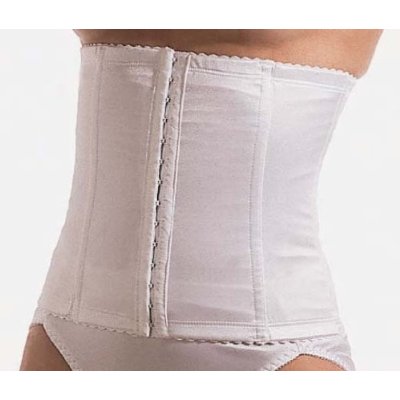 A waist clincher is a kind of corset that runs from the lower portion of the ribs to the area just above the hips and cover only the waist region.
The style is apt if one desires to slim and sculpture the waist area only.
Even garter belts may be used to achieve the same effect.
Under Bust Corset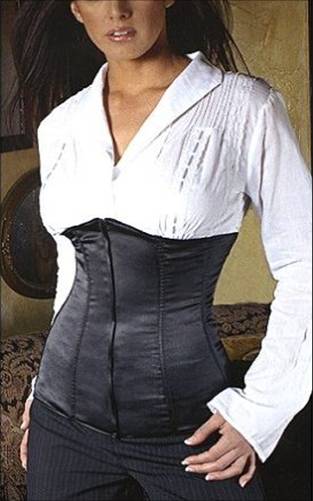 Under bust corsets are comfortable enough for daily wear as they enable free and unrestricted movement and breathing. This corset rises just below the under wire of a bra and ensures least amount of visibility under clothing.
Under bust corsets are two:
Short Hip corset:

This one rises at the level similar to that of your lap, on the sides.
Mid Hip corset:
This style offers more coverage at the stomach and the hip area.
The style is more apt for petite body frame.
The modern day corset
The modern corset may leave your breasts free and concentrate on moulding your waist and hips. A Victorian corset definitely covers the bosom.
Most modern corsets may use boning made of plastic and in some cases steel.
Today, corsets are designed more often to fasten in the front, whether they lace or use hooks and eyes. Back fastening designs feature hook and eyes closures and even zippers.
How to choose a corset
Choose a corset that fits you the best. Don't compromise on the fit or you may be in great trouble and discomfort.

Buy your corset in person, rather than online to get the fit you need. You may also get one tailored for the same reason.

Choose a corset that ensures proper and unrestricted breath ability.

See to it that, unlike girdles, a corset doesn't come all the way down to the thigh.
Corset and health
Wearing a corset is never an easy task. The re-shaping and slimming of the body under the corset is quite a pain.

Avoid prolonged or excessive use of corsets as they may permanently distort the shape of your hips and ribs.

However, corsets may have therapeutic uses. A full body corset, often referred as a "girdle corset" is designed for postpartum use  to help you maintain good posture and retain pre-pregnancy size.

Corsets were worn by women even throughout pregnancy to help maintain good posture and recover strength after labor.

This corset leaves the breasts free for nursing.

A corset  may also help you avoid twists that cause back pain.
Corset dressing tips
Corset is not restricted as an inner garment but corset can be worn as an outer garment also.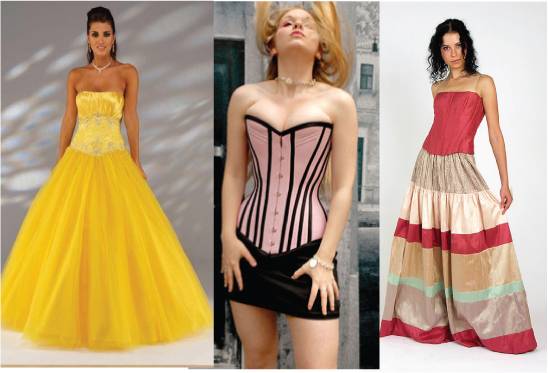 Pair an elaborate corset with a ballgown skirt for a classy formal princess-like look.

Even a column dress with a sleek line may gel well with a corset.

Wear lace-up stretch cotton, lace-trim cotton, clover-print cotton and bow-front denim corsets on a summer day.

Vintage patterns are quite alluring and exotic.
Corset top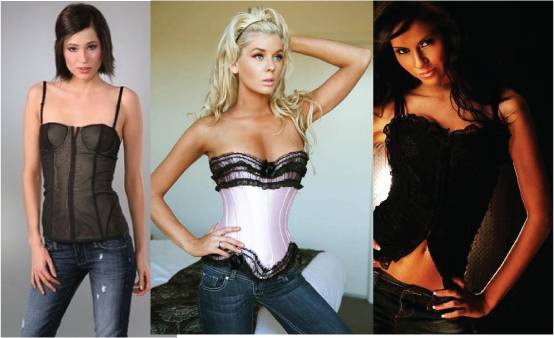 Corset top is a corset that can be worn on its own, as an outer garment. A traditional corset is essentially an undergarment.

A corset top can be paired with a pencil skirt and heels. You may also pair it with a pair of jeans for a casual look.
Corset care
Corsets can't be laundered at home. So proper care should be taken while storing and laundering them.

You may wear an undershirt or corset liner under the corsets so that all the sweat gets absorbed by the liner and the corset remains clean.