Denim jeans are made keeping in mind a few standard sizes, body shapes as well as styles. One can create a more flattering look by understanding ones body type and dressing up accordingly. All jeans style may not look flattering on all. But by wearing the right kind, one can appear right.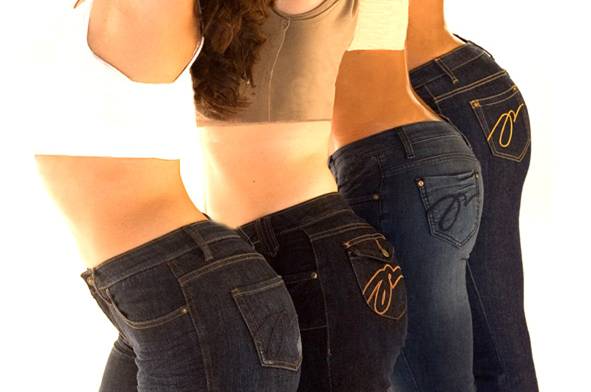 Jeans for Petite / Banana body shape:
A banana body shape has no great curves but the body remains almost proportionate. The body needs to create waist to appear more curvaceous.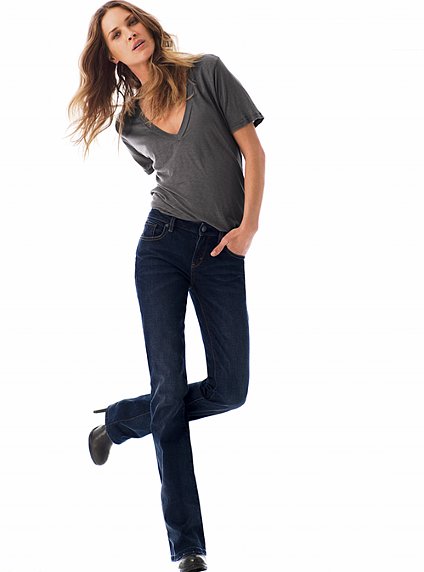 Straight leg jeans for Petite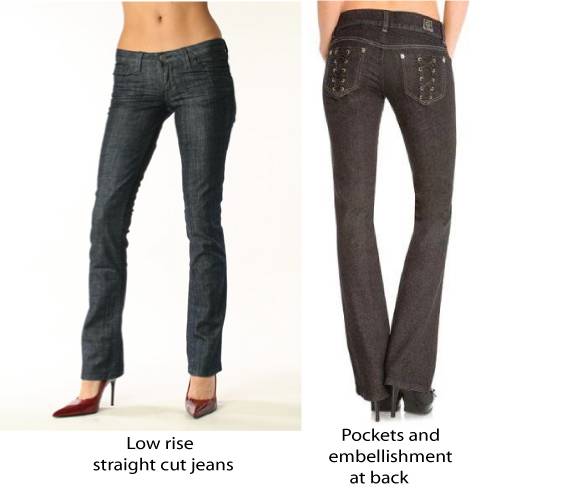 Tapered style and straight leg jeans may help accentuate the rear area by hugging the body closely.

Low rise jeans may help accentuate hips and add curves to your body.

Big pockets as the rear area may help add some volume at the rear area. Flap pockets and quilted pockets are also suggested. The extra volume of fabrics may help you appear voluminous.

Embellishments and details etc may also highlight the area.

Attractive chains belts etc may help you divert attention away from the problem region.
Jeans for petite and short: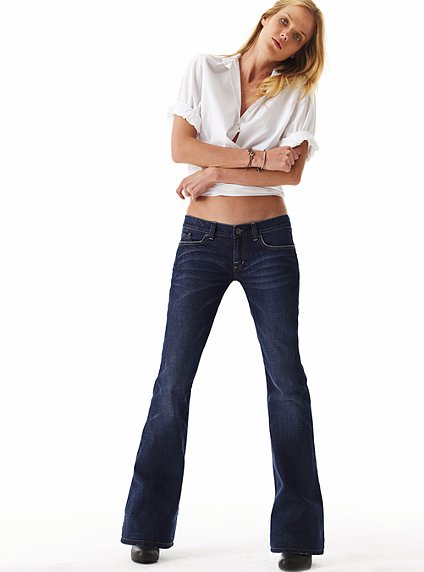 Slim fit jeans with slight flair for Petite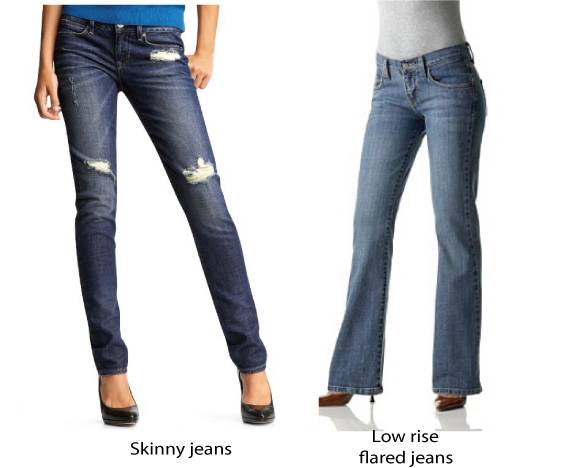 Skinny jeans make for a perfect bottom wear.

Straight and linear lines are preferable.

Tapered ends like that of pencil jeans may not appear that aesthetic.

Cuffs and peg legs may not suit you.

Slim-fit styles with a slight flare adds length to your legs.
Jeans for tall and petite: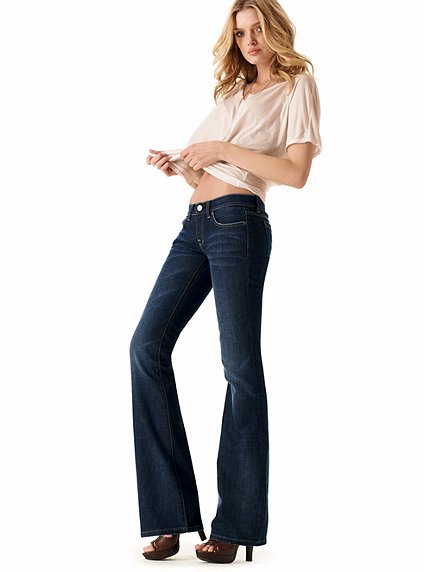 Boot cut jeans for Petite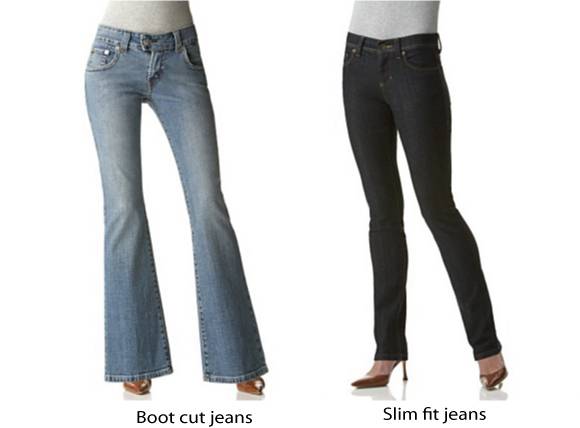 Extra-long Boot cut styles may appear quite flattering on tall body frame.

A low rise style may help you add curves.

A lean silhouette and super slim fit may fetch you all compliments.

The new retro peg leg (very narrow ankle opening) or extra low-rise styles helps to flatter your flat tummy and slim hips.

For a longer waist, a high rise jeans with a lean and straight leg cut may help you appear proportionate.
Jeans for Pear body shape:
A pear shape body has wide hips.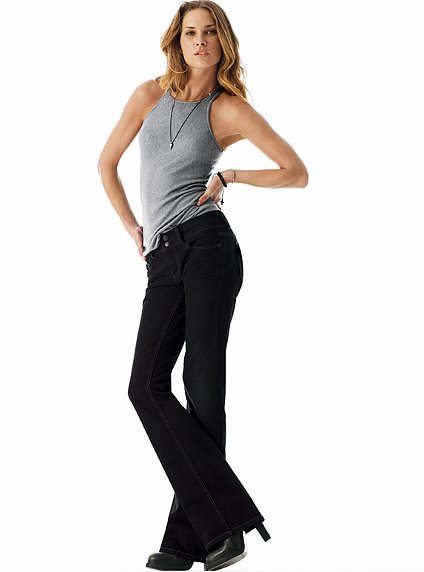 Hipster boot cut jeans for Pear shape body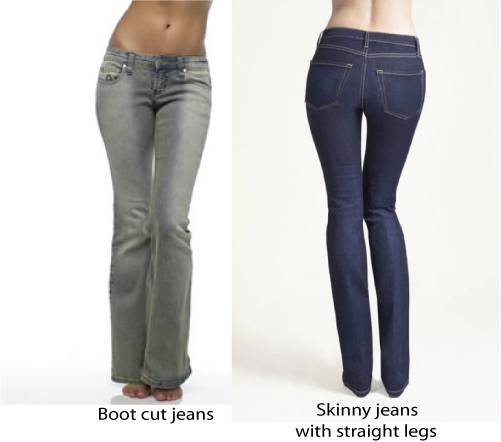 Dark colors may help you appear apparently slimmer.

A sleek silhouette, skinny jeans with a straight leg and slight boot cut may add length to the legs and make you appear leaner.

Stretch denims may create a slimming effect throughout with the help of a fitted waist.

Angel cut may look flattering.

Try hipster style jeans. These are not as low as low-rise jeans and tend to sit on the hips allowing enough room for your hips while making you feel comfortable.

A clean wash style with too much fading and distressing may help you widen your shape. Therefore, avoid it.

Avoid tapered ends as well as pencil legs as these may make you appear disproportionate.
Jeans for Apple body shape:
An apple body shape is closer to an hourglass body shape. But, the waist remains almost absent from the structure. Once created the waist, the body appears in proportion.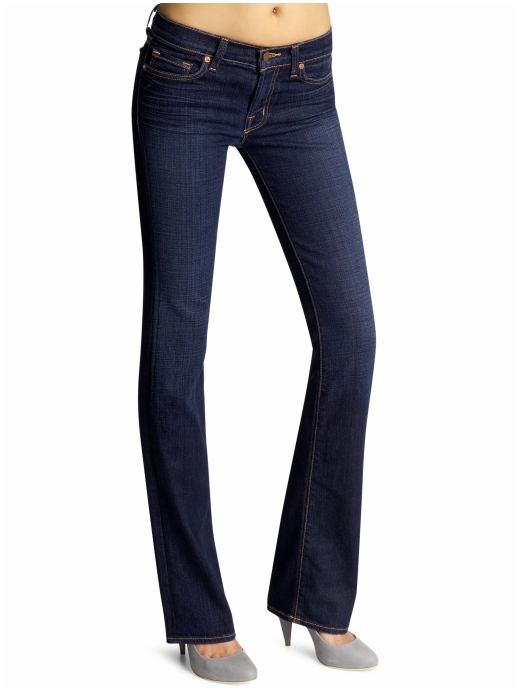 An apple body shape needs to create a waist. A low rise may add length at the torso and help add curves to your body.

A high rise jeans is a strict no.
Jeans for curvy women / Plus size / voluptuous and tall: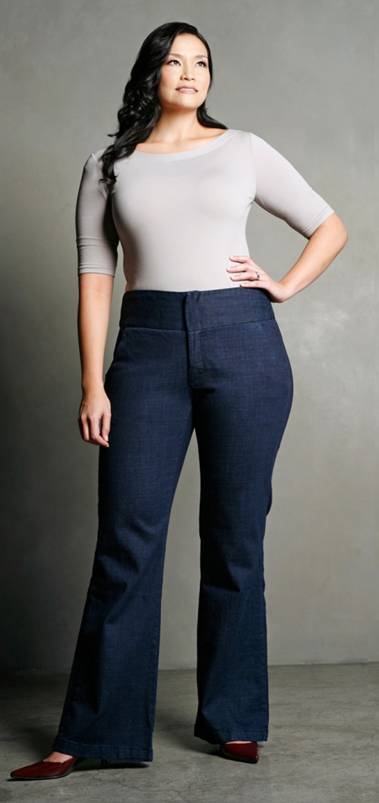 Wide leg jeans for curvy women
Straight wide leg cut trousers / jeans may help you appear slimmer.

Relaxed fit jeans sit on your waist and make you feel comfortable.

Wear moderate low rise pants. They will make your upper torso look longer.