Update your wardrobe with leggings of more than two styles and different lengths. Perhaps, there is a lot to experiment with, when it come to leggings. The garment makes for an excellent lower wear that is sleek, sexy and fashionable.
Wearing Denim Leggings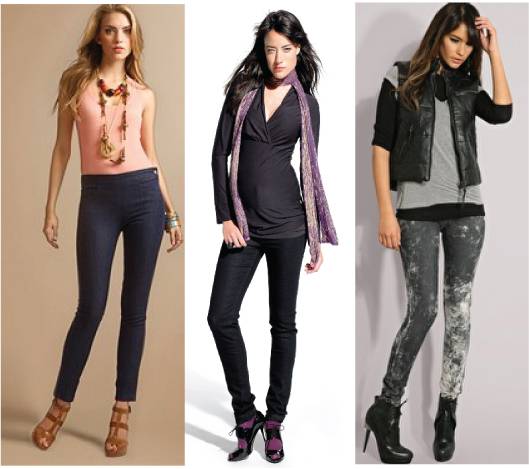 These are quite chic and casual.You may pair them with whites, beiges, creams etc for a casual outing, shopping, traveling etc.

Accessorize the ensemble with trendy bracelets, anklets, toe rings, necklaces, handbags etc for a  chic look.
Wearing Sheer Leggings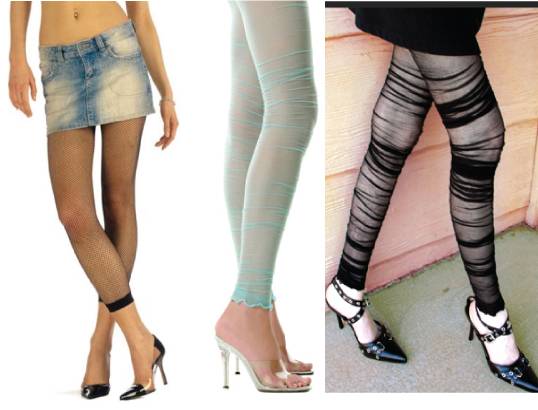 These leggings are sexy and hot. You may wear them long flowy silhouettes like skirts, tunics, dresses etc.

Brown and beige sheer leggings are unprecedented when it comes to sex appeal.

You may wear it to the parties and casual outings as well.

Avoid wearing sheer tops with sheer leggings.
Wearing printed leggings: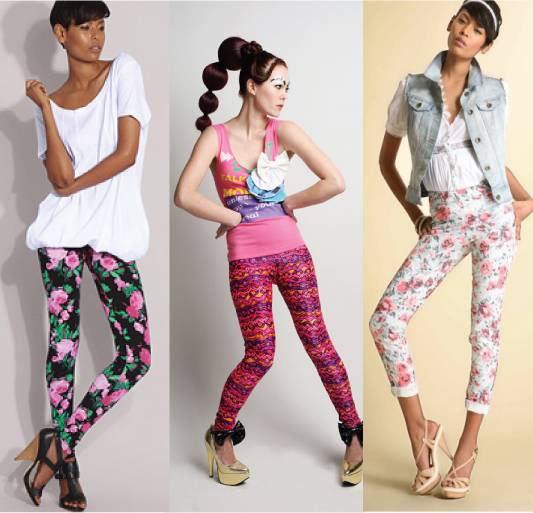 These are a wardrobe staple. Prints are lively and colourful. Floral prints are evergreen and so are the other prints like geometrical, abstract, graphical, tribal, etc.

You may wear one at a lazy evening during the weekend and relax.

Wear prints with care. Remember, the prints too have to lie in proportion to your body size and shape.

Plus size women should avoid wearing small prints scattered everywhere that may look  out of ratio. Ans all you petite thin ladies, avoid wearing gigantic prints.
Wearing colored leggings: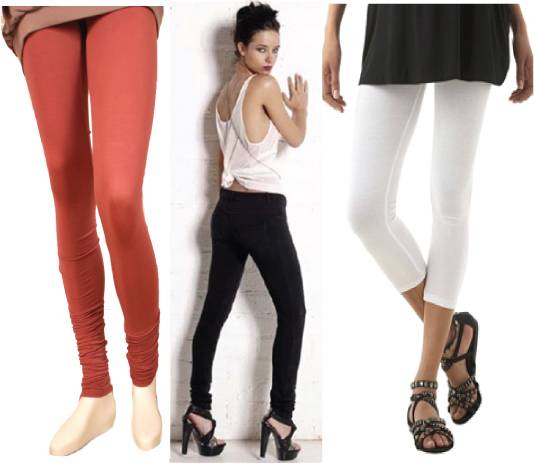 Plain solid colored leggings are quite popular and a must.

Plain solid color leggings may fetch a slimmer look to voluptuous ladies. Petite ones may wear lighter tones of beige, whites, creams and pastel hues of pinks, yellows, etc.

All rainbow hues within a single pair of leggings may not be aptly worn at all places. Wear them when you actually intend a cool, lazy and funky look. You may wear them while gardening, washing etc. But again this opinion may vary from person to person.

Monochromatic themes are also popular. You may also wear them to offices and formal occasions as well.
Wearing Metallic Leggings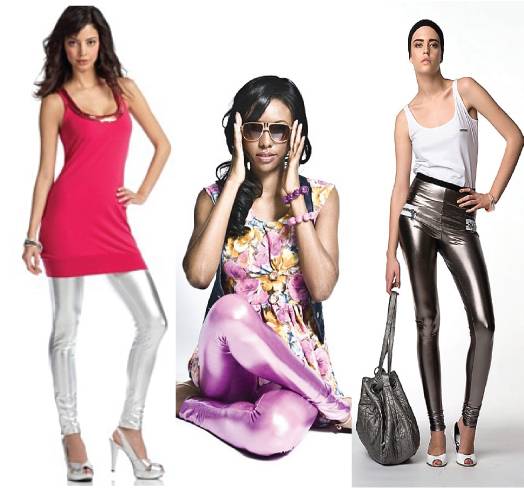 Metallic shades make for a chic and sexy look. Golden, silver, grey, blues, rusts, etc are quite a wardrobe essential.

They impart you a retro chic look and can be perfectly worn at evening parties.

 
Wearing leather leggings: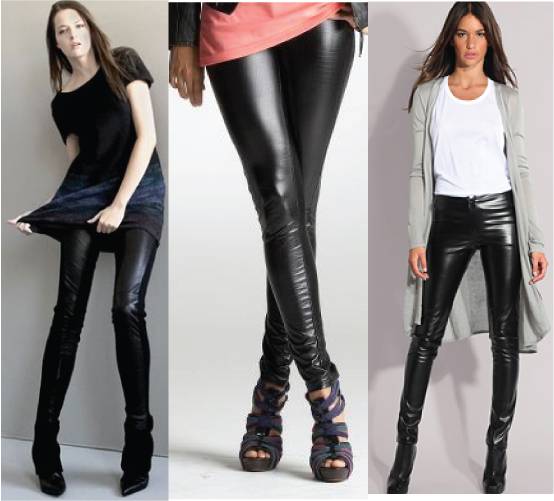 These can make you stand apart and create a diva like look. Leather leggings are true retro-like, authoritarian, bold and bohemian.
Wearing wet-look leggings: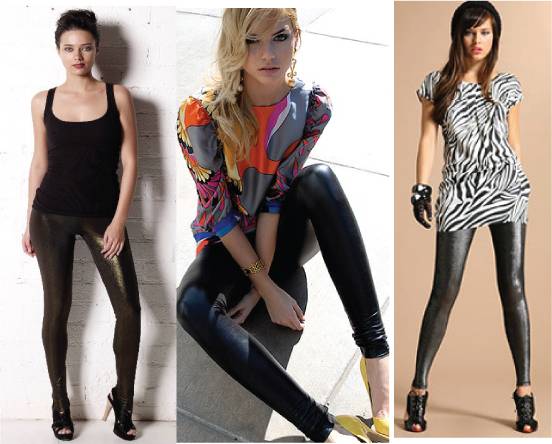 These are quite hot and sexy. They are named so after the water like look they exhibit.

You may wear them to your parties, pubs, shopping etc.
Wearing shimmer leggings: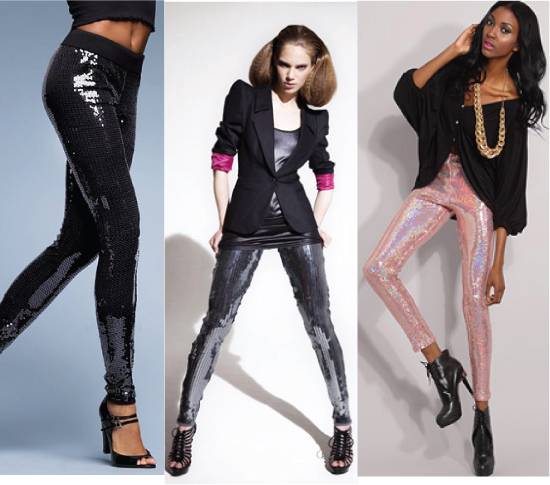 These are playful and apt for parties.

Shimmering fabrics may help add dazzle and sparkle to an ensemble.

Team them with dark solid colours like plums, reds, blacks etc.

Belts may also help define curves, add fun elements and make for a perfect style statement.
Wearing fancy leggings: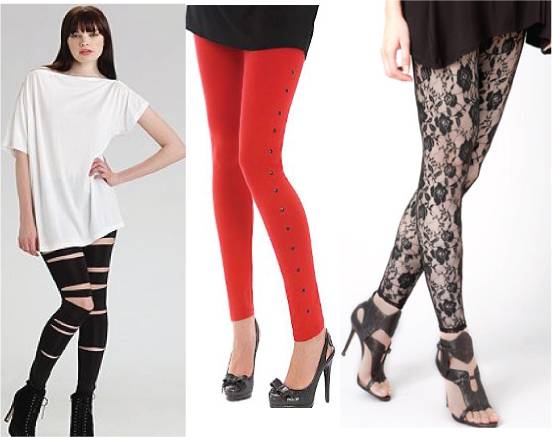 A pair of leggings with cropped ends, side slits, or wave-like curved ends as well as  embellishments like  fancy buttons, beads, laces, trimmings etc  make for a cool, casual as well as a party wear.
Leggings as sportswear: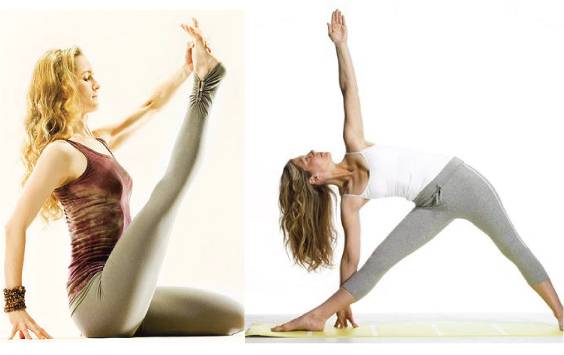 Leggings make for an excellent exercise wear. They offer unrestricted movement and ensure breath ability.

Select the length and material of your leggings according to the activities involved in your exercises.

Pair them with a loose t-shirt while you run, jog or workout in a pair of leggings
Wearing lycra leggings:
These are comfortable and casual.

They may be paired with tops of all sort.

They are a wardrobe staple owing to the comfort they offer.
Wearing black leggings:
These are a wardrobe staple as well as an easy solution to many of your confusions related to dressing.

They can be worn with a top of any color.

They are more of a fun wear that may transform you into a diva, anytime and any day.
Footwear and leggings:
Heels like platform heels and kitten heels pair well with leggings.

Don't wear high heels with leggings. Leggings look best with flats.

Espadrilles, pumps and boots can also be aptly worn with leggings.

Booties look good with ankle-length leggings.

Leggings are a great way to add a little fun, colour, variety and playfulness  to your wardrobe.