The first teenage bra:
The first bra is the first step of your daughter into womanhood. Choosing the first bra is quite a task. The bra has to the perfect one so as to boost the self confidence and self appreciation of your young child who has just entered the threshold of youth and maturity. A teenager is very sensitive about her body and the developments taking place in her body. The child needs to foster healthy and right kind of self image that is conceived as the other person's attitude and appreciation towards her.
Introduce your child to bras as soon as the first signs of visible breast development occurs. There is no fixed age to it as the development in the body differs in age from person to person. Mostly, girls begin to wear bras between the ages of 11-13.
Beginner bras: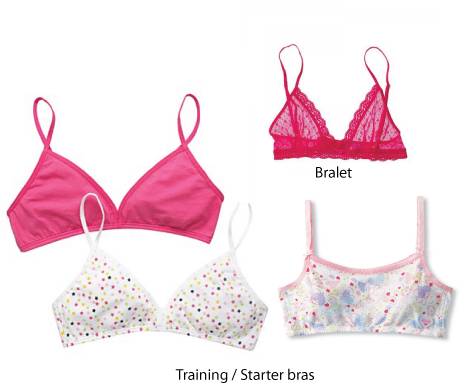 Beginner bras are many. Training bras, bralets or starter bras are a few popular names. A sufficiently developed teenage child may fit well in a smaller size adult bra.

These bras have lesser function. They provide no or very little support but ensure comfort. They train a growing teen in wearing a bra.
Bra sizing for teens: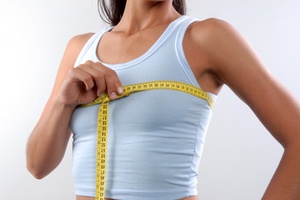 Teenage is the period when most of the breasts development takes place.The breast ligaments and skin are soft and tender. Get the right fitting bra for your child to ensure comfort. This way the child may be made believe that growing up into a young lady doesn't require her to wear uncomfortable and restrictive undergarments.
Teenage bras:
Choose the style that offers more comfort as control and lift are not the factors required.

Also, keep the bra stylish and fun to make your child feel good about wearing it. Their bra need not be plain whites, nudes, blacks, etc. Add colors.

The exotic sexy styles are certainly not for the beginners who are in their early teenage.

Don't purchase oversize bras with an intention to adjust with the changing bust size of your teen child. An over-sized bra fails to serve any purpose of wearing a bra. Make her wear her size. A wrong one may also distort her body posture.

As the breasts are tender, avoid all under-wired styles. The child has yet to grow into a lady to experiment with them.

Sports bras are quite helpful. Your young princess may like them and wear them comfortably to her dance and gym classes.