Soft, light, delicate, flirty, feminine and fiery – all these words describe actress Bella Thorne based on nothing but her hairdo at the world premiere of the Disney animated film "Planes" at the El Capitan in Hollywood, California on August 5.
Bella always offers some pretty stellar hairstyle inspiration and we're happy to have stumbled on to another one of the fashionista's brilliant hairdos. Her subtle red-gold locks were curled loosely on the ends and left to fall over her back and shoulders, the light hitting them making them appear almost ethereal. Her delectable bangs were combed gently down her forehead, grazing her eyebrows but with a very light touch.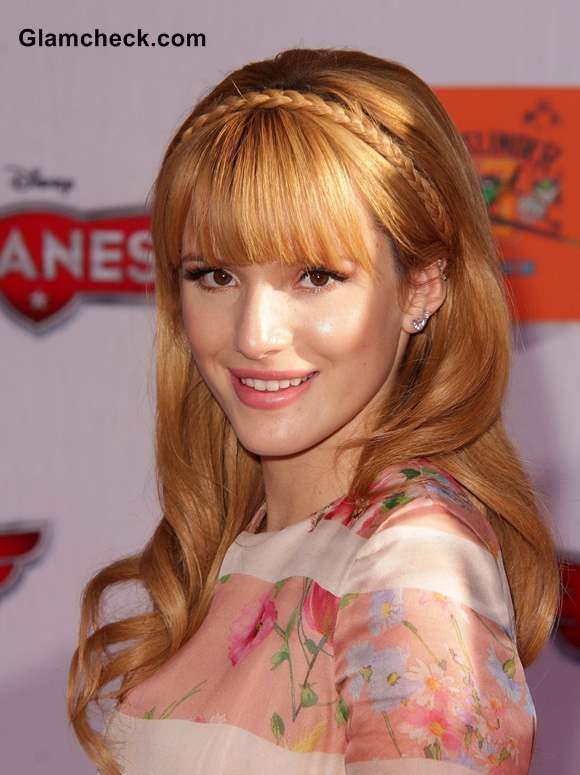 Bella Thorne Hairstyle with Bangs
Meanwhile, a braided bit of her hair ran over her crown from one ear to the other, emulating a headband.
She always has an inner glow going, but when it's emphasised so deeply by such a beautiful hairstyle, it manages to make her effortlessly enchanting.
How and where to sport this Hairstyle
You can actually sport this hairdo wherever you want. But you have to admit that there are some situations where it would serve its purpose more fully such as when you want to add a coy finish to your look for a date or when you want to feminise an otherwise stern ensemble like a fierce androgynous look or strictly formal work wear.
If you're not adept at braiding your locks or you simply don't have the time, invest in a braided headband that is as close to your hair color as possible. If you are indeed good at braiding, then you have the option to braid a ribbon or a colorful string of wool into the plait to spice things up. But don't make the do too busy. The elegance and success of it lies in its simplicity. Adding too many hair accessories here would mar its inherent beauty. 
Image: Shutterstock