Teenagers swimsuit should provide them comfort, fun and playfulness. The beach, the sea water and the sand raise their imagination high and awake the childhood reminiscences. The clothing should offer them proper fit and should remain intact even when the growing child forgets that she is no longer the carefree wild child who ruthlessly explores the world of fun and laughter.

Tips for buying teenage girls swimwear: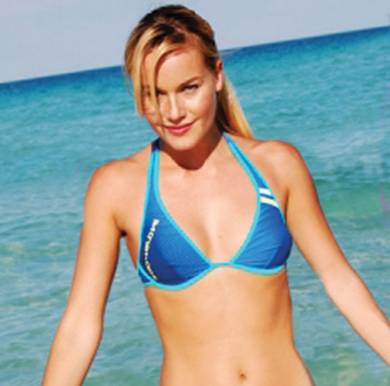 Colors should complement their fast life and also accelerate the rate of fun in their life. Soft feminine pretty colors like pastel hues of pinks, olives, petals etc are quite popular among teenagers. However, those in the later years of teenage may like to wear bold bright colors like macron, plums, fuchsia etc.

Prints may be any and many. Some may like to wear plain solids others may want to wear stripes or vivid patterns, motifs, etc. But, those in their early years of teenage may have wilder imaginations that run to fetch some real amazing prints like that of their favorite cartoons, flowers, puppies, butterflies, fairies etc.

Measure your bust, waist, hips and torso at the widest point and only then you can get hold of one that will look flattering on your body.

The body of a girl in her early teenage is bound to change frequently. Invest in some good quality swimwear. Don't compromise on quality. Compromise on the number of swimsuits that she has.  Her swimsuit must be of an excellent stretch material so that the playful child within her can enjoy the sand and sun with utmost ease.
Swimsuit for early teenage girl: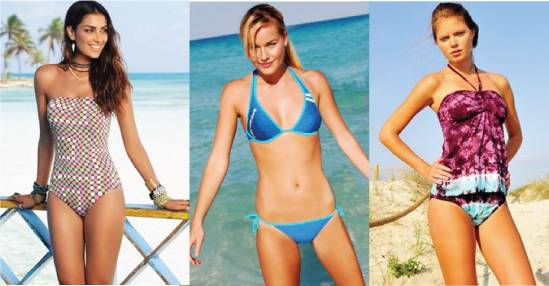 Avoid too revealing cuts unless your daughter is quite eager to wear one. Teenagers are quite conscious of the developments taking place in their body. Some of them may feel confident of their body and some may feel shy also. In the early teenage, the girls are in their training stage with swimwear. Introduce them to the mild and modest coverage ones. Remember, they still have a long way to go and learn how to take admiration from the observers.

Bikini is the most common type of swimsuit for teenagers. One piece swimsuits are modest in coverage and classic in appearance. Your teenage daughter might like the style as it invites less attention and ensures more comfort to the wearer. A teenager may wear tube-tops and shorts as a substitute to swimsuits. Tankinis are also good at providing modest coverage.

Avoid wearing cutaway style swimsuits as they may leave uneven ugly marks of sun tan on the soft and tender skin.
Swimsuit for later teenage girls: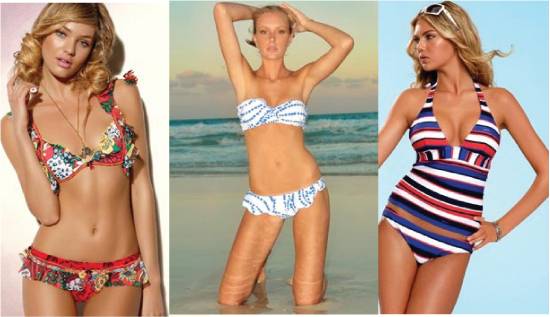 In their later teenage, the girls have grown more confident of their body and are pretty much in love with their own body. They do dress up now to seek admiration and attention. This is the stage when they would love to experiment with the revealing styles and cuts. And as a mother, don't be overtly conscious of this change in her behavior. Your daughter has a mind and taste of her own. Tankinis are quite chic and fun. They are a teenagers delight especially for those in their later teens. Bandeau styles, triangle shaped bikinis and other cut out patterns are all to be experimented with.

While in the later teens, the girl has undergone most of the development in her body and you can easily categorize her body into different types , like the pear, the apple, the hourglass as well as the banana body shape. Recognize the body shape and dress accordingly to enhance your positive attributes and camouflage the flaws.

Teenage swimwear and body type:
Swimsuit for teenager with petite body frame: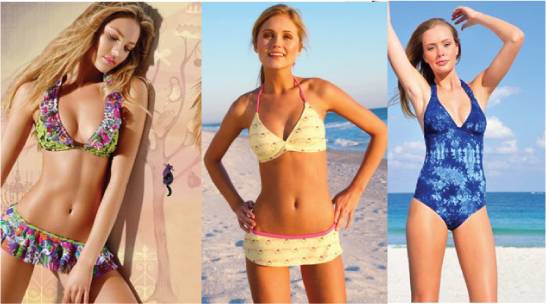 Avoid buying swimsuits that feature pads or push-up wires to add volume to the bust area. Remember, the breasts are tender, soft and developing. Wear swimwear that has ruffles, frills, bows, butterflies etc. This may help add volume to the bust area without any internal aid.

If your teenage daughter feels less confident about her slimmer bottom and boyish figure, ask her to wear skirted bikinis or others with ruffles at the hips. Also, belted styles may add curves to her body.
Swimsuit for teens with plus size body type: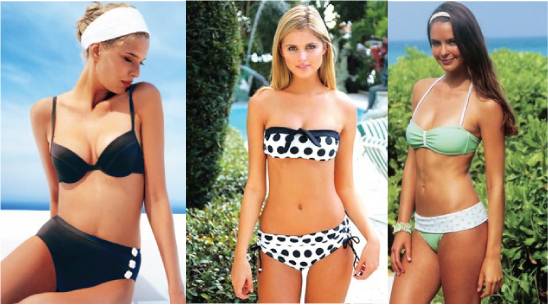 I

f you teenage daughter has bigger bust and she feels quite apprehensive about wearing a swimwear, make her wear halter neck or bandeau styles. The style may make her appear slimmer at the desired area. They are available in one piece styles as well as two piece.

In case, your teenage daughter feels uncomfortable about her heavy bottom, introduce her to the formula of wearing a dark solid color bottom wear with a light colored top.
Swimsuits can also be categorized as body type categories.

A-shape swimsuit: An A-shape swimsuit may draw attention away from your hips.
I-Shape swimwear: An I-shape swimsuit may help create well defined waist as well as slim your abdomen.
V-Shape swimwear: A V-shape swimsuit may help you appear proportionate if you are apple body shaped with heavy top and slim bottom.
X-Shape swimwear: An X-shape swimsuit gives definition to waist and makes you appear closer to an hourglass body shape. They may play down your heavy hips as well.
Some beach accessories for Teen Girls: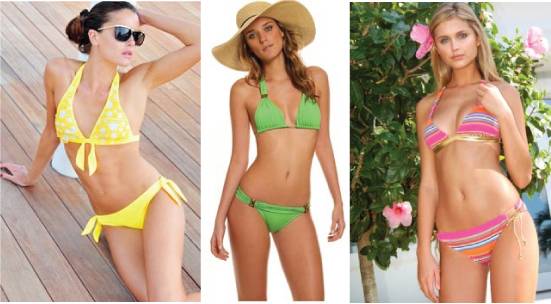 Accessories are quite a fun. They may instantly add life, color and variety to your swimwear as well. The beach essential for girls are listed below:
A scarf: A scarf may be wrapped around the hips, once you are done with swimming and other water activity. A teenager may find some fun and warmth with the accessory.
A kaftan: A kaftan may be worn over the swimsuit, once the teenager has done away with swimming or surfing.
Oversize Sunglasses/glares: Oversize glares are fashionable and quite rebellious. They may help you assert your playfulness and femininity. They may also protect you from the heat, the sun, the sand and dust.
Over sized hats: Over sized hats made of straw or some fabric may add to the beach mood. Again, they may protect your hair from sand and keep your head cool!!
Big flowers: A big flower planted carefully on your loose hair may add playfulness and color to your look. Teenagers may appear more feminine and chic.
Beach sandals: Sandals and flip-flops make for comfortable beach wear
Beach Towels: Beach towels may help you keep dry.
Sun Screens: A good sunscreen may save your skin from harmful UV rays that may harm your skin while you are having a sun bath. Remember, a teenagers skin is pretty soft and tender.