Dhoti pants are modern version of traditional Indian clothing item  "dhoti". Pair them with Indian or tribal prints, colors and motifs for a more ethic and aesthetic look.
Pair dhoti pants with a short ethic kurti from the east. Jodhpuri kurtis are quite famous.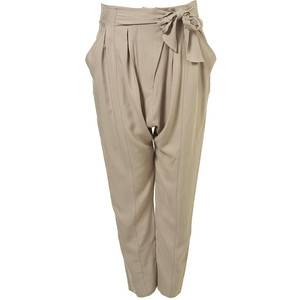 The clothing item is global. Pair them with simple t-shirts, tank tops etc. Layering method is quite suggested for a retro appeal. Cropped jackets layered over some tops may make for stylish look with dhoti pants.
The key to wearing dhoti pants is to keep the item at the centre and let the rest take the margin. If the dhoti pant is simple keep the top and accessory playful and vice versa.
Dhoti pants for pear body shape: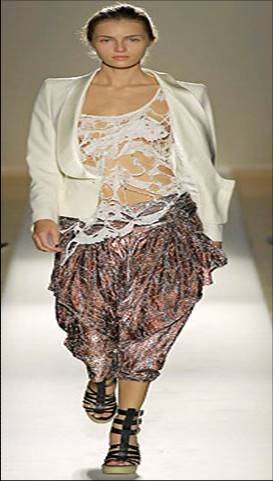 A pear shaped body has a heavier bottom. Dhoti pants with greater volume and extra fabric at the hips and thighs region may make you look more out of proportion. Try to wear styles that are less voluminous at the hips and thighs. Choose the ones made of lighter and flowy fabrics.

To enable proportion wear tops that offer volume to your upper half. Peasant tops may help your shoulders appear larger and make you appear wider at the top. You may also wear a padded blazer to make your shoulders appear proportionate.

Tops with flowy long sleeves may also help add proportion to your body. It may also help divert attention away from your heavy hips and bottom area.

Wearing dhoti pants can be quite tricky for this body type. Wear layered tops to add playfulness and volume as well.

Avoid wearing dhoti pants that start tapering from below the knees till the ankle as the style might highlight the heavy hips and bottom.
Dhoti pants for Apple body shape:

An apple body shape may appear quite flattering in dhoti pants. The body shape has a heavier upper half and slimmer bottom.

Dhoti pants may help add proportion to your body. Mid-calf length dhoti pants may serve you quite better.

Avoid voluminous and roomy tops with an intention to hide heavy busts. Wear simple and fitted tops. Don't get clad too much into clothes. Don't wear jackets as too much clothing on the upper body frame is a strict no for you.

Wear scarves and fancy waist chains and belts to attract attention and to create a waistline.
Dhoti pants for banana body shape:

A banana body shape may look flattering in dhoti pants. Wear the styles with great volume to add volume to your lean body. Pair them with tops that incorporate some frills, ruffles, bows, etc so as to maintain proportion.

Layering method is suggested when it comes to wearing tops. Cropped jackets may look flattering as well.

Wear ankle length styles with controlled volume to add volume o your entire vertical height.

Accessorize well. Wear belts or chains to define waist.
Dhoti pants for hourglass body shape: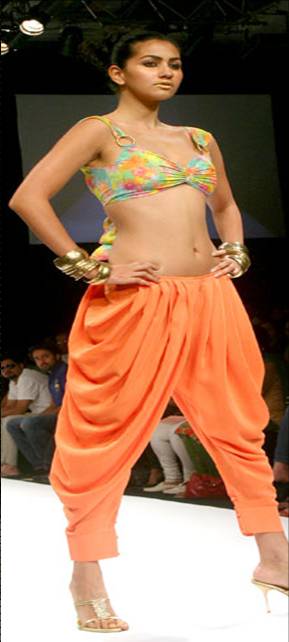 Almost all styles look flattering on this body type. Wear Dhoti pants with body hugging tank tops and t-shirts.

Keep your tops and accessories simple and let the dhoti pant take the center stage.
Dhoti pants for plus size women:
Plus size women may wear a dark solid colored dhoti pant with controlled volume for a slimmer look.

Keep the length up to your mid-calf. An ankle length may make you appear more voluminous.

Wear bigger prints that appear in proportion with your body-size. Avoid horizontal prints. Vertical prints may make add vertical length to your body.
Dhoti pants for petite/small women: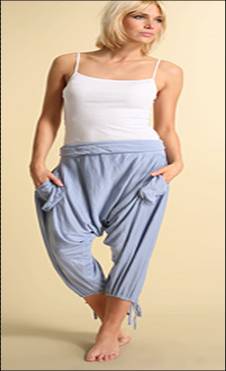 Petite women with smaller vertical body length may appear more diminished in the voluminous dhoti pants. The pant style may overwhelm you.

Wear very controlled volume and avoid all mid-calf styles. An ankle length my help you appear taller. Wear heels to add length.
Dhoti pants for tall women:

It seems as if these pants were made just for you. A tall and lean body type may appear very flattering in dhoti pants.

Neat controlled volume as well as the heavily flared styles may appear equally attractive on you. Just remember to maintain ratio.

An ankle-length dhoti pant may appear quite flattering on you.
Dhoti pants and footwear: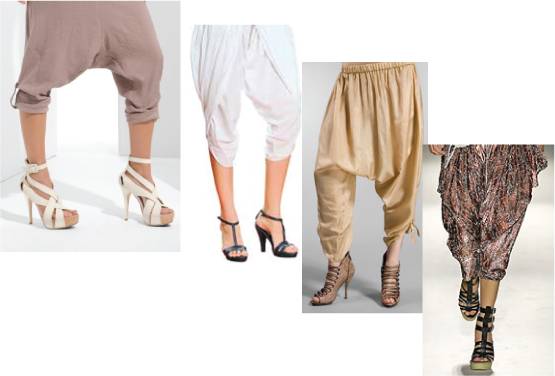 Kolahapuris look quite ethic. Flats with some tribal print or details may add to the look.

Gladiators pair well with these pants and offer a retro, chic and sexy look.

Strappy ones with open toe as well as ankle strap styles may look quite flattering when paired with a pair of dhoti pant.

For those who want to add height can wear small kitten heels.

Other fancy fetish footwear may also add fun and playfulness to your entire look.