What is Maternity wear / Maternity clothing
Maternity clothing is loose, free and easy to wear type clothes for women. They are mostly worn by pregnant women. They offer utmost comfort and a fit that makes pregnancy a wonderful experience.
Maternity clothing offers you room and flexibility especially at the bust as well as the belly area, both of which undergo rapid and constant development during the entire course of pregnancy.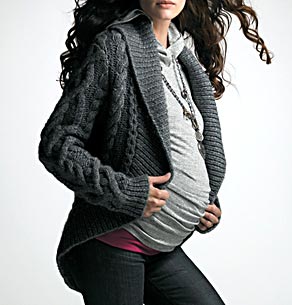 Maternity clothing has been dull and boring for ages. They have been baggy and roomy with no scope for fun and delight except for colors. The unattractive maternity garments were more of a dread, when it comes to fashion, and a symbol of monotony.
The clothes are expandable to accommodate the growing belly. The clothes are made of good breathable natural fabrics. The design includes other method of expansion like elastics or tabs.
Most women prefer to wear maternity clothes for few more months, after the birth of their babies, until they retain the pre-pregnancy size.
Things to look for in a maternity wear:
Pregnancy is special and so is your maternity wear.  New innovations in maternity wear have brought forth new array of comfortable yet stylish clothing, footwear as well as lingerie. One must not forget that even the footwear that you wear during your pregnancy has to be specially designed to help you meet the requirement of a happy pregnancy. Legs and feet tend to swell as the baby grows within. Remember, the key word is comfort and the rest can be still be compromised with.
Maternity wear Fabrics matter:
Maternity clothes are made of natural, friendly, comfortable, light-weighted and stretch materials.
Wear natural fabrics that permit breath-ability. Expandable cool fabrics may adjust with the belly that grows into a different size almost every day.
Avoid wearing shimmering and dazzling fabrics as well as big and bold prints unless you want to show off your baby bump.
Maternity wear Colors matter:
Colors play quite a big role here also.  Apart from setting the mood of the day, colors also help you sculptor the shape of your body for the day by camouflaging the problem areas.
Wearing cool, girlish and fashionable pastel hues may straight away indicate the love of a young lady, yet wearing dark colors may help camouflage your big belly. Dark colors have a slimming effect on the eyes.
Maternity wear Cost matters:
Purchasing very expensive maternity clothes may not be preferred by some women considering the short duration of their utility and use. However, it is always a good and welcoming idea to gift (or recycle) some, in sound condition, to your cousins, neighbors, etc.
Maternity wear Comfort matters:
The difficult and not so easy phase of pregnancy can be made happy by wearing comfortable items. Comfort can never be compromised over style.
Maternity wear Designs matter:
The design of a garment may make or break the level of comfort the garment can offer.
Wear maternity clothes with easy to wear styles like buttoned-up front closures, deep airy necklines and easy elastics that don't clinch too tight on your skin.
Avoid wearing big buttons or zippers and other such embellishments. Try to wear simple yet stylish clothes and make for a fashion statement that is uniquely yours.
Wardrobe essential for pregnant women:
You need not invest huge amount on your maternity wear. After all, you have to just wear them for a few months and that too in the second phase of your pregnancy.
Maternity wear Silhouette:
The silhouette should be free, floaty and roomy. Wear clothes that drape free and accommodate you comfortably enough, especially at the breast area as well as the stomach.
Here are a few basic musts:
Maternity wear Trousers:
Maternity trousers that feature elastics may make for a comfortable bottom wear.  Maternity wear trousers have built in panels that can be made of the size of your growing belly.
A pair of maternity jeans:
A maternity jeans is different from your normal jeans. The jeans feature an expandable front panel to accommodate the growing belly.  The fabric has easy elastic features and design features comfortable closures.
You can also wear a pair of low-rise jeans or pants instead of wearing a pair of maternity pants. You may also secure them, if too tight or loose, by using elastic belly bands.
Maternity wear Cotton tights or leggings:
Tights and leggings are hot and happening. And the best part is that they can be your companion throughout your pregnancy. They offer an easy fit and an unrestricted movement. Comfortable stretch leggings are your delight!
Pair them with a loose fitting long t-shirt and enjoy a relaxed evening.
Maternity wear Woolen tights/leggings:
Woolen tights are leggings as maternity wear are apt for winter season to keep yourself and your baby warm.
Maternity wear Jumpsuits:
Jumpsuits are hot and happening. The favorite of the young and the college going can be stylishly worn by pregnant ladies who are young at heart and stylish enough to sport pregnancy with style. After all, how may times does life permit you to sport the look of an expecting mother.
Jumpsuits are also ideal during colder months as they may cover the baby bump so as to ensure greater warmth and comfort.
Maternity wear long/solid color skirt:
You may love to wear a long flowy and roomy skirt during your pregnancy.
Keep the length in full consideration. Do not wear a length that interferes with your legs as you may slip.
You may always pair your long skirt with a jersey tunic that is long enough to hit below the waist line even as the tunic rides up at the belly.
Drawstring as well as elasticized styles may help offer desired waist size.
Maternity wear Drawstring pajamas:
Drawstring pajamas remain un-parallel when it comes to comfort.  The drawstring feature may help you adjust the required size of waist. Unlike elastics they are more comfortable without being and extra pressure on you skin and belly.
Maternity wear Dresses:
Do you dread the thought of wearing a dress during pregnancy?  The new dresses for expecting mothers are no longer sack like floating and deadly boring.  Wear dresses that  have a fitted bodice and flare out from under the bust-line.  Empire-line dresses are quite suitable to the needs and requirement of a pregnant lady.
Don't wear short dresses. Wear longer ones as the belly is all set up to disturb the hemline. The front hemline will appear shorter than the back hemline.
Maternity wear Tent dresses:
Tent dresses are narrower at the neckline and wider at the hem-line. They hang loose from the shoulder to reach the hemline down the hips. They are usually belt-less. For your beach parties or mock tail parties you can opt for tent dresses that are of an adequate size to camouflage your baby bump. They are fashionable and functional.
Maternity wear Wrap dresses:
Wrap dresses are sexy and smart. Pregnant ladies can accommodate into these dresses throughout the pregnancy as they offer flexible fitting option. They may also help camouflage baby bump, irrespective of the size. The wrap dress can be expanded to wrap and tie into a suitable size.
Wear wrap dresses that feature an adjustable tie that sits just below your bust line. Tie-back styles and side runchings are also preferred. Avoid wearing waist clinching wrap styles once your slim waist has given way to a curvier and fuller belly.
Maternity wear Tops:
Wear tops that feature side slits or buttoned closures. These may help you accommodate more comfortably.
Go for free and flowy silhouettes. You may wear styles that flare down just below the bust line.
Wear a length that hits below your hips or runs down to meet your upper thighs.
Layering can always be done if the climate and the season allows to.
Avoid wearing skimpy tops and other cropped versions of jackets and tops.
Wrap tops are ideal to wear during pregnancy as these offer easy fitting solution to the belly that grows almost every day.
Tunic tops can be worn up to the last stage of pregnancy with same level of comfort and modesty.
Maternity tops, just like the bottom wear, feature inbuilt panels to accommodate the baby bump.
Maternity wear Jackets:
Cropped jackets may not work for you. It may apparently cut you into three and make for an unaesthetic look.
Invest in some larger and longer jackets that provide you a modest and aesthetic coverage and look.
Maternity wear Sweaters and knits:
Wear sweaters and knits of finer weave and softer texture. Roomy and spacious pull-over's as well as cardigans may help you keep warm during winters.
Maternity wear Shawls/scarves:
Shawls and scarves may help you accessorize your clothing as well as provide you some modest coverage once your waist has given way to a big belly.
On a winter evening or a cold day out, you may wrap it around your body for warmth without compromising on your style quotient.
A Pashmina shawl from the East may add some style and an x-factor to your simplest clothing.
Maternity Footwear:
The growing weight of the baby inside your belly exerts pressure on the lower part of the body and makes movement difficult. Footwear has to be just of the right kind to support you and offer you control.
Avoid wearing long pencil heels as they are never meant for pregnant ladies. Even kitten heels are  a no as you enter the second phase of pregnancy.
Platform heels are good if you want to add some vertical length to your body.
See to it that the sole underneath has prominent and multiple scales to provide friction. Such non-slip soles are apt for pregnancy.
Even your bathroom slippers should be selected with utmost care.
Sneakers are comfortable and offer comfort and breath-ability. Even ballets that don't fit too tightly can be worn.
Avoid wearing pumps and high heels of all sorts.
Remember that you feet will swell as you reach the later stages of pregnancy. So choose a roomy pair of footwear.
Maternity bras:
The bra that you wear during your pregnancy should be of a proper fit. The bra should be roomy enough to let your breasts grow.
Wear a bra that offers good support to your breasts. The shoulder strap should be wide and not cut deep into your skin.
Back-fastening bras are suggested over front-fastening enclosures.
Wear light padding or simple cotton bras for breath-ability and comfort.
Avoid skin digging under wires.
Nursing bras:
Nursing bras come into play once the child has taken birth and needs to be fed by the mother.  The bras have zipped or hooked enclosures at the cup so as to make breast feeding easy even in public.