She was afraid to come out of the locker
She was as nervous as she could be
She was afraid that somebody would see
Two, three, four, tell the people what she wore
It was an itsy, bitsy, teenie, weenie, yellow polka-dot bikini
That she wore for the first time today
This very popular 1960s song on the rather smallish and revealing yellow polka dot bikini worn by a young girl describes what most of us would have experienced the first time we ever wore a bikini.
The young girl is nervous to come out of the locker, somehow makes it to the beach all wrapped in a blanket and when she finally does make it to the sea, she does not wish to come out of the water, even though she is turning blue.
Luckily, for most of us, many things have changed from the time this song was penned down to now.
The bikinis have become shorter and skimpier and definitely more stylish and actually inspire us to work harder for the perfect 10 figure come every summer. The cover up blankets and towels have been done to death and replaced by stylish beach cover ups. Thanks to these beach cover ups, the shy-er of the lot no longer would be turning blue, afraid to come out of the water.
What are beach cover ups?
Beach cover ups, as the term suggests, are primarily for covering / wearing on top of your swim wear. They lend the flexibility of moving around from the beach to the car park or the ice cream parlour and at the same time, you look drop dead gorgeous (not to mention, the added benefit of covering the not so flattering part of your bodies). Not to mention….These also help protect you from the sunlight!
Made immensely popular in India, by the Bollywood glam girls (remember yester years heroin Zeenat Amaan in Kurbaani, Dimple Kapadia in Sagar or the more recent Aishwarya Rai in her white micro mini beach skirt in Dhoom II and Lara Dutta in Blue), Beach cover ups are quiet a fashion statement these days and if you are headed for a holiday to a beach resort this summers, you surely do not want to be caught only in the drab 'hotel provided' bath robes.
A fashion diva will have, apart from the right mix of swim wear, some versions of the cover ups and beach accessories like flip flops, shell jewelry et al.
So what should you look out for while buying the beach cover ups?
Fabrics
Fabrics which are light weight, breathable and dry easily, have a good fall and drape well on the body are the best bet for beach cover ups. The good old cotton in light weight construction like voile and crepe is quiet popular, however, cotton  tends to crinkle up, and this inherent disadvantage of cotton is taken care by beach cover ups in poly and poly blends.
Beach cover ups made in Georgettes, chiffons and terry voiles are also therefore quiet popular. Another reason why polyester and its blends are popular is because they are sheer and lend a sexy edge to the wearer.
Another fabric which is slowly growing quiet popular especially in the size zero circuit is the viscose knit jersey. Not only does this cling to your body beautifully showing off your curves, the fabric has sheen unmatched by cotton and polyesters.
Colors
Almost all colours which you wear as swim wear can also be worn as beach cover ups. Needless to say, you will find beach cover ups in almost the entire colour spectrum that you can think of. Shades of the ocean, aqua, teal, dark blue and turquoise green lend a sense of vibrancy and breeziness and are naturally the most popular choice. Fire colours like orange, red, shades of yellow are also popular.
Neutral colours like Black, whites, creams, ecrus and browns have always been popular in beach cover ups. You could wear a plain solid coloured beach cover up or you could go in for the forever favourite tie – dye, batik and shaded / ombre effect in the cover ups.
Border prints, large floral prints, geometric prints, bold, large prints in contrasting neon colours, butterfly prints and bohemian vintage prints are quiet a rage this season and it is predicted that they will rule the fashion circuit next year as well.
Types of beach cover ups and beach dresses
There are many kinds of beach cover ups – sarongs and kaftans being the most popular. We list down the well known and the not so known kinds of beach cover ups, how to wear them and what kind of a body type will it suit the best.
Beach Sarongs/ wrap around skirts or pareos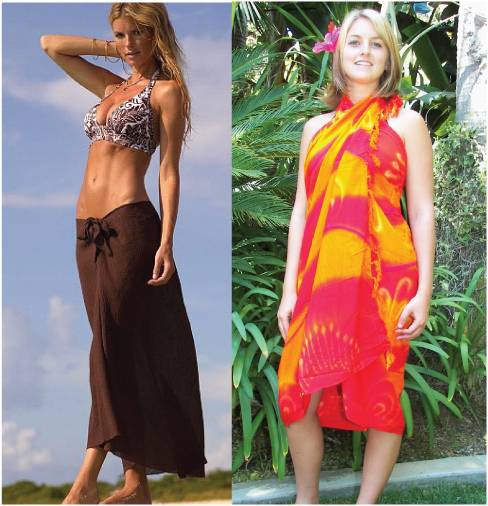 Pareos (pronounced as paa-ree-oz) Wrap arounds are hugely popular as traditional wear in Indonesia and are the most commonly worn beach cover-ups. These resemble any wrap around skirt and are rectangular widths of fabrics with ties which can be wrapped around the waist, covering the lower part of your body.

Another version of the good old rectangular sarong is a triangular wraparound, which can be worn by knotting the two corners of the triangle on the side.Sarongs can be tied in unique ways, the usual knots at the side, or the ties wrapped around the neck to resemble a halter top, some women even prefer tucking these in the bikini top, held by the end of the bikini top. These could be thigh, calf or ankle length.

Pareos could also be having some self fabric or beaded tassels at the edge of the fabric to add the element of mystery to the wearer. Sarongs are most versatile of the beach cover-ups and you could straight head to a casual party wearing these.

Sarongs work well for all body types, however offer hope for bottom heavy, pear shaped women, with slim upper bodies.
Beach Kaftans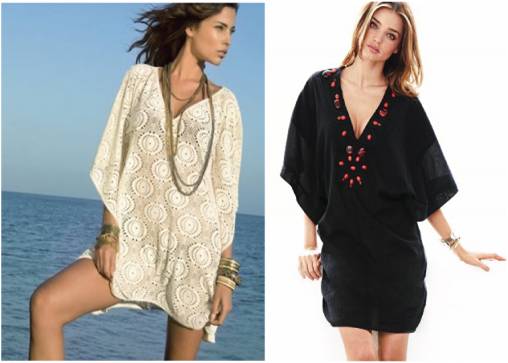 Personally my favorite, these are V neck flowy kurtas found in different variations of length – hip, knee or ankle. These could have a lot of detailing at the neck like embroidery with shells and beads and often come with drawstrings at the waist area, which could be adjusted to show off your waist.

Versatile for any figure, these are worn in sheer fabric in the just-covering- bottom- length by petite women and in knee to ankle length cottons by curvier women. These are projected to be the next big thing in the cover-ups, slowly but surely taking over the monopoly enjoyed by the sarongs so far.
Beach Tunics
Tunics are typically long sleeve or sleeveless mid hip length woven tops, often with some added design feature such as embroidery and drawstrings around the neck. There could be quite a few versions of tunics – spaghetti straps or may be a halter neck style with ties going around the neck A tunic becomes casual /semi formal wear when it is short and is worn with leggings or a pair of well fitting denim jeans/ skirt. However, as a beach cover up, these are worn on their own and are usually longer than their casual avatar.

Apple shaped women  who are top heavy and would like to cover their arms usually find tunics a good answer to their beach cover up requirements. Tunics are a great way to dress casually at pool parties, as these make you look elegant, at the same time offer good sun protection. The latest trend in tunics is adding the element of   functionality, by adding pockets on the sleeves to store your sunscreen/ lip balm /shades etc.
Beach T-shirt dress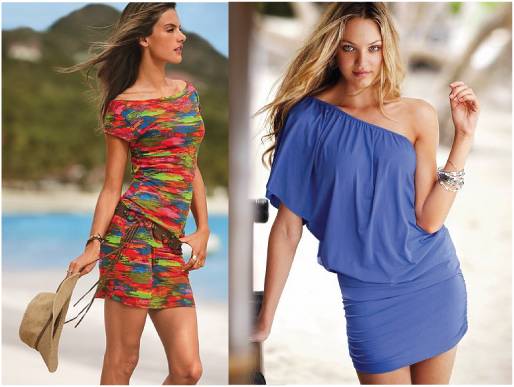 A variation of the tunics in knit fabrics is the t shirt dress. Slightly longer than regular waist length tee shirts, these are teamed with shorts and leggings for a casual outing. On their own, they are a great beach cover up. They are usually in light weight knit cotton fabric.

They suit all kinds of body types as they are generally loose fitting.
Beach Shirt dress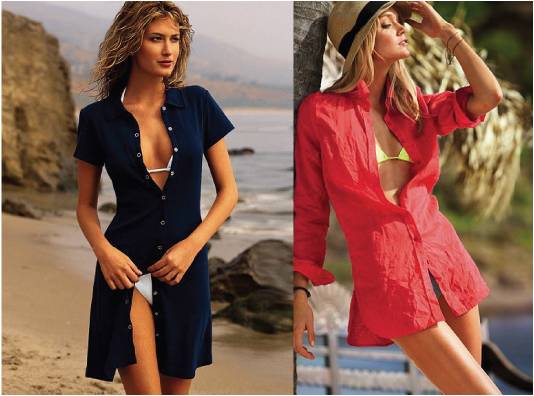 These are regular Shirts (complete with a collar and button down front), but are of mid thigh or more length (normally the length of a short dress). These are normally loose fitting and sleeveless, waist is usually defined by a self fabric belt.

Due to the loose fit, these can be worn by all kinds of body shapes.
Beach Baby doll dress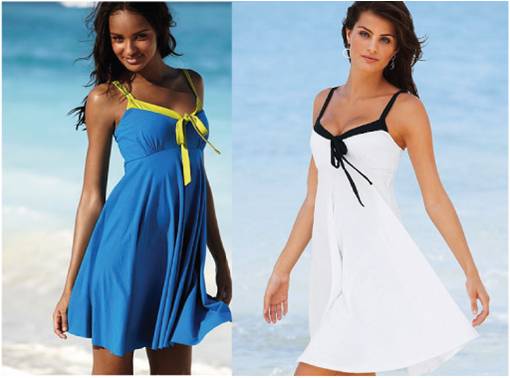 Babydoll dress usually comes as a bra-top dress fitted at the bust with a raised empire line. The waist line is not defined.  A dress with empire-waistline features a waistline that rises higher than the natural waist, just below your bust-line. The waistline paves way to a skirt that may be slightly flared. The length may vary from just below the hips to mid calf to maxi length. Normally in breezy cotton fabrics, this looks great when you team it up with flip flops. Like the tunic, this makes for versatile lounge wear as well.

This looks great on smaller frames, since it accentuates the bust. Baby doll style may help pear shaped women hide their bottom heavy figure or a thick waist. The style sweeps softly over the curves.  Empire line is great for fuller figures because the design creates a smooth and straight silhouette to make them look slimmer and taller. Since the waistline is located above the midsection, the dress can help you hide the extra fat on your stomach and thighs.
Beach Halter neck dress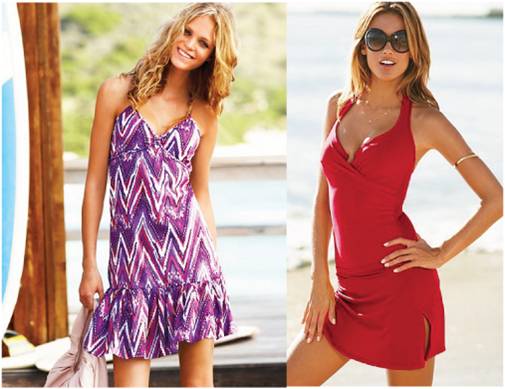 Sun dress                                                                                  Halter-neck dress

A halter neck dress is one which has fabric ties or a single piece of fabric going around the neck, leaving the arms, shoulders and neck bare. Considered as extremely feminine and sexy, this is a very popular neck style for beach cover-ups. You could have dresses or tops with halter neck. These are often teamed with shorts or wrap around skirts.

Halter necks are great for people with well toned upper bodies.
Beach Sun dress
A sundress is generally a loose fitting, thin strappy sleeveless dress, designed to bare the arms and the shoulders. The most feminine of all beach cover-ups, this one is an eternal favorite with all age groups – women, juniors and kids. Found in all lengths – mid thigh, knee, and calf, these are normally found in pretty floral prints and solid bright colors and scream "beautiful" from the word go. Team it up with a wide brimmed straw hat and flip flops, and you are sure to catch the attention of all the boys at the beach.

Good for all body types as it covers your curves, do ensure that your back and arm muscles are well toned..
Beach Maxi dresses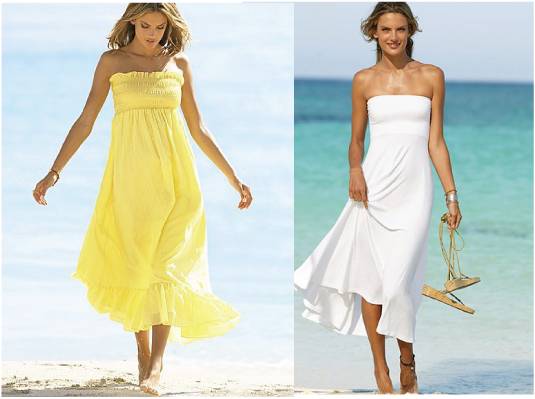 A long ankle length dress, with usually a wide hem is a maxi dress. It is immensely popular as a beach cover up as well as a formal party dress and hence comes in a variety of shapes, colors and prints. A maxi dress could be sleeveless, strappy, and strapless or halter neck. It could have ruffles on the main body, or some kind of seam construction at waist or hip area.

The dress due to its roominess at the leg area and length makes it popular and very comfortable to wear for all sizes of women. A word of caution though, while choosing a maxi dress do ensure that it is the correct length. Too short and you could end up looking like a diva gone wrong and too long, it could look borrowed from a taller friend!  Before buying, always try on the dress with the right foot wear (mostly flip flops, or gladiators, or wedges) to buy the right length.
Beach skirts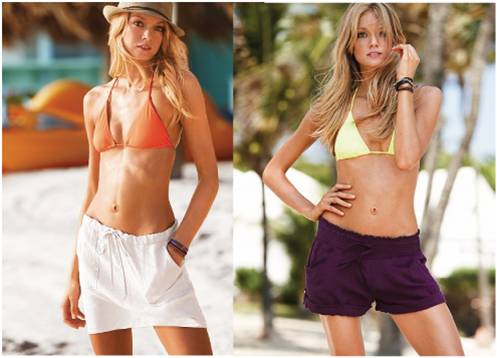 Beach skirts                                                                                             Beach shorts

These are great when you want to catch a game of volleyball after a dip in the sea. They are usually mid thigh length with slits at the side, giving a lot of room for movement. They may be elasticized at the waist or having a button opening or a wrap around.

Due to their short length, these are usually great for women with well toned leg muscles.
Beach shorts
Shorts, like beach skirts, are perfect for beach sports. They look stylish and are comfortable to wear. They are made of cotton or knit material. The ones with a loose fit look cute at the beach. Shorts look good on all body types.

Petite women with narrow hips should go for the ones which have pocket flaps at the back to add some volume. Pear shape women should avoid low-rise ones.
Beach Rompers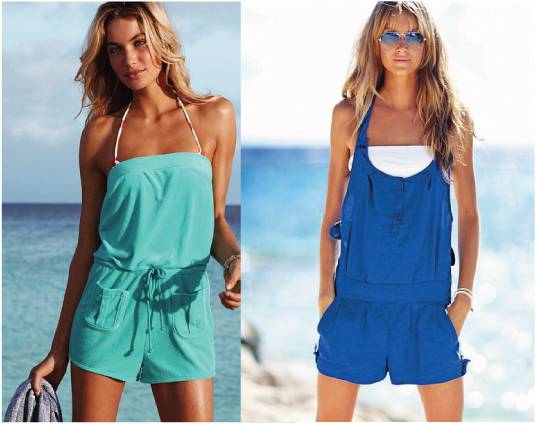 Also known as play suits, a romper is a one piece dress, a combination of a top and shorts. Once very popular for kids, these are increasingly becoming a fashion statement for younger girls, teens and women. Rompers for the women have however, seen a metamorphosis from the usually all – covered-up version for kids to being stylish, smart and flirty.

These come in various fashionable avatars, starting from the usual short sleeves to sleeveless to strapless. You could choose the styling from being conservative to bold. Rarely does a beach cover up combine all the elements of being sexy, smart and chic in one style, a  romper is however, all of these and more.

Rompers can be in light weight woven fabric like cotton, denim or knit fabrics like cotton jersey, viscose jersey etc. Their versatility in being the perfect answer for a casual pool party or lazing around in the sun, or being at a discotheque is making it popular to be worn by the petite frames as well as for larger sizes.
The ground rule with beach cover ups remains the same as with all other fashion wear: Be comfortable in whatever you wear and you will end up looking stylish.
So go out girls, enjoy the sun and flaunt your beachwear this summer!!

Image credits: Victoriassecret.com