There goes an old Irish saying "If you have one pair of good soles it is better than two pairs of good uppers." A shoe which is uncomfortable can spoil your day. How many times have you longed to get back home, just to get rid of the heels that you have been wearing all day long, secretly swearing that the shoes causing you so much of angst, will never see the light of the day ever!  I am sure most of you would be nodding your heads in agreement. We ladies, love our shoes and buy as many as we can, trying to match every pair  with every outfit, yet are always plagued with the worry that the shoe that has been bought may not be comfortable and may end up causing pain.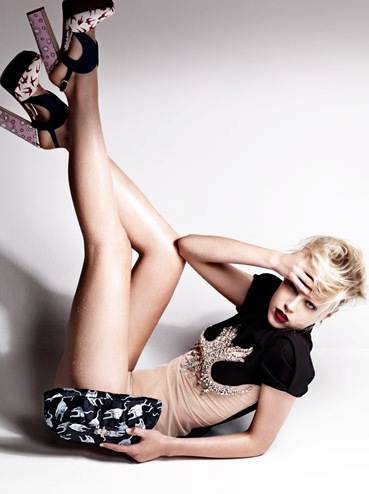 In this article, we attempt to explore some shoe buying tips and some styles which are really really comfortable!
Some basic tips that you need to consider before buying shoes
Your foot size differs in the morning and evening. As the day progresses, the feet take on more and more pressure and are slightly longer and wider than in the morning. Best time to try out a shoe size is late afternoon or evening.
Your left and right foot may be different sizes, whenever you plan to buy shoes, do try out both shoes and walk some distance to ensure comfort.
If you are buying shoes which will need socks or stockings, do ensure that you try on the shoes after wearing the socks and stockings, in order to avoid tight fitting shoes later on.
The shoe should be bigger( length and width wise) than your foot by at least a finger width. The old theory that you should try and fit into the shoe does not hold true, instead, your shoe should snugly fit your feet!
Shoe styles which are comfortable
Flats
Flat shoes could come in various shapes and sizes.  These are primarily made of soft material which could range from leather to canvas to suede. These could be open at the front or could have peep toes or completely closed. Whatever be the style, they will be roomy enough to accommodate all toes and still have some space left for easy movement.
Flip flops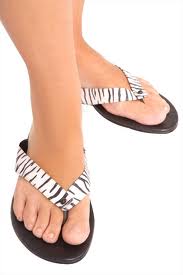 Flip flops also known as 'chappals' and slippers, these are open slip on pairs which have a 'Y' shaped strap dividing the 1st toe and the other toes. Available in many colours and designs, these make for excellent footwear while going for a casual evening out or to the beach. They are mostly made of rubber or soft plastic.
Sandals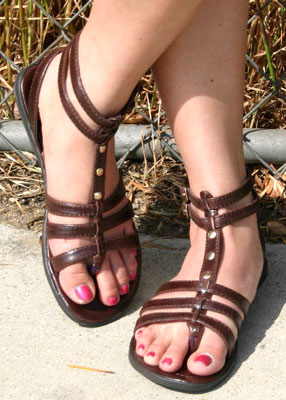 Sandals are like flip flops, however are mostly secured around the ankle by a strap (could be an elastic strap or one with the pin and hole, like belts). These normally leave a lot of the foot exposed and are great to be worn in the summer months. These days, gladiator sandals are considered very trendy.
Gladiator sandals are absolutely flat, mostly made with leather and have multiple straps reaching quite high at the ankle area. The straps could be tied in innovative methods to give an element of individuality to the wearer. Sandals could be flat or with heels and look ultra cool with all kinds of apparels – trousers, skirts and even Indian dresses.
Pumps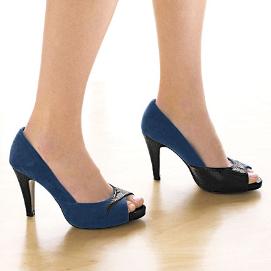 Pumps are slip on closed toe shoes which cover the sides and the heel of the wearer as well.  They do not have any regular closures like laces or buckles and are considered to be quite fashionable. Pumps could be flat or high heeled. They could come in a variety of shapes, designs and colors. Peep toe pumps are quite popular in the fashion circuit these days. Pumps which are made of really soft and pliable leather or fabric and have soles made of leather, with extra strength at the toe are and are worn for dance are also known as ballet shoes.
Sneakers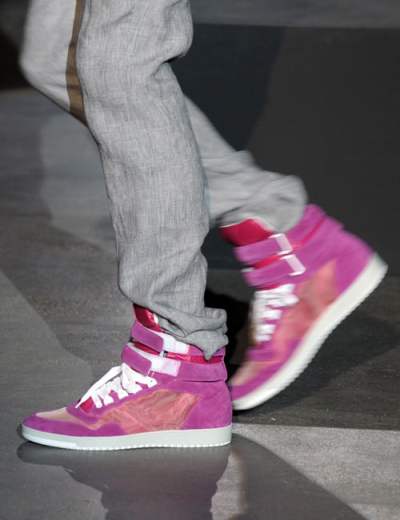 Sneakers are very comfortable shoes, usually covering the entire foot from the toes to the ankles and the soles of the shoes are usually made of rubber. The upper part of the shoe could be made of canvas or rubber. These are usually also referred to as athletic sport shoes. They are usually fastened with laces and it is quite trendy to wear sneakers in different colours, sometimes really bright with white laces.
Boots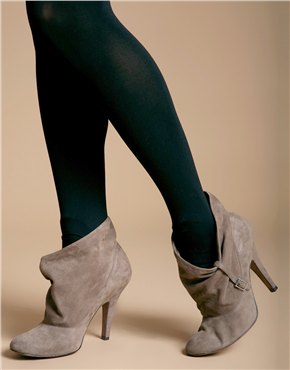 The ultimate in comfort, these were traditionally worn during rains and colder months. These days a pair of good fitting boots is a must in every girl's wardrobe! Made mostly in leather/ suede and rubber, boots cover the foot, ankle extend up to the leg. Most boots have a clearly defined heel, even if the heel is made of the same material as the boot itself.
Heels
High heeled footwear is any footwear that places the heels at a higher level than the toes. Walking tall in a stiletto is every girl's dream come true and a girl would give anything to buy a good and comfortable pair of heels. Traditionally, heels could be ranging between ½ and inch and going up to 6 inches. However, research proves that the most comfortable heels are normally in the range of 1.5 inches to 2.
Heels could also be in various avatars – stilettos, kitten heels, platforms and wedges.
Stilettos
Stilettos are shoes with very thin high heels. Normally any heel length above 4 inches is categorised as a stiletto. You could have boots and pumps with stiletto heels. Due to the very thin and high length, these are quite uncomfortable, unless you choose your pair well.
Kitten heels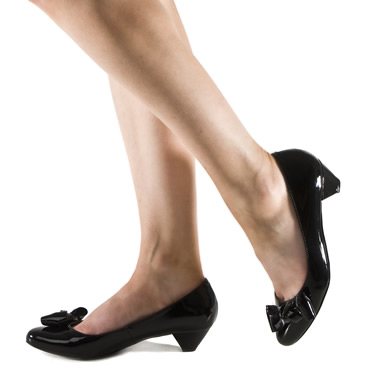 Heels which are 2 inches or lesser and the point of the heel that touches the ground is no more than half an inch and the heel is placed towards the end of the shoe are known as kitten heels. These are more comfortable than stilettos.
Platforms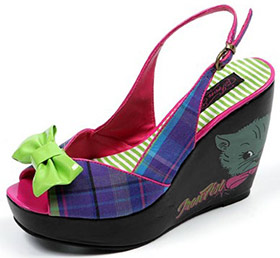 Platforms when the heel length is uniform at the toe and the heel area, the shoe is known as platform. You could argue that the platforms are not really high heels as the toe area is at the same height as the heel. However, since there is quite a considerable distance between the foot and the ground on wearing the platforms, it usually comes under high heel shoes. These are super comfortable due to the broader base and uniform height. Platforms are usually made up in soft material and the soles are usually made of rubber. These could be pumps or slip-ons.
Wedges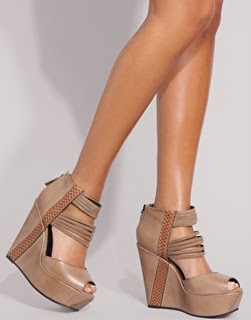 These are like platforms, however, the heel length at the back of the footwear is longer than at the toe area. The arch of the wedges decides its comfort level.
General points to remember
The general perception is that the, heels are very uncomfortable. With the tips given below, you could be lucky to find heels in which you could strut around all day along and your legs won't complain!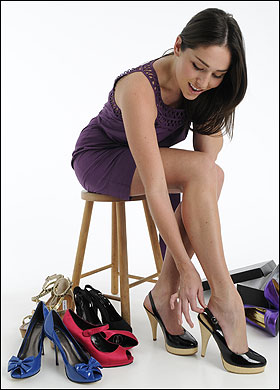 Heels should be padded – Our feet carry the weight of our bodies, as we grow old, the feet become weaker and the padding on our soles becomes thinner. If you are wearing heels, a good method to test for adequate padding on the insoles of the footwear is press the arch area of the shoes and the front of the insole (where your toes will be). The padding should be soft, yet firm. When you press the insole, it should bounce back.
Angle of the arch – The most comfortable pair of heels will pay attention to the angle of the heel compared to the front base. A steep angle would mean uncomfortable heels whereas a gentle rise in the heel length moving backwards from the base of the foot towards the ankle will mean comfortable heels. Perhaps one of the reasons why wedges and platforms , which have lesser steep angled heels and have a larger base than standard heels are more comfortable than stilettos!
Rounded toes are more comfortable than the pointed toes as they give a lot of room for the toes to fit in!
It pays to research a bit when you are planning to buy a really high heeled shoe. Do wear both left and right side and walk around a bit to see if you are comfortable. It makes sense to invest in a brand known for its comfortable heels than investing in lesser known but uncomfortable shoes.
Don't forget, we buy our shoes for comfort and style, believe you me, the task may be uphill but not impossible!!