One of the best known celebrity wedding dress designers of today's times, Vera Wang, is known to have said, and I quote "When I design a wedding dress with a bustle, it has to be one the bride can dance in. I love the idea that something is practical and still looks great."
The above quote summarizes beautifully what most brides to be, are looking for when they are shopping for their wedding dresses – perfect yet affordable, stylish yet practical, chic yet comfortable. It may be a tall order to get what you are looking for, but is totally possible!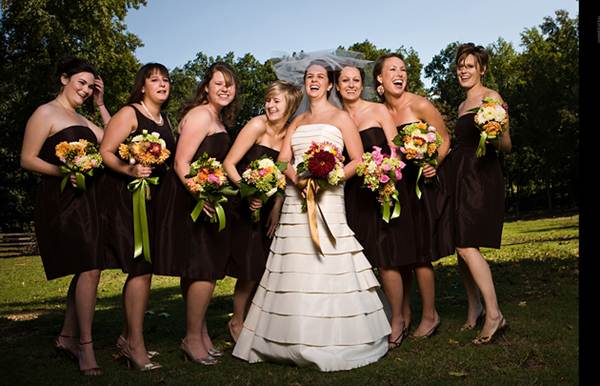 The first thing to do, even before selecting the kind of dress that you would like to wear at your wedding is  , selecting the kind of ceremony that you would like to have – a black tie event at a church,  a beach wedding, a garden wedding or an informal wedding. The place and the kind of event you would like to have, will decide the rest of the variables. While choosing a wedding dress, another important thing to know is your own body type. You want to look nothing but perfect on your wedding day, choose a dress wisely which highlights your plus points and subdues the negatives.
This article aims to be a one stop shop for all the queries of the brides to be, where, we discuss the different kinds of wedding dresses, how to accessorize on your wedding day, tips on what you should wear according to your body shape and even help with finding the perfect bridesmaid dress!
Choice of wedding dress – making the decision on the color
Depending on the kind and time of the wedding that you want to have, you should choose the colour of your wedding dress. Colour is the first element that most human beings respond to, and is therefore one of the most important things to bear in mind while shopping for THE dress.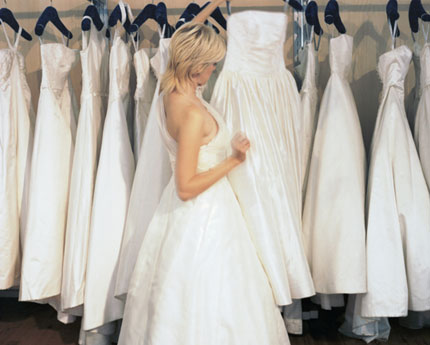 Traditionally, most formal wedding dresses are in white, or shades of white such as ivory, off white, oyster, cream, pure white etc. However, if you are having an informal wedding during the day, or have a wedding in a garden or at the beach, you could go in for pastel and light shades as well.
A beautiful beige, a light pink, a very light lemon yellow, hint of gray are perfectly good colors to be worn. If the wedding is indoors, or you are the adventurous sorts, matte gold, deep plum / wine, deep rich maroon and even aubergine works. Remember, there is no hard and fast rule for selecting a color for your wedding dress. The only thing to keep in mind is that the color makes you stand out in a positive light and you feel comfortable and confident on wearing it.
Dark shades of black and navy are generally avoided due to the macabre effect that these colors have the power to create.
While choosing a color, always remember that the wedding dress is mostly layered. If you are getting the dress made to order, the end color of the dress may look very different from a simple swatch you had seen earlier and so, take care of seeing the color after layering the fabric with the right under fabrics, to have a good idea of the final color of the dress.
Choice of wedding dress – fabric and style decisions
Should you go in for a long dress or a short one, should you go in for a long train with your dress, should you wear a veil? Choosing the right style and fabric is a daunting task for any bride. Add to it limitless choices in fabrics, silhouettes, shapes and accessories and you have the sure shot recipe of total chaos. Let's uncomplicate things for you.
Just as paint is an artist's medium, fabric is a designers' medium. Most designers play around with one or two fabrics in their wedding gowns to create a unique yet charismatic look. Designers normally use one material for the main body of the dress; they could use another for the train, a third for the ruffles and the bow etc. The final effect of it, though, should be appealing and harmonious to the eye.
Have a keen eye for details and train yourself to start looking at designs, shapes, fabrics and colors of wedding dresses, months before you actually get down to ordering/ buying a dress for yourself.
Pick up magazines which specialize in bridal dresses, look up internet sites for ideas and zero down on what you really want.
For the colder months, the choice is usually between taffeta, satin , silk or the more dramatic fabrics like damask and velvet whereas for the warmer months, crepe, tissue organza, organdie, lace, georgette and light weight satin work well.
The fabrics are chosen keeping in mind their fall and how well they drape on the body. Remember, the fabric used on the shape chosen by you should make you feel ultra feminine.
So what style should you choose based on your body type?
Tea length dress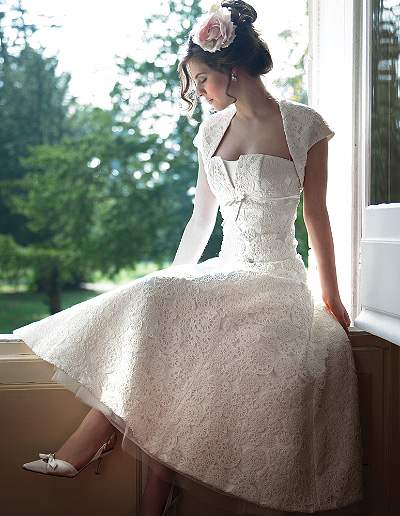 Tea length dress is a dress which falls between the bottom of the knee and bottom of the calf and is a great length if you plan to have a casual wedding in summers. Choose it in any of the colors that please you and that we have discussed above, team it up with a long train and elbow length gloves and you are set to have heads turn.
Ball gown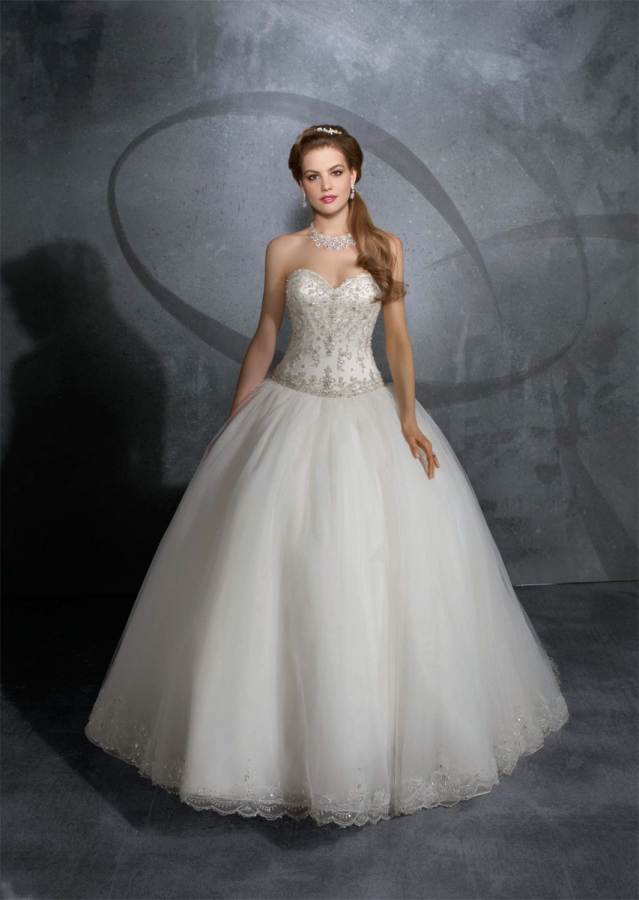 A fitted bodice with a very full skirt area, mostly with ruffles or tiers, or with tulle (layers of transparent net at the skirt area used to create extra fullness), is a classic shape. It could be strapless, with a corset, or with thin spaghetti straps. Ball gowns usually have lots and lots of design features at the skirt area.
A line dress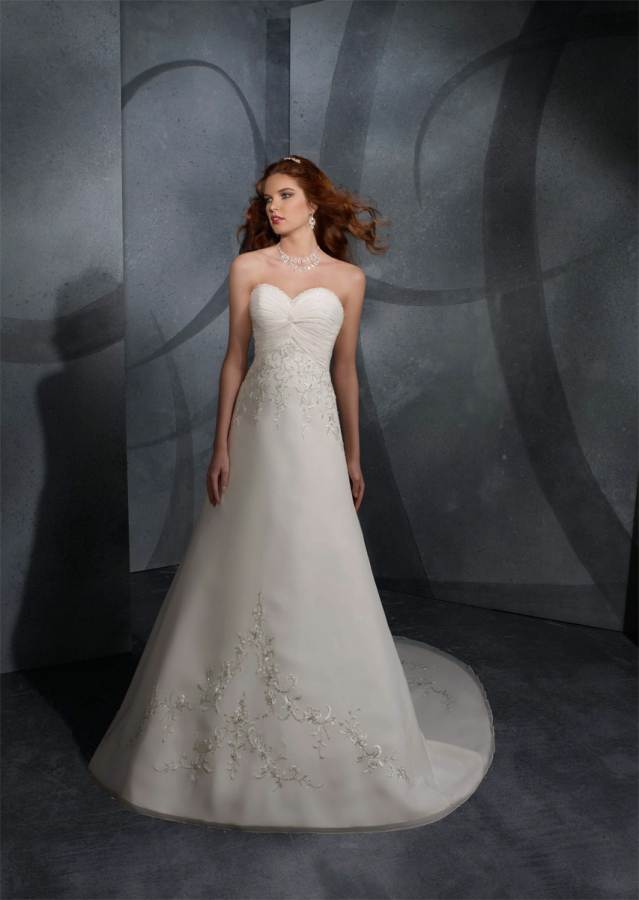 Classic shape that suits almost all body types except the apple shaped, this is mostly fitted at the bodice area and gradually flares from the waist. As the shape in itself is simple, design features such as embroidery, corsage on the bodice area or on the train, satin bows at waist, appliqués and ruched gathers on the skirt area, off shoulder or single shoulder bodice etc. could be added to the dress to make it a little dressier.
Mermaid dress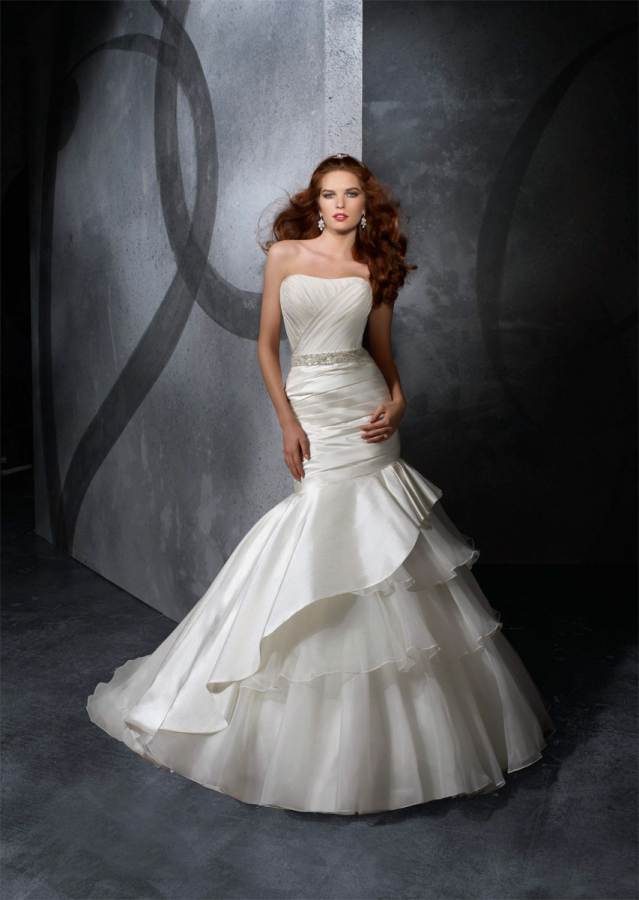 Mermaid dress is a dress which is fitted till the knee and then flares below it, and gives an impression of a fish tail or a mermaid. This is usually long and sweeps behind the wearer. This style looks beautiful if you have a flawless hourglass figure.
Sheath dress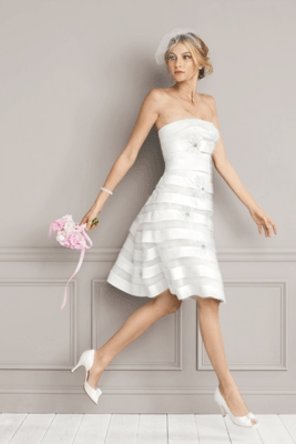 Sheath dress is a figure hugging straight dress, mostly of knee length.
Most wedding dresses would fall under any of the above categories. There could be variations in the details though such as kind of sleeves, neck line detail, and details on the skirt. Depending upon your personal choice, you could choose to wear gloves, veil and train with your wedding dress. Different lengths are available in each of these and choose a length which suits you the most.
Bridal dresses/gowns for different body types
You could choose from any of the various designs of dress styles, however, keep in mind your body type as well.
Hourglass figure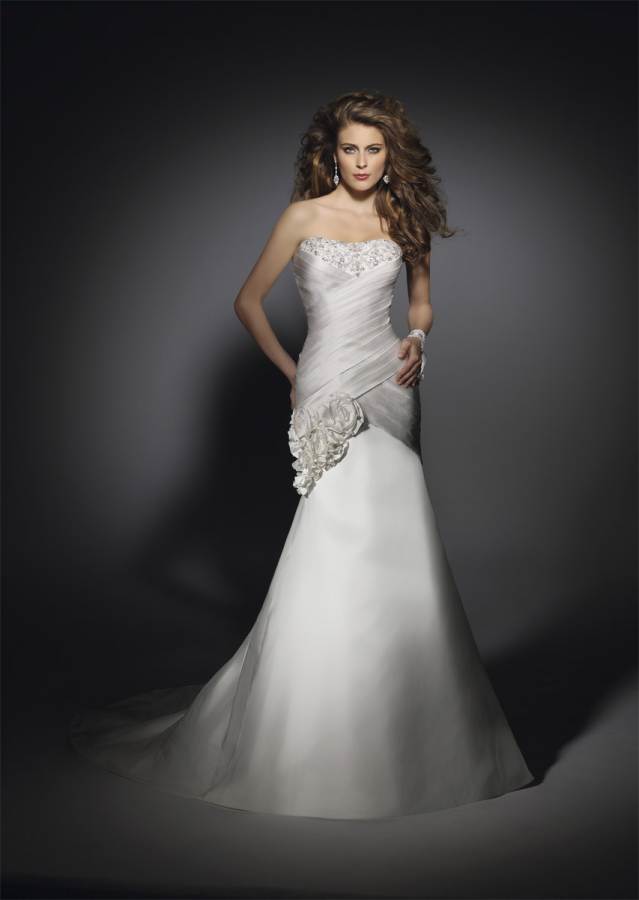 If you belong to the lucky few, blessed with a perfect figure, wedding day is the best time to flaunt it, when all eyes will only be on you! Choose an understated yet well fitted classic style, which highlights your waist and height.
A classic sheath dress looks good, you could have it strapless or with short sleeves. Corsets with flared skirt also look great on this body type. Tea length flared dress is a great choice too. Basically, any style looks gorgeous on you! You could choose to wear elbow length gloves to complete the look of the otherwise plain sheath dress. You could also choose a long train and a short veil to look classy. Other shapes as discussed above with an empire seam and princess seam detailing also looks gorgeous on this body type.
Petite Body frame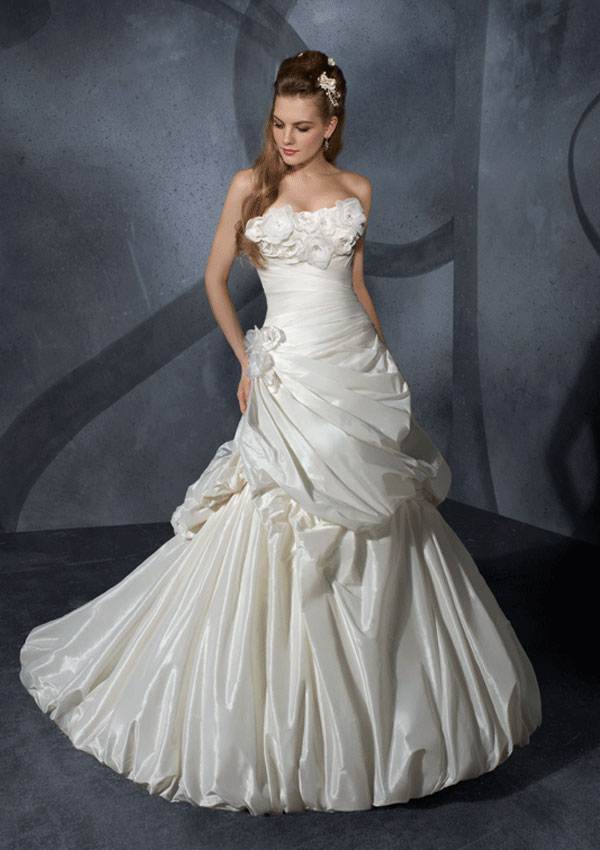 If you belong to a petite body type, you should prefer wearing styles that add volume to your upper-body part as well as your lower body part. Opt for styles that help you defining your waistline thus, making you appear closer to hourglass shape.
Wear gowns/dresses with some detailing at the bust-line such as frills, pleats, embellishments etc.
A ball-gown dress with puff-sleeves and wide scoop neckline/ sweetheart neckline can also do wonders. You may also go for asymmetrical styles with gathers and runchings.
Apple Body Type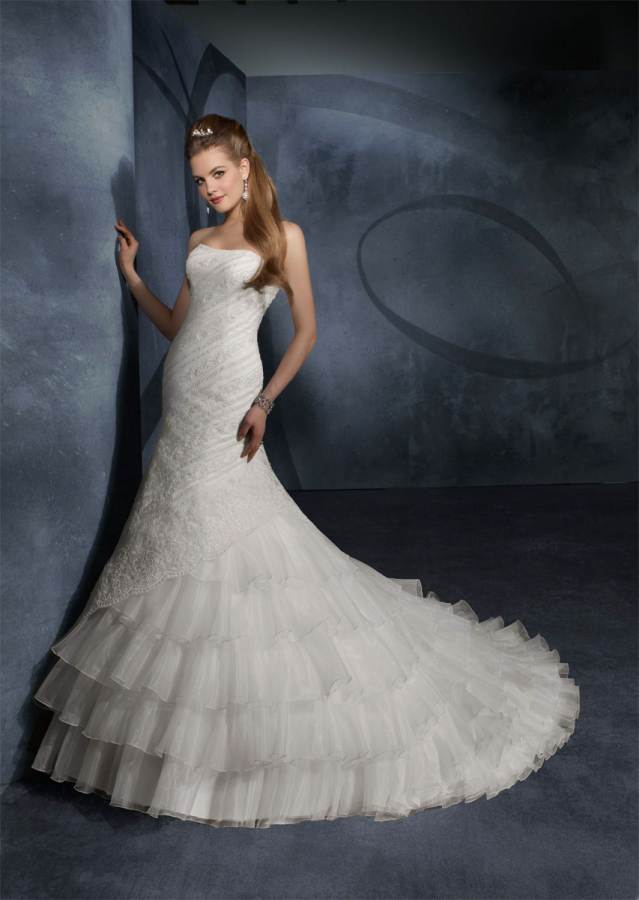 If you are top heavy, try and distract attention from your bodice area. Avoid too much embroidery and embellishment on bodice, cinched waists, empire seams as all these features bring attention to your bust.
A mermaid gown with tiers can help by diverting the attention towards the bottom.
Wear a V neck dress/gown. The V- neckline dissects the large chests, making the body part appear less round.
Pear Body Shape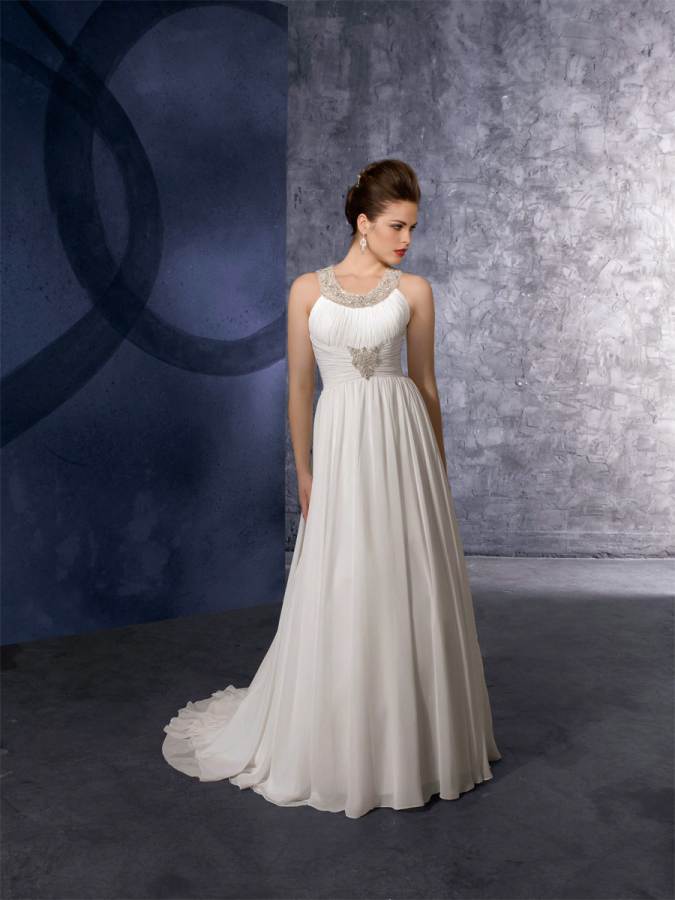 If you are bottom heavy, choose an A line dress which masks the problem area beautifully. You could choose puffy sleeves, or a broad neckline (square neckline) which again moves the attention away from the hip area. A fitted bodice with a Basque waist (an elongated triangle "V" that it features beneath your natural waistline), also hides the problem area.
You may also go for off-shoulder styles as they make narrow shoulders appear broader, thus, balancing out the wide waste.
Plus Size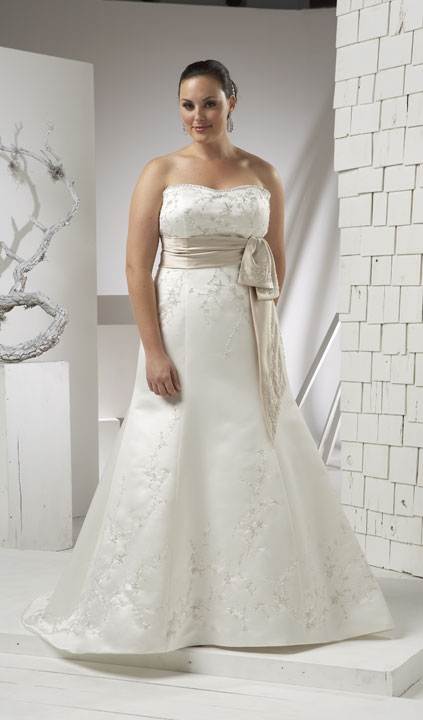 If you are a plus size, avoid anything which adds volume width wise, add details which create an impression of adding to your height, such as a high waist, an A line also looks good. A puffed veil will be successful in creating the impression of height and hence will draw the attention away from your width.
One word of advice, buy and get a dress fitted on the basis of what you weigh today, not based on what you intend weighing on your wedding day…we all know diets do not work on happy minds!
Jewelery and accessory options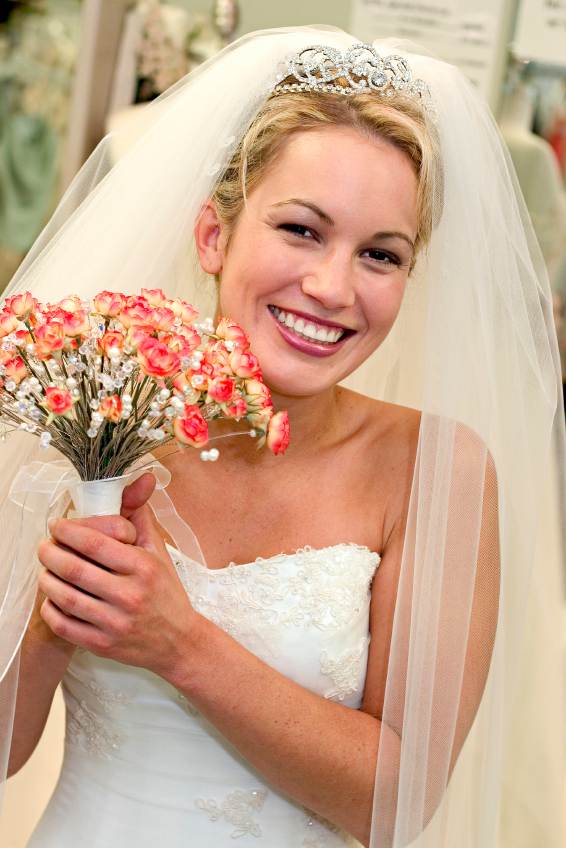 When it comes to jewelery, minimalistic is the look. For a classic look, stick to a lasso necklace in sterling silver or gold, a single row of diamonds or a pearl necklace. Ear rings could be simple, as studs, matching the neck piece that you are wearing.
If your dress is simple, you may want to add bigger ear rings such as chandelier and tear drop shape or a bigger and more elaborate neck piece. Try not to go overboard by having both heavy jewelery at neck and ears as you may end up looking over done.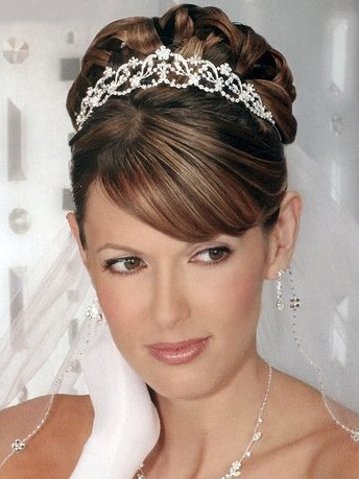 Tiaras and small crowns in the shape of wreaths look classy and distinguish a bride from the rest of the crowd.
Diamond and precious stone brooch on your wedding dress is another elegant option to dress up a simple outfit.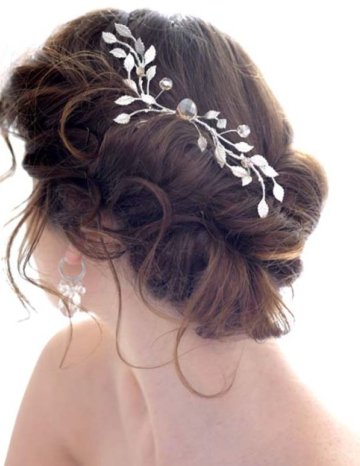 Hair accessories are quite popular to be worn with your wedding dress. Ornate combs, matching your apparel worn with or without veils look good; so do the very elegant fabric flowers made of silk or organdie and feathers.
Bridesmaid dresses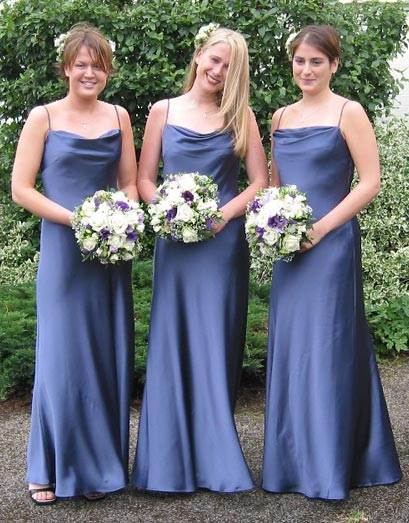 There goes a very interesting story behind why all bridesmaids wear similar dresses. The practice originated with a belief that when women would dress up like the bride, it will confuse the evil spirit who wants to destroy the impending happiness filled life that the bride is entering into.
Bridesmaid dresses are generally coordinated in color and styling, take care to pick a color and style that suits everyone, which may be difficult but not impossible. Usually, the styling is not as elaborate as a bride's and you could prefer to have an entirely different design for your bridesmaid than yours so that both stand out!
Colors could be chosen to complement the color that you are wearing as a bride. So, go in for light shades of pastels as the bridesmaid dress if you are wearing tones of white and ivory or pastels yourself. Choose darker colors if you are wearing richer colors yourself.
A wedding is an affair to remember. Prepare yourself for some hard work and running around before the D day, but the end result of all of it will be something that you will always cherish and fondly remember!
Images:morilee.com