When dresses were first worn, the prime focus was on covering a woman's vital assets and providing her the comfort of working all day long. They were more to do with functionality, concealing and comfort. The times have surely changed and today's dresses are supposed to add glamour to the wearer, by clinging at the right places, and showing off the curvaceous and well worked out bodies and at the same time, celebrating the feminine free spirit.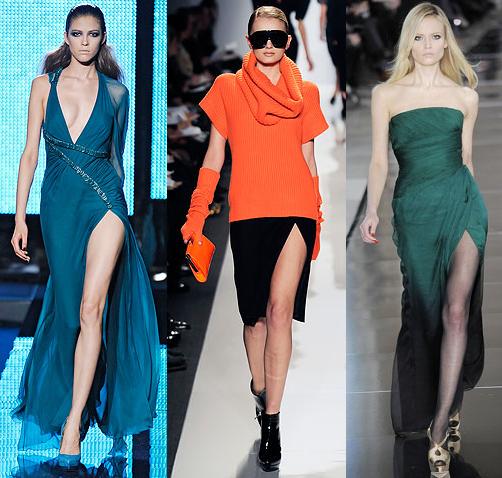 Growth of the trend
With the 2010 year reaching its last quarter and when we look back, one trend in dresses and gowns that we see as emerging and fast gaining popularity is the presence of high slits.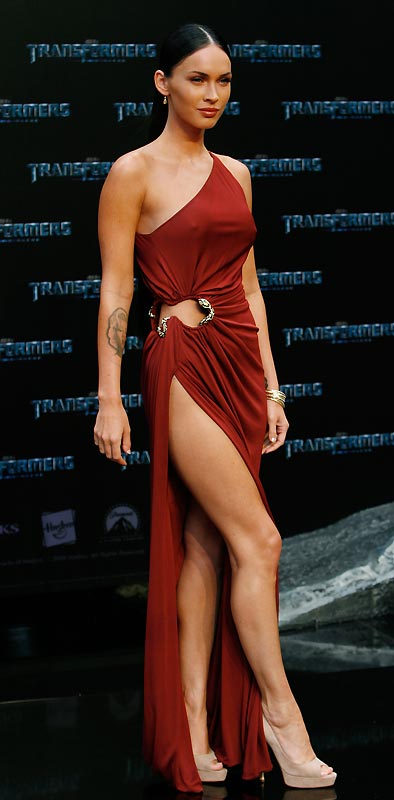 Megan Fox maroon Roberto Cavalli high-slit dress
The trend of high slits really started catching on from end of last year onwards. International celebrities who made it to the top list of beautifully carrying off the high slit dresses and gowns at various red carpet events starting end of last year were Megan Fox in her purple thigh high Donna Karan dress and later, in her maroon Roberto Cavalli cut out dress with a slit much higher than her purple gown, both worn to the premiers of the movie Transformers; Cindy Crawford in her black dress with a mid thigh high slit at the premier of Fantastic Mr. Fox and the oomph girl Fergie in her shimmery black and silver fitted dress with a slit at the centre front.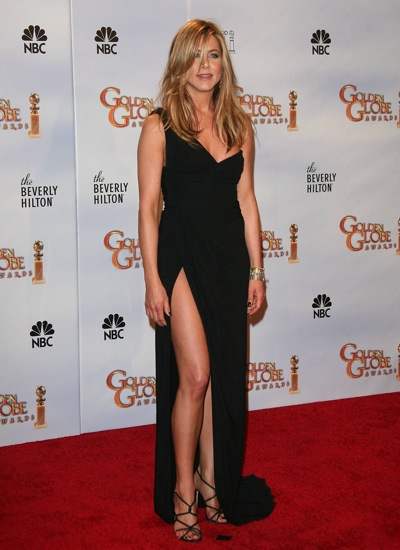 The year 2010 started with Jennifer Aniston donning an off shoulder Valentino gown in black, with a thigh high slit at the Golden Globes. Everybody sat up and noticed her sun kissed body, well toned legs that showed through beautifully from the slit and tousled hair and though she was not a winner that night, she went back home a happy woman, as her gown made fashion critics sit up and not only notice, but even applaud the sexy dress and set the path for many more such dresses to be donned at the red carpet events.
At the same event, many other celebrities too wore the high slit dresses and were applauded for not only their well toned bodies, but also their dresses. Marion Cotillard wore a beautiful silk green asymmetrical shoulder dress, the lace lining peeping from underneath the slit was too taken well by fashion critics.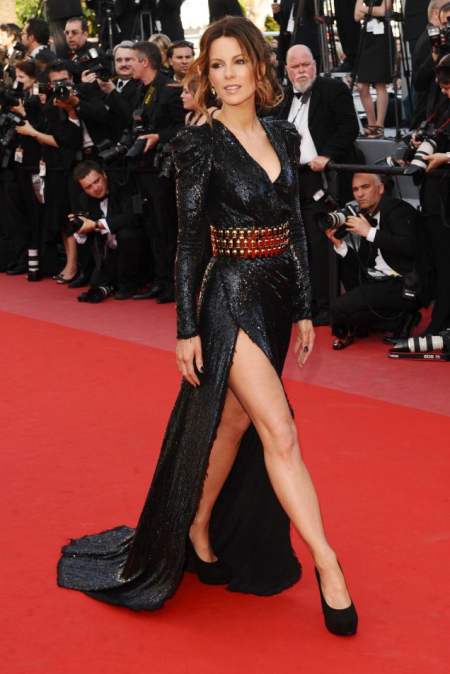 Photographs of Kate Beckinsale at the Cannes film festival in May this year, donning a shimmery sequinned Balmain gown with a wide red belt cinching her waist was also received very well by the fashion observers.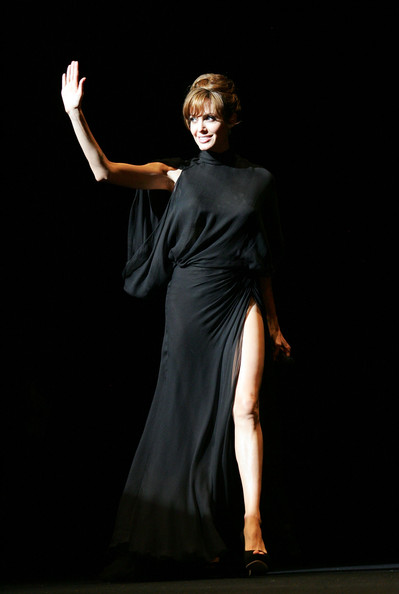 At the Tokyo premier of one of the most awaited and finally well received movie Salt in July this year, Angelina Jolie once again made the fashion critics sit up and notice her many tattoos and well toned body. She wore a Versace partially backless, mock turtleneck dress cinched to the left of her waist, with a slit so high, it almost showed off her pelvic bone! People gave mixed reviews about her bridesmaid hair style, her poor dressing sense and even how sickly thin she was looking. But the fashion fraternity loved her bold dressing sense and the dress has been an inspiration for many fashionistas all over the world.
Closer home, our own glamour dolls and beauty queens – Priyanka Chopra, Malaika Arora Khan, Bipasha Basu , Deepika Padukone and Lara Dutta to name just a few, have donned the slit dresses at various events and have been lauded for their efforts by the  fashion fraternity all over the world.
Who can pull off the look?
While it is said that you need to create your own fashion statement and have your own distinctive individuality, the trick is to really know if you would end up looking drop dead gorgeous or trash can.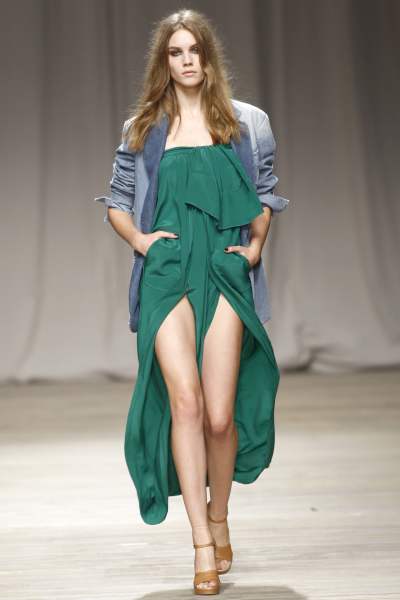 A well toned body and really long legs is a must for carrying off this look. Petite, shorter frames should stay away from the look as they may  end up looking podgy. Designers are of the opinion that a lot of women in India can actually carry off this look, primarily because their problem area is not really the legs, it is the waistline. The slits, actually divert the attention from the waist to your well toned legs. The other thing that you need to carry off this look is oodles of poise and confidence. Wearing something under confidently is the sure shot recipe for a fashion disaster. Team your dresses with heels. Heels tend to glam up even a most basic slit dress and your gait becomes more feminine.
Choosing styles which have slits at the side or the center and deciding how high those slits should really be , are some other factors to consider. With ever increasing slit lengths, wearing a center slit which barely covers your modesty may not be the only answer to look sexy. Choose a dress which shows off your assets to your advantage, without making you look like a cheap , dressed down version of an imported designer! We all know too well – there is a fine line dividing the vulgar from the stylish.
Where can you wear these too?
The old adage says – when in Rome, do as the Romans do!
Location is an important part of the consideration too while deciding to wear one of these dresses. In which city, to which event are you planning to wear it are important considerations. What may be suitable to wear at a pub, may not be suitable to wear to your office – you get the picture, right?
While in general, the people around you are having broader perspectives of fashionable clothes, you still need to take the audience and the place in mind, before stepping out in a fashionable high slit dress.  If you think, wearing a thigh high slit dress to a neighbourhood marriage party, will not cause eyes to flutter, you are sadly mistaken. Similarly, wearing western dresses to a city where the western look in itself is a fashion shock is a fashion disaster. The look that the long slit dresses convey,  needs to be reserved for special red carpet events, attended by audience which can understand and appreciate the look.
Presence of high slits in dresses and gowns is a trend which is here to stay and with so many celebrities worldwide endorsing the look, chances are it will achieve the cult "classic" tag soon!