Spring summer 2011 promises to be an interesting year so far as prints are concerned. I know 2011 seems far off from where we are currently, but this is what fashion world really is!
Coexisting with solids in beautiful colors and shades which promise to rule the ramp, some interesting prints which promise to be big in the upcoming spring summer are Animal prints, florals, digital, geometric, abstract, polka dots plaids and stripes.
Animal prints
We love to hate our animal prints, yet these always seem to make a comeback on the high street fashion. The animal print theme is not really a dominant one this time, though designers such as Blumarine have based an entire line off this theme. Other designers using the animal prints are Cavalli, Francesco and Givenchy.
Blumarine:




The Italian fashion design company, known for getting most of its fashion forecasts right, Blumarine, based one of its entire spring summer 2011 line on animal prints. Blumarine is one of the few companies propagating this look in a big way. Forget the old and basic brown and black leopard print or the good old white and black zebra print. Think of pleasing, playful colors complimenting each other and used in unique and innovative ways to create an interesting spectrum. Its collections included
Mixing of animal prints with a tonally dark solid was also seen on the runway. You have a peachy pink dress with brown and black leopard spots teamed with a solid faux leather bolero and matching ankle length gladiators.
Knee length gathered dress with loads of volume in minty green leopard print;
Turquoise leopard print bell bottoms worn with tonally light turquoise leopard print off shoulder top;
Effect of big tie dye patches in unconventional colors such as black, brown indigo, pink and brown all coexisting with the leopard print in a fluid kaftan,
A lilac leopard print dresses etc.
Animal prints also spilled on to accessories – so you had animal printed bags and scarves in the same color as the main ensemble. Teamed with dangling gold jewelry such as long chains reaching almost the navel, suede fabric belts with gold detailing, the trend of feminine colors interspersed with good old animal prints forecasted by Blumarine, sure looks to catch on in the upcoming spring summer!
Givenchy:



Givenchy is yet another designer who also has forecasted a good mix of animal prints ranging from the subtle to elaborate usage in his designs. Prints were seen on jackets, floor length gowns, shirts and even sling purses. The look is on sheer fabrics as well as on heavier weights. The busy look of prints is sometimes used in totality or balanced with solid trousers and dresses. One trend that he has used to highlight his collection is a high dosage of zippers in his designs to make them stand out!
Roberto Cavalli:

Roberto Cavalli's spring summer 2011 collection had some outfits in animal prints with Black stripes on beige body. He also showcased a conventional black and white snake print interspersed with black and white tiger print and some black and white polka dots in his classic dress style in keeping with the grunge, ripped off look he has forecasted for the spring 2011.
Francesco Scognamiglio: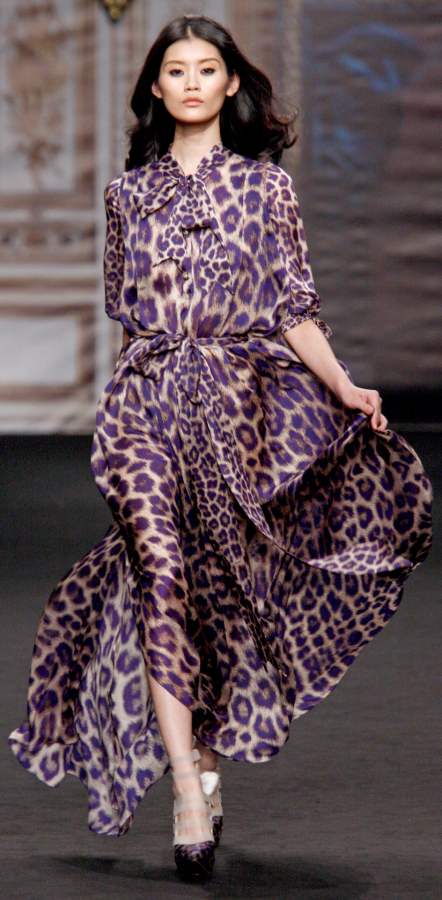 The designer known to be having fans such as Lady Gaga and Rihanna had leopard prints used as detailing in his RTW collection and even a gown such as the above which had elaborate purple leopard spots on a base of beige fabric.