Have you ever thought, why do you wear different clothes on different occasions…but mostly sport just one hairstyle all the year round, with almost every outfit that you wear. We tell you why, most of us are plain scared of changing our looks and though we would like to invest in good clothes all the time, we really do not wish to spend anything at all on what we wear everyday – our hair styles. This coming spring summer, try out a new look. Choose from any of the hairstyles that are touted to be big and follow the tips to a more fashionable you!
The most dominating hair styles advocated for S/S 2011 are styles which showcase the woman in a feminine yet powerful manner – curls and waves ; hair left loose with interesting partings, cuts and styles; hair tied up in buns and of course the braided look
Curls and waves
If you are blessed with natural curls, 2011 belongs to you! Curls are predicted in a big way for the upcoming s/s 2011. A curly, wavy hair style reflects a carefree attitude of a wearer. The spring of 2011 distinctly moves away from the flat ironed, sleek, straightened hair look that the "Friends" stars had made so popular, to curves of all kinds – soft romantic cascades, tight spirals and medium to very curly. Curls and soft waves are very versatile and can make a person seem very dramatic and instantly glam up her appearance!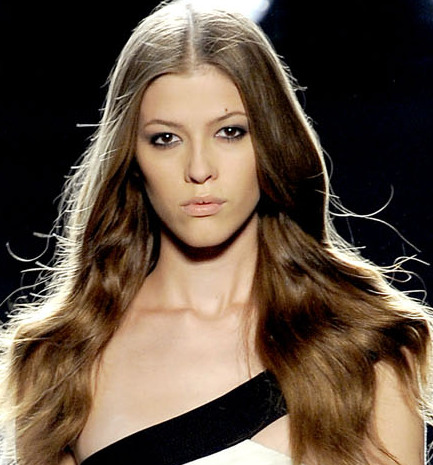 Gian franco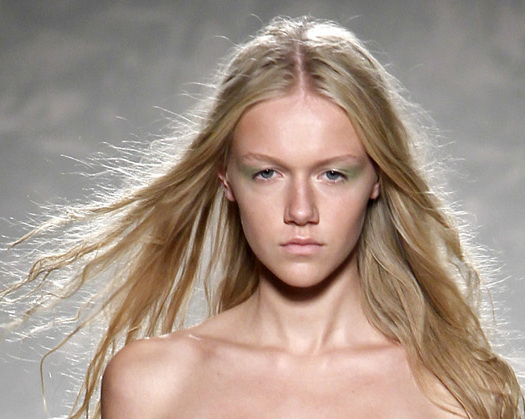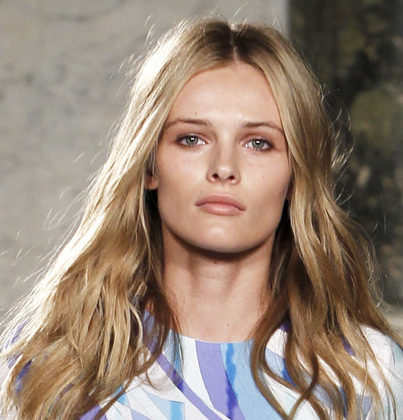 Alberta & Emillo
You could try parting your hair in different methods and create a new look by making loose waves with center parting as was used by Alberta, Emillo pucci, Gian franco and Isabel marant on their shows.
Styling ideas and Best for – Almost anyone with any hair length and color can give this style a try.  Curls on short hair look great – remember Meg Ryan and Michelle Obama.  Easy wash and wear styles of natural short wavy hair, makes it a favorite amongst working women too!  Soft curls and spirals at the ends of shoulder length or longer hair also look great. A case in the point – the November cover page of Jalouse has Erin Wasson showcasing this look. Undoubtedly curls on shoulder length or longer hair are more versatile than the short cropped curls. You could hold up your curls with pins, letting them gently fall on the back neck or shoulders. You could part them in one of the many ways or even hold them in a band at the back, with some loose curls framing your face.
Avoid heavily curved styles right from the root to the tips if you are moon faced as this style adds to your facial volume. Opt for soft waves towards the tips of your hair instead. This styles looks great on faces with high cheek bones definition and with chiseled looks as they complement each other very well.
How to achieve the look – If your hair is not naturally curly, you could achieve the look by curlers or a more permanent solution would be the perming machine. You could use mousse and some styling products to hold your curls in place. Remember, the more manageable your hair, the better chances of it holding up a curly style.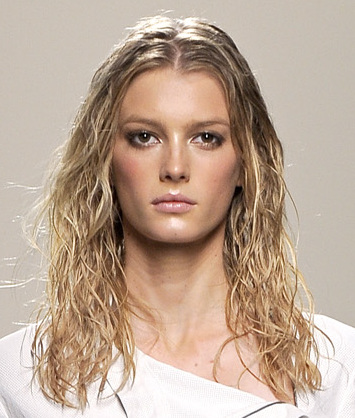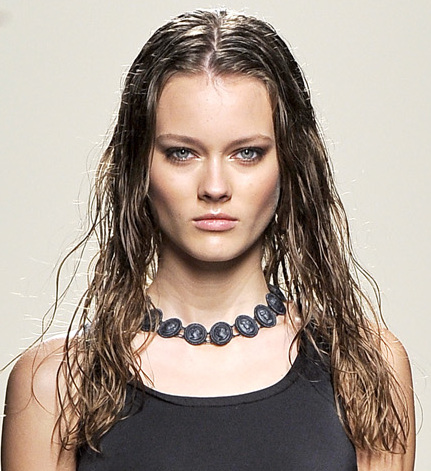 Bottega Vanetta used a loosely Gelled light waves look.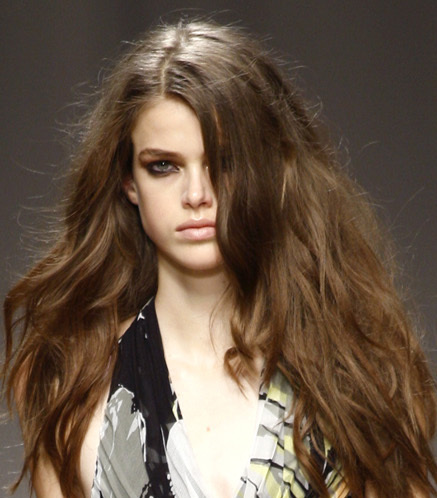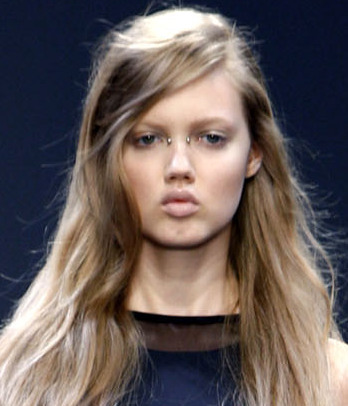 Iceberg     &     Hakkan
Extra glam solutions and pair with tips – Color or highlight your hair to add instant shine and glamour. Do refer to our Hair color trends at the end of this article. When going out for work, keep your look simple with minimalistic accessories and good formal wear. When out partying, let your hair loose, literally! Curls and waves are foot loose and fancy and one thing is for sure, curls no doubt are going to be a very big trend!
Texture of curls
While curls could be in the form of soft waves as we just saw above, designer Sonia Rykiel, used extreme curls especially at the end of the hair, with side partings to create a different and Wow look on her models. The look was fun, carefree and bold.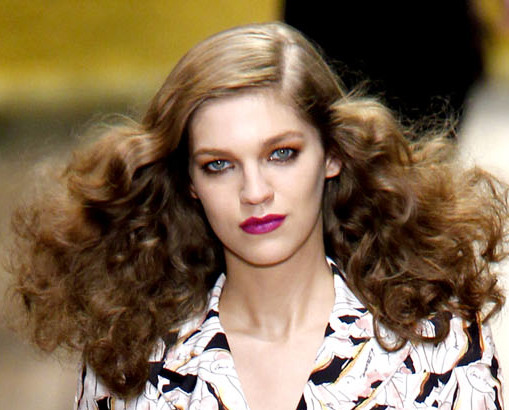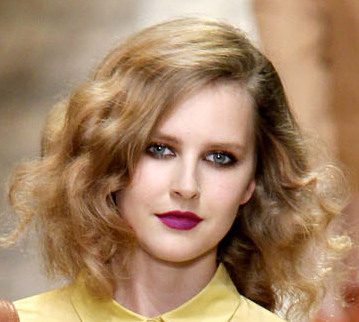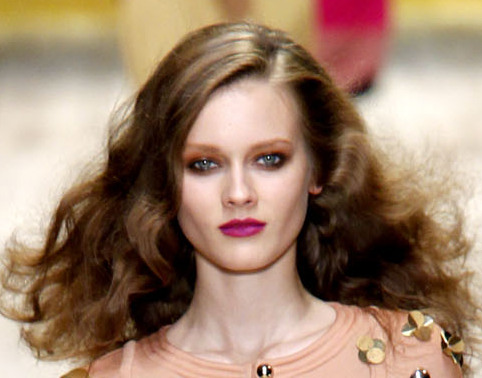 Sonia Rykiel
Come this Spring, try out a wavy hair style or extreme curls – and watch heads turn your way!