My fondest and earliest memory of any sort of accessories is the good old hair clips. Back in school, we could perhaps don only this simple accessory and that too in color black. Well, not any ore. Any fashionable woman cannot ignore the trend of hair clips this spring. Be prepared to see some of the most fancy hair clips this season – colorful, multi pieces, metallics – you name it and they will be there.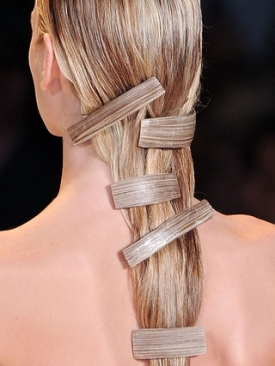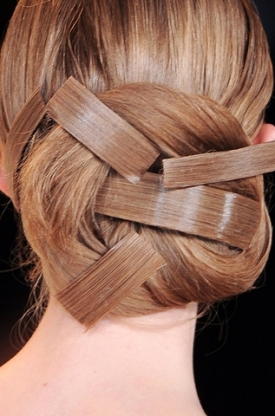 Carolina Herrera
Who used the theme–
Carolina Herrera, Rodarte, Jason Wu and Rocco Barocco all used hair clips on their models on the runway to represent a classic, time tested and conservative method of beautifying the hair.
While models on the Carolina Herrera donned multi clips in various widths to hold up their bun in a color tonal to the hair; this definitely added an extra definition to the hair style. Rocco Barocco used a bow in naval color scheme to hold the loose hair. Both the looks conveyed the classic vintage yet fashionable look.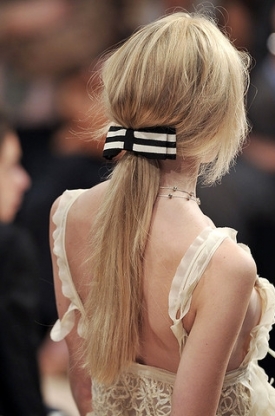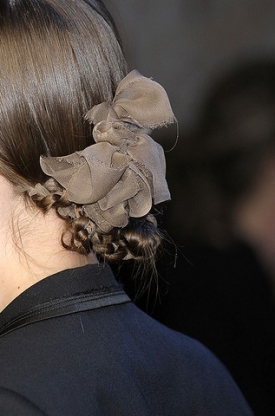 Rocco Barocco    &    Jason Wu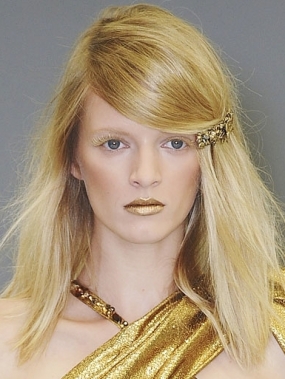 Rodarte
Jason Wu on the other hand used a fabric hairclip to hold up the braided knot at the nape and Rodarte used an ever classic gold stone studded hair clip to keep in place bangs. All hair clips used by these designers reiterated and were eloquent examples of how relatively simple hair accessories can glam up a simple hair do.
Colors – Let your imagination run wild – pick up colors matching or contrast to your outfit. Choose clips studded with stones and crystals to dress up a simple hair style or a boring outfit. Fill up your accessory box with fabric bows, grosgrain ribbon clips, clips in all widths and sizes this season – you will not go wrong with this look in the upcoming season!
Hair styles to wear on – Super short, short, neck length, shoulder length or even longer; loose, bobs, bangs, tied into braids, tied as buns and any other hair style that you can think of – hair clips look elegant and work for all hair styles. Go ahead and try out a new hairclip on the same hair do, and see your look transform. You could even use the same hairclips, but make a different parting or a new hair cut to give an entirely new look. 'Go play' should be the mantra of using the clips this season.
How to interpret the look – This should be really simple again –whatever theme suits you from the infinite ones available in the market will be great to buy and wear. You could choose comic characters and team it with a cartoon tee and shorts on a girls' time out. Choose muted colors and classics such as tonal studded clips to a formal office event. Wear elaborate fabric clips matching your outfit, to hold your braided bun look while attending a wedding.
Where to wear the look – almost everywhere, choose simple hair clips for casual occasions as they will add a bit of twist to your hair, without being too obvious. Use more elaborate clips studded with stones, or fancy fabric bows for more dressy events. Turn to the pictures above for interpreting these ideas in your own unique way!
Hot Tip – When it comes to matching your hair accessory, remember if your dress is bling, you could keep the hair accessory simple and likewise, if your dress is simple, it would be good to spruce up the look a bit by using some ornate and funky hair accessories.
Hair clips and floral themed bands and corsages are good examples of how accessories can add a touch of glamour to your whole persona without going through too much effort.
Happy hair accessory shopping this season!