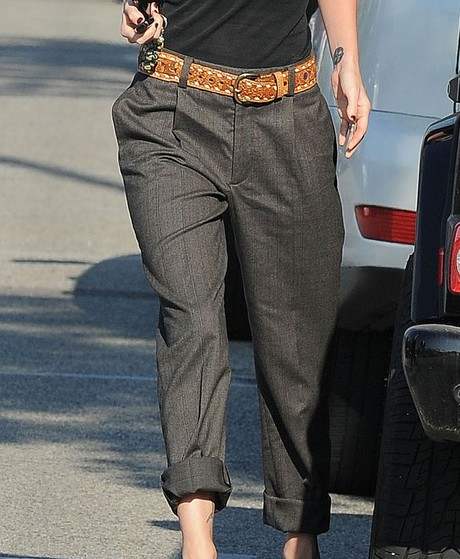 Menswear inspired looks are the hottest thing this Fall 2010. Many fashionable women have been stepping out recently sporting this trend and joining the group is none other than super hot Megan Fox.
24 year old Megan too left her short and sexy dresses behind to step out in a menswear inspired ensemble as she visited the Regency Art & Antiques Gallery in Los Angeles. Looking as foxy as her name, Fox rocked a pair of men's style tailored pants and a sheer vest top, all this while maintaining the monochromatic earthy color palette which is omnipresent this season.
She added just the right tinge of girly charm by rolling up her trousers and adding a pair of solid green high heeled pumps and a broad studded belt. Megan wore minimal make-up and accessories, left her hair loose and flaunted her much in news tattoos, all completely in line with the season and time of the day. Her take on this trend was rather fresh, understated and super chic.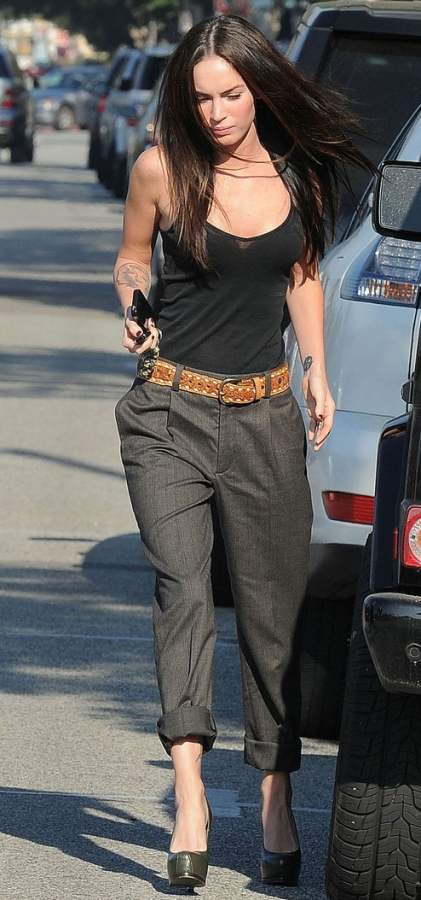 How to rock the boyfriend look a la Megan:
Go for a men's style sharply tailored and pleated trouser in a solid and earth tone
Pair it up with a black sheer vest top (or gray or brown or even white, if you please!)
Wear a super high and super sexy pair of pumps and a rocker chic belt to complete your ensemble.
Haute Tips:
Always go minimalistic with this look. Over the top colors and accessories with menswear inspired look is just not done
Similarly, keep your hair and make-up simple and fresh
Never wear two masculine garments together. If you wear boyfriend jeans or a tailored trouser, choose a feminine top. Or if you like boyfriend jackets, pair them up with tights or leather-ish pants. After all, a little bit of femininity is needed, isn't it!
And last but definitely not the least, always remember to match the color of your inner-wear with your top when it is sheer. White brassiere peaking out of a black top is just plain ugly!
Leave a comment and let us know how, when and where you rock this look!!