Good hair day or bad hair day, hats are here to stay!
Whether you like the rhyming opening sentence or not, what you are sure to like is the trend of the hats which are promising to be a big hair accessory for the upcoming spring.
Hat ideas as used by the design houses and evident from the runway are not only functional but also a great fashion accessory.
Brim hats
Great for protection from sun, brim hats were a popular feature in a lot of designers show.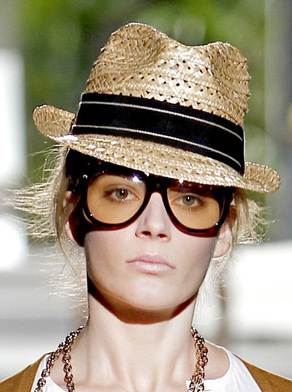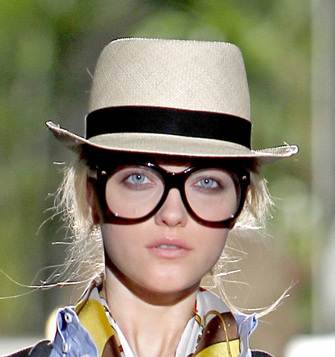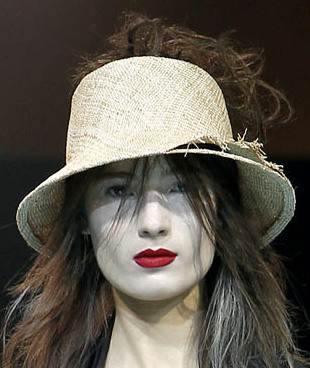 Small brim hats by Dsquared2 and Yohji Mamamoto
Who used the theme – Where D squared 2 and Yohji Mamamoto used the classic small brim hats, Marc Jacobs model wore a very conspicuous wide brimmed hat, almost haloing the entire head of the models. The look conveyed by the models wearing the hats was eclectic, playful and casual.
Colors – On the runway neutrals in creams and shades of it, blacks and sun kissed browns were used by D squared 2 and Yohji Mamamoto, whereas like his apparel collection Marc Jacobs used bright colors in orange and yellow. The material used on the hats was straw and loosely woven fabric. Some hats were adorned by a contrast black band of fabric on the crown of the hat.
Hair styles to wear on – Any hair style is great to don a hat, loose curly hair or short cropped hair such as the models in the Marc Jacob show; messy, matted slept in look as used by Mamamoto or hair tied in buns/ braids as used by D Squared all looked great from underneath the hat.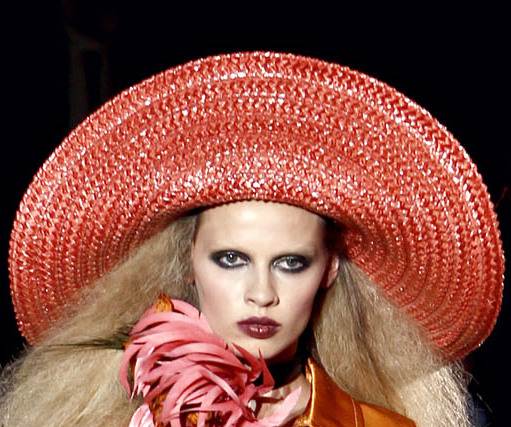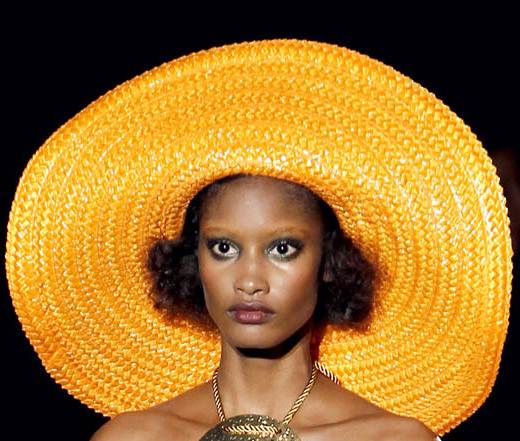 Huge, bright and colorful brim hats by Marc Jacobs
How to interpret the look – Wide brimmed straw hats are available dime to a dozen in any touristy place, you could opt for a bright colored one for a casual outing, and a narrow brim hat in neutral colors for a semi formal occasion. Begin with neutral small brim hats if you are unsure of whether the look will suit you, once confident, go ahead and try different variations of the same look.
Where to wear – Hats were used by all of the above designers on their casual wear collection hinting that this trend is sure to catch on for almost all casual outdoor activities that you may be attending. Beach, at the pool side while soaking in the sun, out in the sun shopping seem to be the best places to wear these funky yet practical hats.
Hot tip – This look can further be made more interesting by adding a new color to your hair. Imagine wearing a black straw narrow brim hat against your auburn colored and left loose hair, or a bright sunny color hat on black hair. The contrast in colors of the accessory and the hair can make this look stand out even more.
Other versions of Brim hats

Just as wide and narrow brim hats in natural straw or loosely woven fabrics were seen aplenty, there were more playful versions which were worn on the ramp by models in different shows.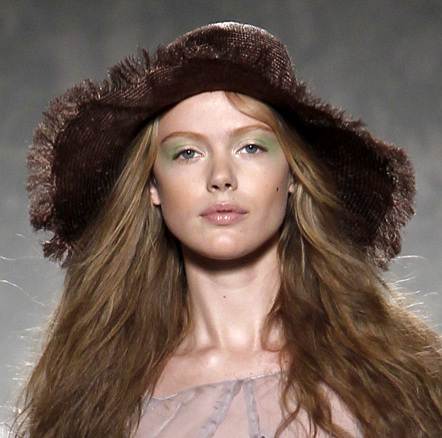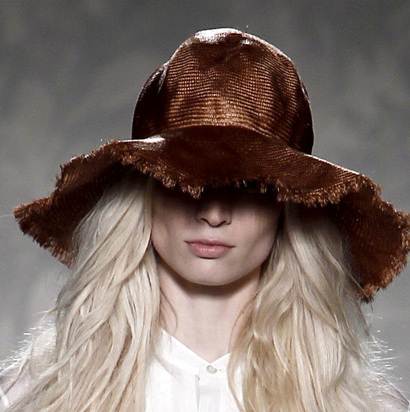 Raw edged hats by Alberta Ferretti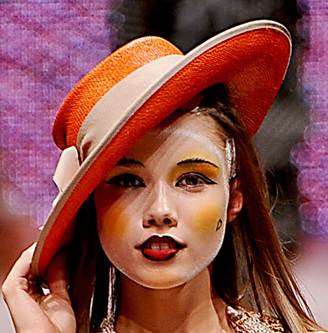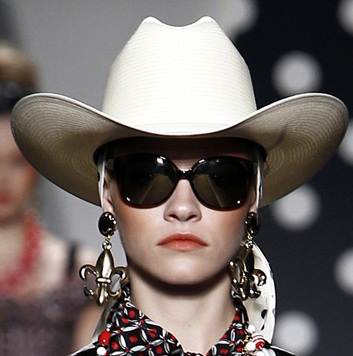 Vivine westwood    &     Moschino
Who used the theme – Alberta Ferretti used raw edged hats liberally on the models to carry forward  the beautiful fairy like look created by the ensembles. Moschino used white cow boyish hats on the models to create a flamboyant look and Vivienne Westwood models wore hats which had nothing in common to the outfits they were teaming it with.
Colors – Clearly, there was no hard and fast rule here. There was mix and match, a total contrast and a neutral theme evident on the ramps. Where the Ferretti models wore hats in colors which were tonal to the main ensemble, and were made in textured lurex interspersed fabric resembling closely placed pin tucks and straw hats, Moschino teamed the evergreen white hat on all outfits. Vivienne Westwood models wore interesting and unseen combinations of blue denim hat on a leopard print suit, pink lady like hat on a hospital blue tunic, and orange and earthy brown hat on a black and white dress.
Hair styles to wear on – Wear it with loose open hair if you want to create an approachable, easy to go casual look; tie your hair into a neat bun at the nape or braid it interestingly to create a more conservative almost strict look. This look looks great even on short cropped hair.
How to interpret the look – My pick for the unadventurous and fashion conservatives would be to choose colors which are neutral to go with most of your outfits. You could go in for tonally matching hats too to create a uniform look. For the more adventurous, try going contrast with your hat color, however, in order not to stand out and to have some flow, team it with a matching clutch, belt, shoes or something as small as the band of your wrist watch.
Where to wear – You could wear this look to a formal chic event such as the horse derby races – not only do they look cool, they look extra glam and very feminine too. Cow boyish hats as used by Moschino, can be teamed with skinny jeans and a tucked in western shirt, a leather waistcoat to a night out with your friends, a pub or even a themed party.
Hot tip – It pays to invest in a few good pieces of feminine hats as shown by the runway models, they can totally change the look of the wearer from the boring to the roaring! You could take your pick from any o the above looks showcased on the ramp by the designers and decoded by us here!
Hats with hanging ropes and tussles and other dramatic versions
If normal is boring and you would want to go a step further to look extra glam, then this section is for you!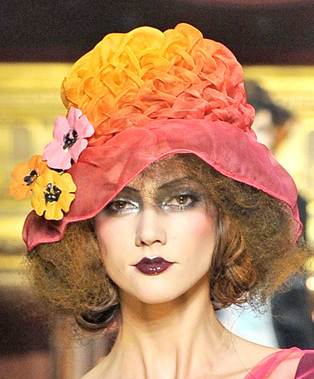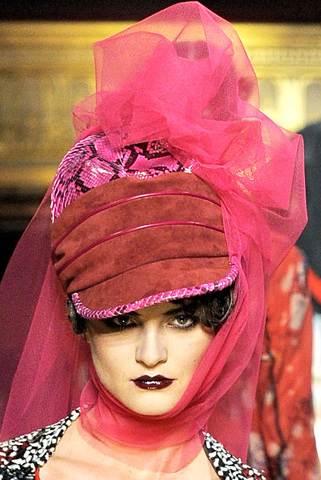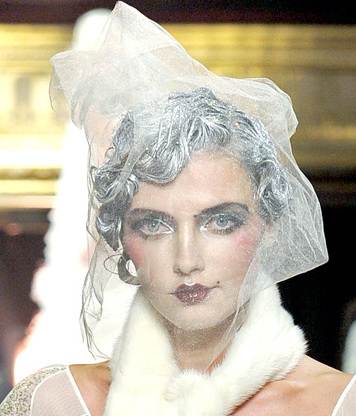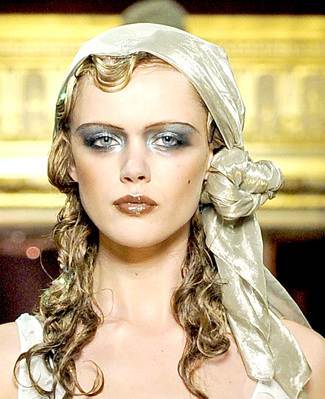 Dramatic head gears from John Galliano
Who used the theme – Dramatic head gears and funky accessories to further adorn a bucket hat were used by John Galliano and Sonia Ryrie respectively. Where John Galliano made his models look like master pieces of artwork with the dresses, the veils and bonnets in neon pink, silver and orange chiffons carried this look beautifully. Sonia Rykiel chose the popular bucket hat and added an interesting dimension of tassels to it to give the old hat a new look.
Colors – Suspense and drama were the highlights of John Galliano's show and hence, the colors used were bright inks, oranges and shiny silvers and golds. Sonia Rykiel on the other hand, used more standard colors such as black and teamed it with almost all of her ensembles in a variety of colors.
Hair styles to wear on – Loose curly hair, seems to win hands down with this look.
How to interpret the look – The veiled look, and the look of bright colored hats looks uber chic if you can carry it off well. Try teaming it with some harem pants and a well fitted blouse; this look may look great even with lots of layering such as an overcoat worn over a lacy skirt. The look is kitschy, so try mixing prints, different pieces and colors to arrive at a great overall ensemble. The bucket hat with tassels is a more girl-next door look and can be easily teamed with a plain tee shirt and jeans.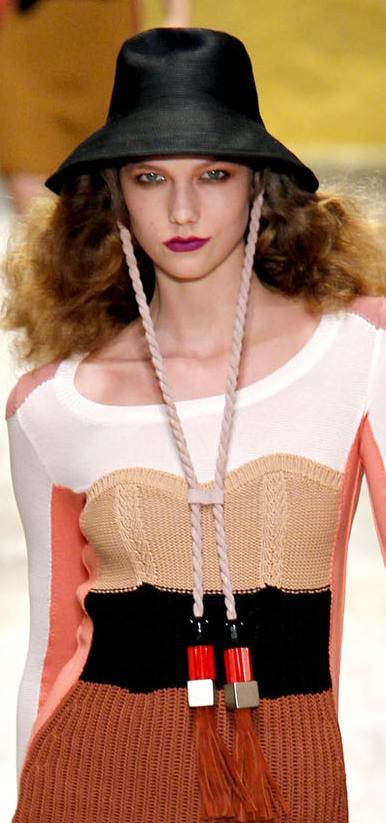 Where to wear – You could try teaming a veiled look to a formal gathering, as this look is best for well lit interiors. The bucket hat, either on its own or with the dangling tassels will look great on a casual date, time out with your girl friends and even on a Saturday to the office.
Hot tip – Confidence is the key word when you are trying out something as bold and daring as the veiled look or hats in bright neon colors. Be confident about your choice and you are bound to never go wrong!