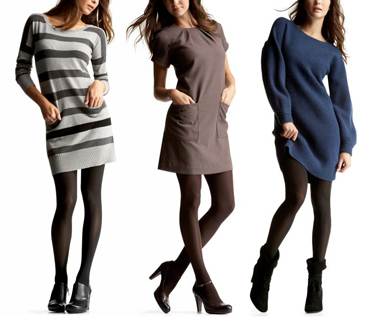 If you think that every year you would have to keep away your short dresses during the winter months, this article is for you, for here we discuss the myriad ways, by which you could transform your short dresses into cool winter wear using just a little bit of imagination. The key of course is to keep yourself warm, while not letting it affect your style quotient.
Styling tips that keep you warm during winters
Team the dress with colored leggings and sweater tights!


The look: Leggings are the ultimate rage this season; there are various colors and patterns available too, to match every outfit. Mix and match tights with different dresses to create a new look. You could mix a patterned tight with a solid dress or a solid tight with a busy printed dress to balance the look.
Up your Style quotient : Wear a well fitted beanie and chunky gold jewelery and you are all set to look cool without exposing yourself to the chill. High heeled closed shoes or lat soled pumps, even boots look cool with tights. You could complete the look by wearing a colorful scarf to provide added comfort and warmth.
Avoid: Ripped tights are a fashion disaster when you are going to a formal do, so ensure that your tights are in good condition and they do not have any holes or tears.
Go for the layered look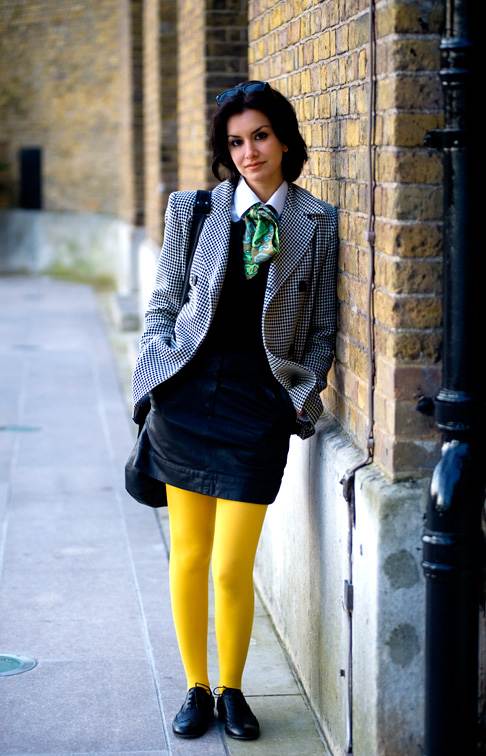 The look: Layering is the best and a very scientific way to keep yourself warm in winters. It is also very versatile, take off one layer if you are feeling too warm!  You could wear a full sleeve sweater underneath the dress or wear a bolero or cardigan or a well fitting coat on top of it. Choosing a well fitting cardigan or sweater helps. Choose wisely when it comes to the material – choose soft materials such as viscose lycra, silk and cashmere, which are not scratchy as they will be in direct touch with your skin. Soft material also helps in the 'layer' taking the shape of your body and the main dress.
Up your style quotient: when you are layering by wearing a shrug or a cardigan on top of the main dress, this could be the main centre piece of your ensemble. So invest in the hot colours of the season, go for some bling feature such as sequins or crystals on your shrugs and cardigans to liven up a plain dress. A well fitted wool coat is a great way to keep yourself warm too. Coats are especially great to wear for indoor parties / pubs / clubs, which are anyways warm, as once you are inside you can take off the coat.
Avoid: Body warmers are a great way to protect your body heat, however, these peeping out from underneath your dress is totally unpardonable. If you decide to wear a sweater under your dress, ensure that the hem of the sweater does not leave an impression on the dress.
Sweater dresses are your answer for those cold wintery nights!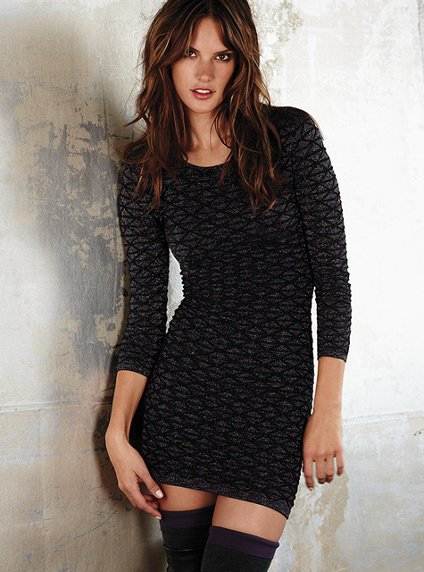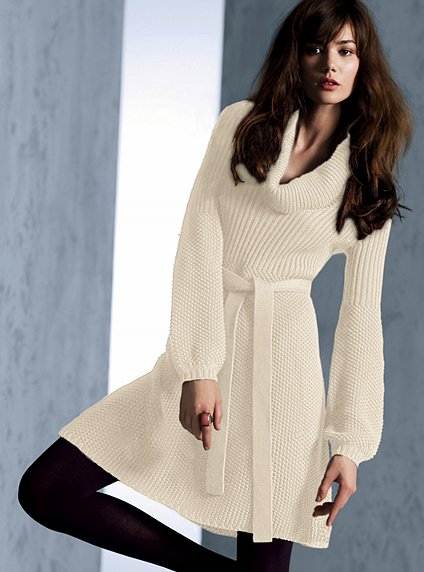 The look: Sweater dresses are a great way to look stylish at the same time keep you warm. Made of wool, these are inherently warm and come with design features such as turtle necks, meant for keeping the chill out. While choosing these, keep an eye open on the material which should not only be warm but also soft and non scratchy. A lined sweater dress is a good bet, if you have sensitive skin. You could team the sweater dress with tights as discussed above.
Up your style quotient: wear a belt to highlight your waist if you have a perfect ten figure. High boots when teamed with a sweater dress can look super cool and at the same time offer you enough warmth.
Avoid: sweater dresses in chunkier yarns can add pounds to your frame. Choose a soft sweater dress if you are on the heavier side. Horizontal patterns should also be avoided as these add visual weight to the wearer. Stick to softer materials and solid or patterned versions of the sweater dresses to nail the look.
Choose one of the three winter looks decoded above and do a little something extra to increase your style quotient and add your own individual element. At the same time, remember to avoid common mistakes that wearers make while following the look. Be stylish and be warm this winter!