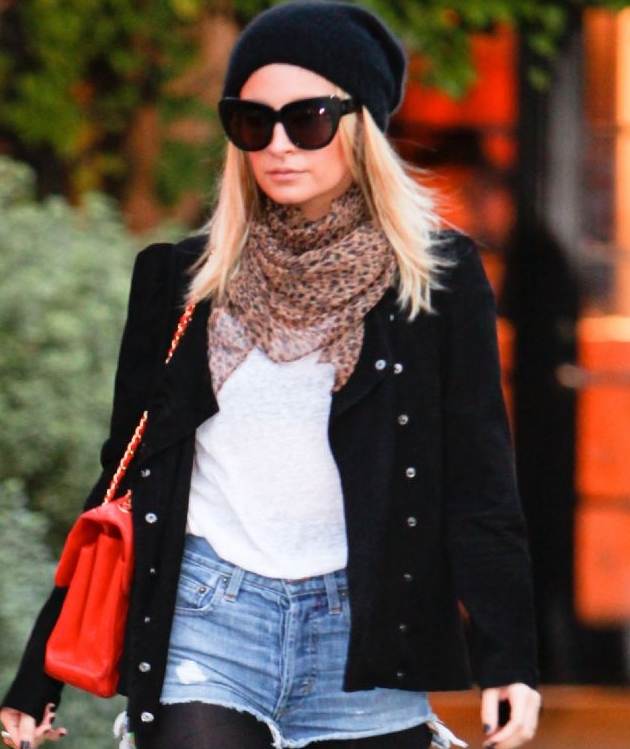 If there is one socialite who knows how to look super hot in shivering chill, it is Nicole Richie. The hottie was spotted leaving the Andy Lecompte Salon in West Hollywood last week and she sure knew how to turn up the heat in the extreme weather.
Richie beat the cold wearing a burnout tee and Erin Wasson X RVCA denim shorts teamed up with a Winter Kate "January" suede jacket. She topped off her look with a pair of Louboutin booties and House of Harlow 1960 "Chelsea" sunglasses. A leopard print scarf added just the right amount of edge to her outfit and Rick Owens beanie hat added chic-ness to her look as she strutted down the street. She also wore a pair of opaque tights and carried a bright red Chanel quilted bag which added colour to her otherwise somber ensemble. Her makeup was minimalistic and she left her blonde hair loose underneath the hat.
Richie kept up with this season's trend of earthy shades and muted tones but added a splash of colour with her bag in way that is as unique and eye-catching as her.
How to rock a sexy winter look a la Nicole: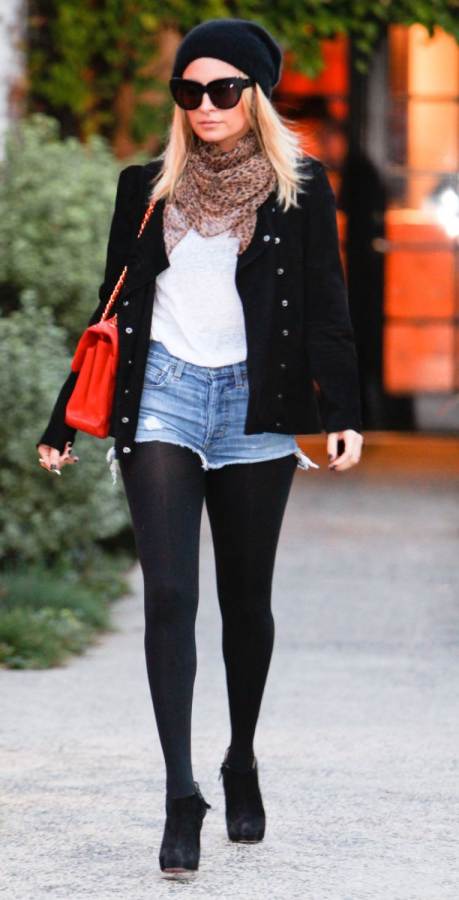 Wear a pair of classic cut-off faded denim shorts in blue or black. Go for styles that look worn out and rugged.
Choose a burnout tee in light shades like white, off-white or beige.
A good pair of tights in a wardrobe essential in this weather. Invest in some basic shades like black and white and of course some experimental shades if that are your style.
Booties are extremely in vogue this season. You can vary the length as per your taste though ankle or calf length is a good choice for days.
Go for a smart jacket to top off your look. It is a great practice to match the color of your jacket to that of your tights.
Accessorize well. An animal print scarf of even a hat would do wonders for the overall chic factor of your look. Richie chose to wear a leopard print; you can also go for zebra print if that is more suited to you. Hats are another important accessory this season. Beanie hats are very chic and casual and will suit your day wardrobe with perfection.
Show me a woman who doesn't love bags and I will show you a liar. To complete your ensemble you must carry the correct bag with it. Try to go for an edgier color which will stand out from the rest of your look and yet blend seamlessly.
Sunglasses are also a must-have if you wish to brave the winter sun. Broad rimmed sunglasses are very much in demand right now and so are dark glasses. Nicole wore a House of Harlow pair but you can find cheaper versions at your local store.
So go on and rock the glam chic look. Winters are no longer an excuse to not look your stylish best!