A lot of women, amongst us do not want to look sexy; instead they want to look sporty and cute. This is especially true for the teenagers and the younger women, who are too young to have the 'sexy' image and would want to come across as fun to hang around with. This look is however not only restricted to the younger women. In fact, more and more women would like to don a sporty yet cute look for casual outings and especially so, for outdoor activities.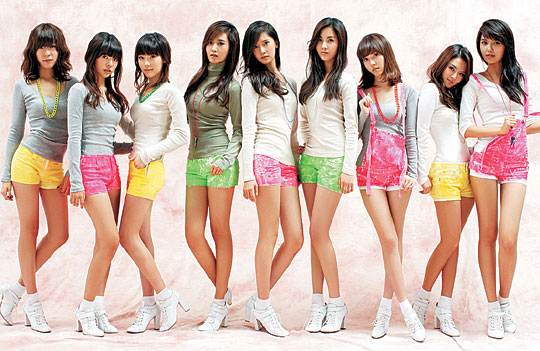 Achieving this look could be difficult if you do not have the sporty or athletic build and worse still do not know who to turn to for advice. While you would find tons of articles advising you to dress up to look your sexiest best, I am sure not many would focus on having a sporty yet cute look – a look which is a must for all teenagers, college going girls and young at heart women!
Here we discuss some basic tips to achieve a sporty yet casual look for a perfect casual outing with your friends, a jog around the park, a friendly basketball match with the local boy's team etc.
How to get the sporty – cute look?
A complete, flawless look cannot be achieved without focusing from the outfit to the accessories, makeup and hair do. Pay importance to your comfort levels on completing the look.
Outfits: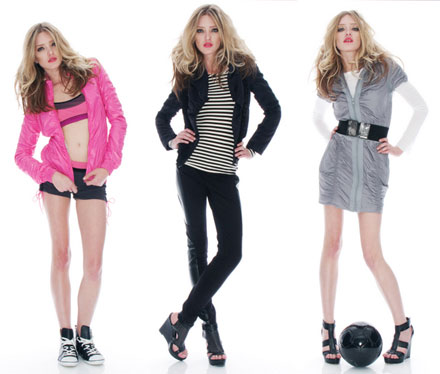 Loose, comfortable clothing are a must for conveying the sporty and cute look. By loose, I don't mean to say baggy clothing, but slightly fitting and hugging you at the right places, while not being discomforting at all. After all, if you are uncomfortable in the clothes that you are wearing, you will not be able to pull off any look!
Tops :
Well fitting short sleeve tee shirts are the best bet for creating this look during the summers. Pay attention to the length. Too long tee shirts look shabby and too short tee shirts may border on looking sexy. A good tee shirt length would be just reaching the top of your bottoms or at the most reaching mid hip. You could choose a round neck, a polo neck or a boat neck. Avoid turtle necks, cowls and other elaborate necklines as these could border on looking formal.
Vests and sleeveless tee shirts are okay to wear as well. Gym gear such as racer backs and sports bra are great too, if you are going for some hard core physical strenuous activity. Ensure that you have waxed arms and legs and are in good shape before donning the fitting sports gear.
During the colder months, it is okay to don full sleeve tee shirts with hoodies or zip front sweat shirts. Opt for the ones with some sort of thermal insulation, pockets and preferably hoodies. These not only prevent you from cold, instead they look casual chic too.
You could opt for placement printed tee shirts, solid colors or tee shirts with logos, slogans, small embroidered motifs etc.  All over prints in bold colors and bold motifs look great too. In general, try and opt for cleaner cuts, simple motifs and in general, nothing too elaborate, so as to make it too formal and dressy. Small motifs and graphics, look great as they make a statement without drawing too much attention to themselves and look super sporty and chic!
Shirts, tunics, coats etc. are in general not chosen over relaxed and statement creating tee shirts. Reserve these for more formal events.
Bottoms


For the warmer months – opt for shorts, skorts( combination of skirts and shorts) and short skirts. Again, well fitting, not too tight or loose should be the key. Opt for breathable fabrics like cotton or fabrics with anti perspiration finish. You could opt for pleated skirts as well. Try and keep the length to at the most – reaching just above the knee. Avoid too flowy and loose silhouettes and opt for well fitting, streamlined shapes instead.
For the colder months, opt for jersey pants in either full length or three quarters. Opt for elasticated waistband which sits well on your hip bone and falls well, without bunching up at the waist. You would find a lot of yoga pants, tights and leggings in the market. These are great for casual, chic and sporty look. Team the tights and leggings with slightly longer tees to create an even silhouette.
Well fitted track suits look great too when teamed with the right foot wear and accessories. Opt for rich fabrics such as velvet to look different yet cute-chic.
Opt for solid colors with contrast color stripes at the sides, when choosing your bottoms. You could choose neutral colors such as black, white and gray so that you can recreate the sporty cute look with different tops, as many times as you wish!
Jeans and trousers, though great for casual wear are not so great when it comes to donning the sporty-cute look and hence are best avoided.
Accessories, hairstyle and makeup for cute sporty look
You can dress alright, but if you do not accessorize right, or do not have the right hairstyle and makeup, your look is as good as being incomplete.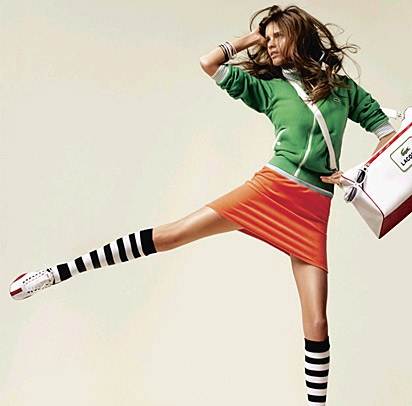 Opt for simple accessories – simple ear tops or simple hoops, a simple gold chain with a fun pendant, a  not too busy charm bracelet are all perfect examples of what is permissible to be worn. Do not wear chunky jewelery which is too eye catching and hence diverts the attention from the overall look.
Shoes – Without a doubt, flats look the best with this look. You could opt for good walking or running shoes in cute color combination – white and pink, blue and yellow etc. Flip flops look great too – opt for a nice floral pattern in the 'in' colors of the season. Other options could include mules, Mary Janes and simple open sandals.
Hairstyles – If you have short hair, your options would be limited. You could use fun clips to keep them in place or leave them as is. If you have shoulder length or longer hair, you could try out the good old hi ponytail which always looks great with casual outfits. You could tie it into a messy bun or a loose, low ponytail. You could even braid it simply or into a French plait. Remember to avoid elaborate hair styles which may look as if you have invested a lot of time to create it. Try and keep things simple yet pretty. Messy look is okay, but try and avoid extreme messy slept in look to avoid looking shabby.
Make up – the ground rule here is again – keep it simple. If you can carry the nude look, opt for the same, or opt for colors which do not stand out. Browns, pinks and light plums are okay to wear. Avoid oranges, reds and darker hues like plague with this look.
Other accessories – Opt for good big sunglasses, if you are stepping out in the sun. Big bags, school going satchels and totes look great too when going out for shopping or for a cup of coffee or movie. Try and don whatever is trendy and 'in' to complete the look!
Like with any look, the cute and sporty look is great when you wear it with confidence and charm. Go out and have fun with this look this spring!!