Imagine yourself walking in sub zero temperature to your car on a freezing cold winter morning to go to your centrally heated cosy office. How would you dress up to tackle the two extremes in temperature – warm at the office and the freezing cold walk till your car parking?
Wear normal office clothes and bear the cold till you reach the car
OR
Decide to wear warm clothes to beat the cold, however feel uncomfortably hot once inside your office? Well, the best way in both scenarios is to wear layers of clothes which you can put on or take away based on your needs.
What is layering and why should you do it?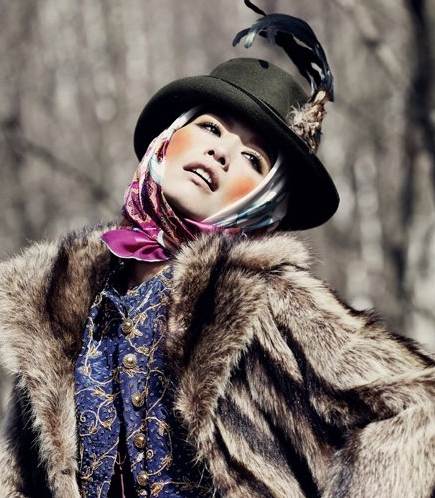 Layering refers to wearing clothes on top of each other, so as to form multiple layers (instead of the usual one or two) with the purpose of keeping the body warm. Layering is one of the oldest and scientific methods of 'flexible dressing', where you can wear as many layers as you wish to keep yourself warm and take them off as and when the need arises. It works on the principle of air being trapped between different layers preventing heat loss from the body and keeping it warm.
While you can decide to wear as many layers as you feel comfortable in without feeling suffocated or stuffed, layers can be primarily categorised by function into three kinds.
Kinds of layers
First layer
The layer which is closest to the body is the inner most or the first layer. A typical first layer would be the body warmers (top and bottom) that we wear. As this is closest to the skin, this needs to be made of comfortable and soft yet warm fabric. The primary function of this layer is to absorb perspiration and let it dry as soon as possible, keeping the body warm at the same time. Depending upon the cold, you could choose natural fibres like cotton or synthetic fabrics such as – nylon and polyester blends. Both have their advantages and disadvantages.
While cotton is a natural fibre and hence soft and comfortable, it is a good absorber of moisture( or perspiration), however takes time to dry up and being the first layer on top of which other layers are worn, this moisture tends to remain trapped between the layers, resulting in a cooling effect instead of warming.
Another natural fibre – wool is usually scratchy when worn against naked skin and is hence best avoided.
Manmade fibres such as nylon and polyester are the best choice of fabrics when it comes to choosing garments meant for inner layers as they not only keep the body warm by absorbing sweat and drying up quickly. They are also bad conductors of heat and hence tend to keep the body warm for a longer period of time. Technological advancements in textiles and fabric finishes have made it possible to have the fabrics meant for inner wear remain odourless and bacteria free.
Second Layer
Also known as the mid layer, the second layer is worn on top of the first layer and is the one which is also responsible for providing heat to the body. Wool, fleece and cotton are the best choices for wearing as second layer. Second layer garments that we normally wear are tee shirts, sweaters, trousers, jeans etc.
Third layer
The top most, third layer or shell layer provides protection from the outside climate – cold and rain. The fabrics meant for third layer such as wool and polyester and nylon blends may be treated with finish such as water resistance. Different styles of coats and windcheaters would be a good example of third layer.
How to layer fashionably
It is easy to look bulky and still feel cold with layering. The trick is to layer in such a way that you are warm, without having to compromise on your style quotient and without looking bulky.
Once we have understood the different functions each layer is supposed to perform, it becomes easier to choose garments which can be layered fashionably. Always remember to choose the inner most, first layer carefully and keep the points mentioned above in mind.
For your middle layer, which is mostly what will be showing when you are indoors in a heated environment and have taken off your topmost layer, choose fabrics which have a great hand feel and fall well – hugging all the right places.  Wearing a fashionable looking middle layer may mean wearing two garments which complement each other when worn as layers.
Layering clothes for casual wear:
Choose a well fitting (not too loose or tight) full sleeve, viscose or cotton tee. You could choose a turtle neck to provide you extra warmth at the neck. Invest in some neutral colours and see how by just changing the tee, you can have a different look every single day. Your tee could be in a neutral colour such as grey, black or beige. Wear a contrast colour, say deep wine or maroon cardigan or sweater made with chunky wool on top. For the bottoms – choose heavy weight denims in darker shades and corduroy trousers in neutral tones ( not matching the tee shirt colour) . You could choose a woollen pea coat to wear over the cardigan.
You could wear colourful muffler, a skull cap and gloves to protect your neck, head /ears and hands. High boots are the best bet to protect your feet from cold.
To catch a movie with your friends or to step out for a cup of coffee, wear a knee length sweater dress, with shiny tights in some fun color. Wear a wrap cardigan on top of the sweater dress. You could wear mid calf length boots, with slightly higher socks in a color contrasting the tights peeping just a wee bit above the boots. Wear a trench coat in a neutral colour tone to complete the layered look and you are all set to look great and feel warm too!
Layering clothes for formal wear
Choose a heavy weight cotton full sleeves shirt. Wear a waist coat with a small sequin embroidery detail ( nothing too flashy) in a neutral colour. Team with slightly flared leg or slim fit wool pants. Complete the look with a silk scarf or fine wool stole tied interestingly at the neck and neutral coloured ankle high boots.
The above look can be changed by replacing the waistcoat with cardigan or a woollen shrug.
While wearing skirts, choose wool blended long skirts in neutral colours, worn with stockings and knee high boots. The top could be a well fitting silk shirt . You could wear a blazer on top. This look is great to attend hi profile in-house meetings or meetings with clients and will definitely leave a great first impression.
Layering could be a fun exercise and your options could literally be unlimited, however, remember the following ground rules as well to be able to layer successfully:
Colour plays a very important role in layering, always try and keep it simple and limited to one or two main colours in the theme. If you are unsure, go with neutrals as these go with almost anything. Do not try and match everything with everything – a contrast works well and keeps the outfit lively and interesting!
Play around with fabrics – we already know different fabrics have different properties and hence serve different roles.
Protect your hands, feet and head. Try out different kinds of hats( do refer to a separate article on kinds of hats), mittens and gloves and shoes and boots. You could try out socks in different lengths and feet warmers too. Ear muffs are a great way to protect your ears in cold when out on a casual time out with friends.
Invest in good quality scarves, stoles and mufflers. They can make or break a look. Try and colour coordinate these with the main outfit. If the whole outfit is formal and conservative, try and stick to conservative colours (may be contrast to add a bit of individuality). For a more casual and playful look, opt for colourful scarves and mufflers, draped around your neck in interesting ways.
Invest in good quality and classic style coats – trench coats, blazers, leather jackets and pea coats. These may be a tad expensive to begin with, however will totally be worth the money as will last you season after season.
Layering is a great method to look great and enjoy the winters too. Experiment and find your own unique style keeping the above tips in mind.