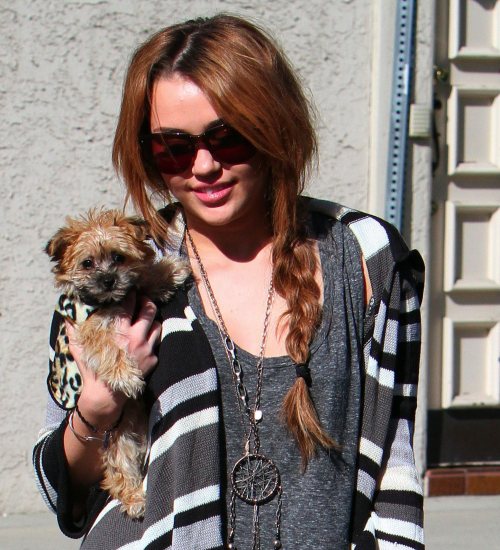 She is touted as the next big thing in the music industry and she is indubitably the teen queen every girl wants to be. Miley Cyrus has the ability to hit the right chords, may it be music or her personal style.  We have seen this teen singer/actress dress up elegantly on the red carpet, but when it comes to her usual schedule, she loves to be comfortable and yet maintain her style.
Having gone through the rough phase of her parent's divorce, she has been able to put herself together. She admits that it was a jagged patch, but she stands as a pillar of hope and believes her family is going to get through this. This confidence and buoyancy reflects in her gaze and makes her the perfect style icon for her generation.
She strikes a perfect balance between street chic and casual. She is generally seen around carrying the street look most of the times and prefers a route between style and comfort. She can't be labeled with one look as she likes to be punky one day and preppy the other day.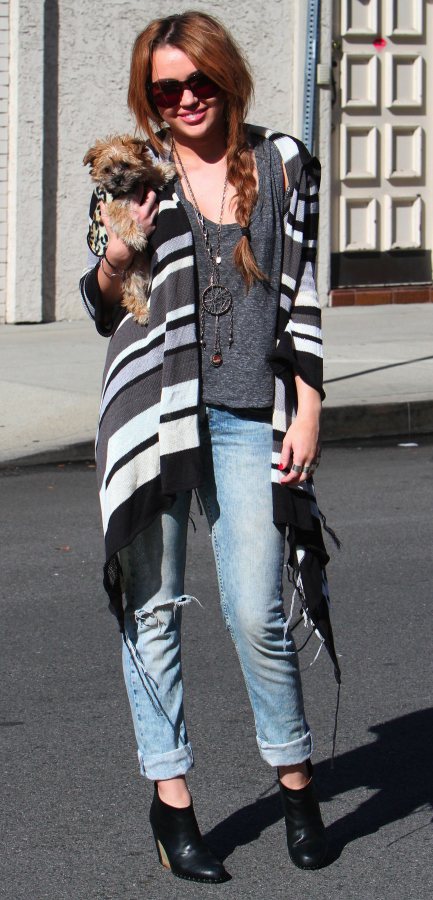 She was spotted at Toluca Laka on a casual outing with her adorable pet. Here, she is seen in Goddis Linsey Wrap in Silver Mist which is a classy amalgam: part scarf, part wrap, teamed up with a grey tee inside and relaxed straight leg fit denims which are tattered a bit around the knee giving it the typical street style look. The classic Maison Martin Margiela Wedged Ankle Boot goes well with the folded jeans. The look is further accentuated with the silver junk neck piece, a silver bangle and silver rings. The often curly hair sported by Miley had taken onto a messed up, one sided plait.
These are the archetypal plats with just the messy twist which add on to the entire look. This hairdo looks totally chic and voguish irrespective of whether you have straight, curly or wavy hair. The look is further completed by her trendy over sized Roberto Cavalli shades which add to the perfect summer trend.
Miley definitely defines street style completely and carries it off well with her image. You just need to team the right things and you would be effortlessly stylish and modish to give other people a run for improving their closets.
Image: Celebrity wonder