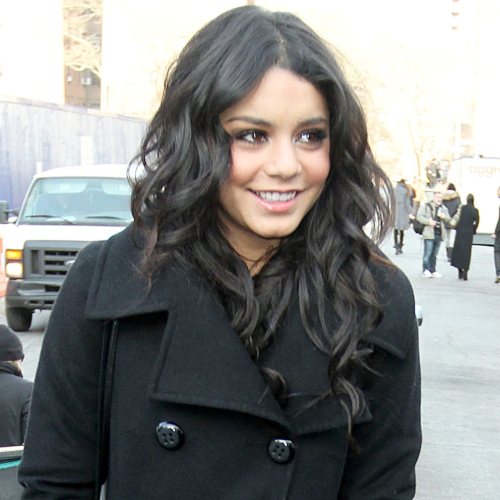 Vanessa Hudgens was all over the place at the Mercedes Benz Fashion Week this season in New York city. She was caught by the paparazzi again as she left for the Michael Kors show last week, redefining a style statement with a hint of her own with the bare-legs-look. Looking  splendid in a black double breasted jacket with huge lapels over a pewter color mini-dress, the High School Musical starlet showed us how to carry a short dress and jacket look on the streets.
The dress was almost concealed by the jacket, leaving her legs to attract all the attention. What made the look more captivating was her choice of footwear. Instead of going for the anticipated knee high or thigh high boots that were once doing the rounds, she opted for the simple t-strap black sandals with flat heels. The classic medium sized black sling bag was maintained as a staple though. Vanessa is sure trying to establish a trend here as she was spotted in a similar look at the Marc Jacobs show as well, but in its more vibrant red-carpet avatar.
How to sport a similar look as Vanessa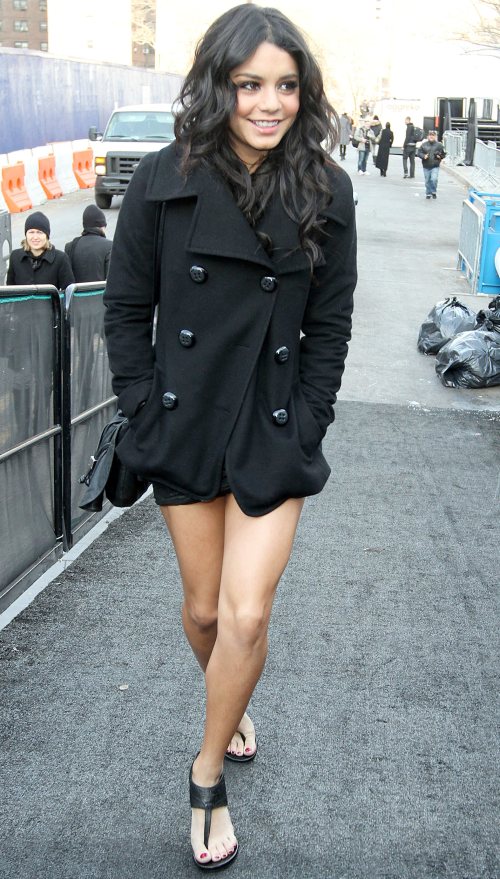 It would be interesting to try this style yourself this season but keep these tips in mind :
Pay attention to the jacket you are choosing. It is an outdoor look and the stress is on showing off your perfectly toned legs so avoid a jacket that is anything longer than the mid thighs. Try going for a double breasted option with visibly large buttons and collar.
The silhouette of the jacket should also be kept in mind. Notice Vanessa's casual appeal. That is because her jacket is a straight fit and not narrow at the waist. The length of the jacket also rules out possibilities of it being fitted at the waist. On the contrary, the dress you wear inside should be one that fits your curves perfectly well.
It is a good idea to let at least an inch of the dress visible below the jacket. It can also be used as the accent color to your ensemble since it is the jacket that will define the look and dominate the color scheme.
Go for a nondescript sling bag that blends in with the colors of your outfit. Choosing a contrasting shade for the bag will end up giving you too many elements of attention, ending up in a confused look.
The sandals is what sets Vanessa apart from all the others going for a look like this, try to emulate that by using your own black sandals or simple wedges in this unfamiliar way and let your legs do the talking!