We live in a world full of skepticism and cynicism brought in by changes that wobble the balance of our perfect lives. These changes are in some way successful in bringing out a revolutionary impact which lasts for years to come. The fashion world is full of such revolutions and revelations.

Androgynous look for Women
One such revolution is the Androgynous look which was successful in giving a new direction to fashion. The 70's and 80's had musicians like David Bowie and Boy George who had the mettle to challenge the insipid masculine look that was the predictable look around that time. The 90's brought the androgynous look into fashion for women where dressing up like a man wearing men's suits and accessories became an attractive trend.
During the 90's, designers like Armani, Pierre Cardin, Vivienne Westwood and a few more from their league were the ones who favored the look when it was into its developing stage. Although their designs put them on the high rise list, the styles came into the commercial viability around 2000.
How to look Androgynous?
So how do you style yourself for an androgynous look. Here are some pointers on how you can achieve the look.
Donning the androgynous look is cool but overdoing it will make you look like a cross dresser. In which case you need to know exactly how and where to give it a halt. You can wear a plus size shirt with a few buttons open at the top along with a waist coat and loose men's style trousers with oxford shoes. Keep the hair closed in a bun and apply minimum make up with the emphasis falling on eyes and lips. You can also wear wayfarers or frame-less spectacles according to the look.

Androgynous clothing
Try looking into clothes that will move away from the body, like a trench coat or capes. It can make a bold statement about your personality. Team it up with a pair of masculine boots and a hat to emphasize the look.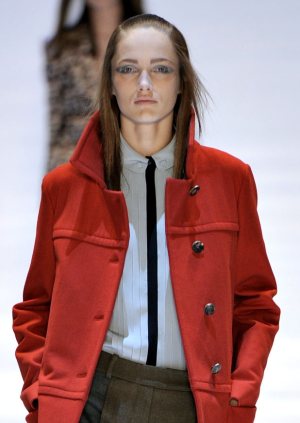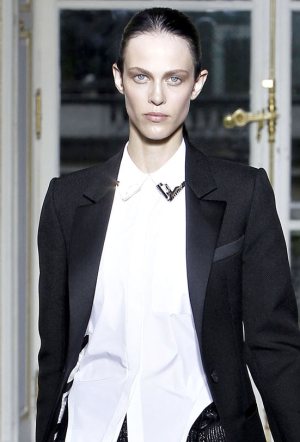 Also you can go for a pixie hair style or scrunched hairdo which often works for the look. Team up a white buttoned up shirt with a tie and a notch colored jacket and a pair of black pumps or stilettos to maintain a hint of femininity.



Opt for well fitted tailored pants/trousers and jackets for a structured look. A clean cut jacket would add to the androgynous appeal. If you want an exaggerated look go for a jacket which has an inflated shoulder for a broader look.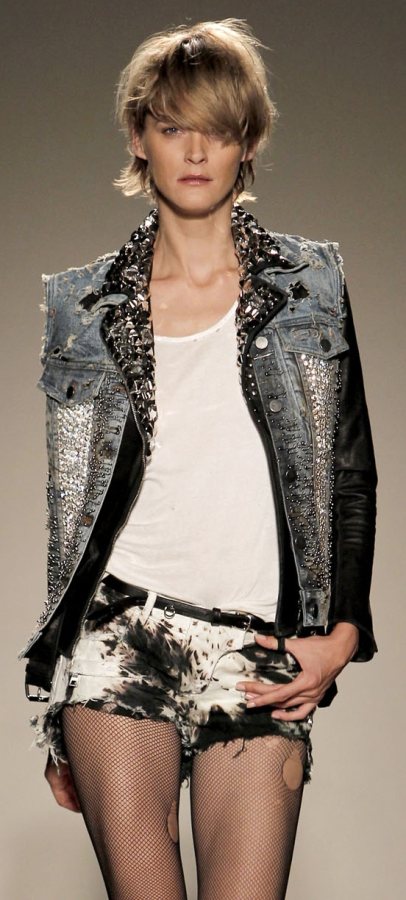 You can also wear a simple tee with loose pants/shorts teamed up with Fedora or a Gatsby (types of hats) with converse shoes to give a street look.
Another tip for the makeup would be to only highlight your eye lashes and keep the base nude. This would not only simplify the look but also make way with the much needed break from the heavy makeup.
If looking for accessories then you can don a pocket watch neck piece or simply wear a silver bracelet in one hand or a metal big dial watch (please see the watch dial does go out of your wrist).
Follow these tips and I am sure you can make one hell of a fashion statement. There are 1001 ways in which you can maintain the androgynous look. Pick the right choice and team it up the accurate way and you are ready to make history.