Certain looks get affixed to definite people and they will always be observed in that identical genre of style and trends. Although the experimentation will be enormous, but the essence and element of their signature style will always make them a class apart.
Such is the impeccable style of the "Hell Boy" star, Selma Blair. Her style essence is effortless yet very classy. She prefers to stick towards a classic genre of fashion.  Her peculiar style is often seen to be borrowed from her mother's closet which is further modified and modernized by some trendy combination.
Selma often prefers wearing neutral colors and like sticking to classics such as tweeds, dresses with a lot of vintage shopping. She has a thing for shoes and handbags which she teams up accordingly with her outfits.
Here she was seen in Los Angeles. Selma prefers to be comfortable in whatever she dons. She was seen sporting a black oversized knit sweater dress with a spegatti top and shorts inside, again maintaining her sense of style with minimum effort and maximum effect. She prefers a lot of black as it suits her pale yellow skin tone and makes it further exotic.  Selma had combined her ensemble with a stylish fringed leather tote bag which is a hot catch this season.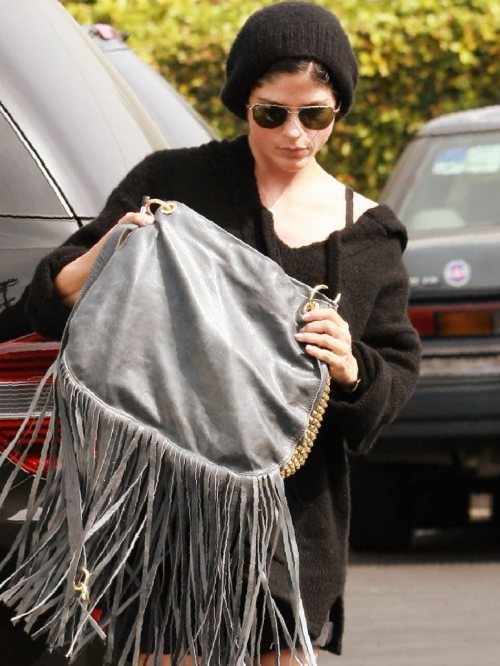 She has a collection of bags which also includes one of her favorites the beige  Bryna Nicole latte leather 'Idora' fringe tote. Also maintaining the casual look are the leather slip ons with a comfortable sole and leather buckle straps. The look is further accentuated by her aviators and a simple neckpiece with a crescent moon pendant. The generally fringed hair do is replaced by neatly combing them and covering them by the monkey cap. The overall conclusion comes out to be simple, casual yet modish. The typical Selma Blair style is visible in all her ensembles and combination.
It is definitely a fresh sight to see experimentation at such a great level, which although can be a risky factor, but if done with proper precision and sensibility can be pulled off gracefully and poise.