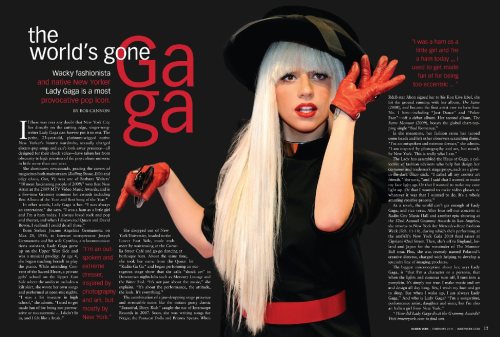 Lady Gaga, as we commonly know Stefani Joanne Angelina Germanotta, is taking not only the music industry but also the world of fashion by storm and surprising us all with her outrageous ensembles and meteoric rise to fame. Her concept based clothing style has turned heads and the attention of the media each time without fail. Gaga is her own stylist and carefully designs the costumes for all of her appearances. Being influenced by artists like Queen, Madonna and David Bowie, she is eager to express herself through the medium of clothing. In the past couple of years alone, Lady Gaga has given the world some of the most recognizable fashion styles and iconic looks.
WATCH THE VIDEO
Her extremes could be seen in the meat dress she wore to the MTV Video Music Awards last year. The kermit frog outfit, the universe inspired Grammy's outfit complete with a metal star in her hands and the famous red lace outfit at 2009 MTV's Video Music Awards are some of the most bizarre clothes the singer has sported. Her famous Fame Ball tour bubble dress was supposedly inspired by Hussien Chalayan's spring 2007 collection. And not to forget, the diva's shoes are the likes only she can pull off. Alexander McQueen's armadillos which were made famous in her 'Bad Romance' video and the sky high platform boots she is usually seen in are typical Gaga style footwear. Her hair and headgear are ever changing according to her outfits. None can forget the lobster hat paired with a sheer dress she wore in London.
Whatever she does, she does it over the top, whether it be dressing up or barely putting anything on. She has also been in controversies for her sheer catsuits and outfits that are nothing but stylized lingerie. She attributes it all to self expression and freedom of thought. Her eccentric style has resulted in several Lady Gaga Barbie dolls, action figures, wax statues at Madame Tussaud's, magazine covers and billboard number one hits.