One of Asia's biggest fashion fair, the Wills Lifestyle India Fashion week ( WIFW) spread over a period of five days for the season Autumn winter 2011 recently concluded at New Delhi, India. The show is a biannual prêt event known for generating business for designers, models, forecasters, retailers and other fashion fraternity is growing bigger and better and is a melting pot of fresh ideas and designs. This fashion week was no different.
With a path breaking 141 designers participating and about half of them forecasting the trend for Autumn winter 2011 on the runway, there are lots of trends to look out for later this year and we present a few of the key trends as portrayed by some prominent and established and some promising Indian designers.
General trend
The effect of global warming truly made its presence felt on the 1st day of the fashion week, with the participating Indian designers still projecting summery fabrics, shapes and silhouettes, unlike their counterparts elsewhere around the globe.
Designer Neeru Kumar A/W 2011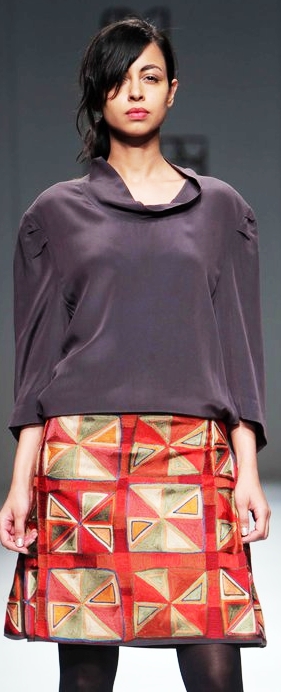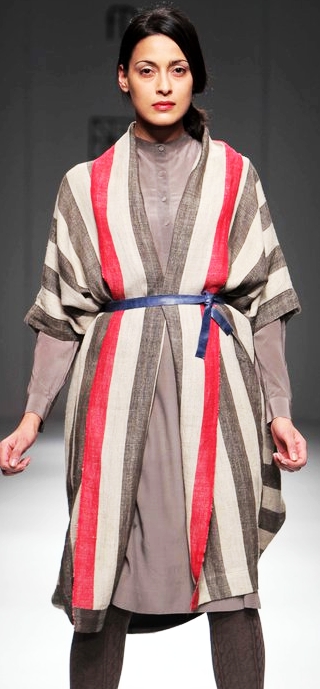 Designer Neeru Kumar opened the event on day 1 with some great textiles being used to drape the models in structured jackets, maxi dresses, tunics skirts and not to forget the very beautiful Indian saris.
– Fabrics used were eco friendly and mostly blends of wool, cashmere and linen. In keeping with the trend of winters, the designer used muted colours juxtaposed with warmer hues to create a nice blend for most of her ensembles and kept the makeup of the models simple.
– The overall look was neat, clean and very Indian, with experimentation and deep understanding of textiles showing through distinctly.
Akaaro by Designer Gaurav Jai Gupta A/W 2011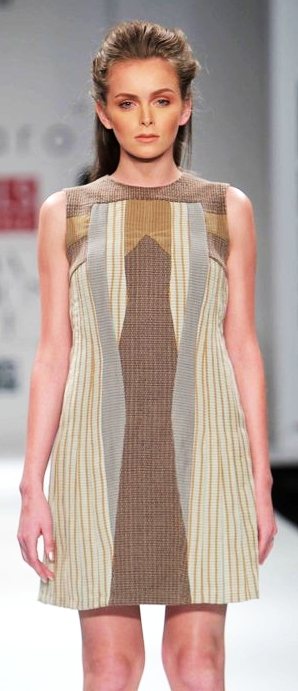 Akaaro by designer Gaurav Jai Gupta reflected his inspiration – Greek architecture and he used plenty of engineered fabrics such as blends of steel and wool, steel and cotton. Distressed cotton was used amply in his designs and in keeping with the Architectural theme, his designs used pleats, panels, asymmetrical neck and hem lines. Colours were sombre with browns, peaches and greys. The look was edgy and included panelled short dresses, long tunics with fitted pants and smocked skirts.
Designer Kallol Datta A/W 2011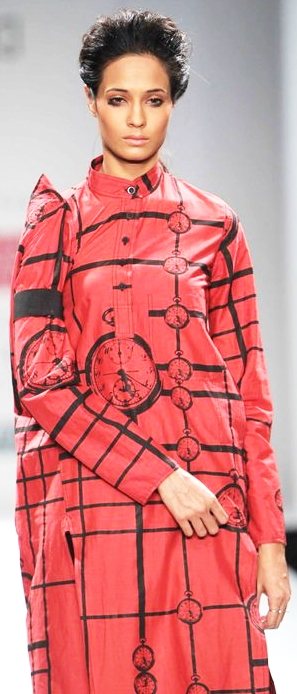 Designer Kallol Datta was experimental to the point of being unconventional with his designs and played around with armholes and his garments had a deconstructed look and non comprehensible shape giving them almost a slouchy but relaxed feel. The show's tone was set with the 1st design being a pearl white cocooned 3 D garment with ruffled edges . Designs included oversized coats, layered jackets, worn out plastic shoes and clock prints on kurtas. Colours were predominantly black and white with an occasional red and brown thrown in. Fabrics were rough and raw silks and cottons amongst others.
Designer Urvashi Kaur A/W 2011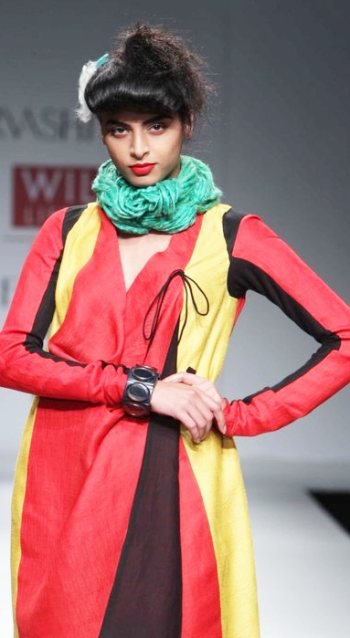 Designer Urvashi Kaur's show began with a dramatic ballet sequence done on a background of Sufi music, to reflect the harmony between the duality of life and was carried forward in the usage of colours and shapes in her designs.
-There was a blend of Indian influence and western designs with  angrakha inspired kurtas rubbing shoulders with layered tunics, reversible jackets, waist coats, jackets and wool wraps around the neck.
-Her designs put bright and warm colours to the best use with colour blocking and mixed traditional fabrics with contemporary style. The colour palette included violet, indigo, lime, yellow, red and electric blue and of course the staple black. Fabrics included tussar, chanderi, silk, linen and wool in woven and jersey fabrics.
-The look was fluid and the feel very textural , the look contemporary with cowl necks and shawl collar jackets and great for wear during all times and easy to transform from day wear to night wear by just adding on some accessories. Urvashis' collection was for sure, one of the collections that promise to keep you warm this autumn.
Designer Rehane A/W 2011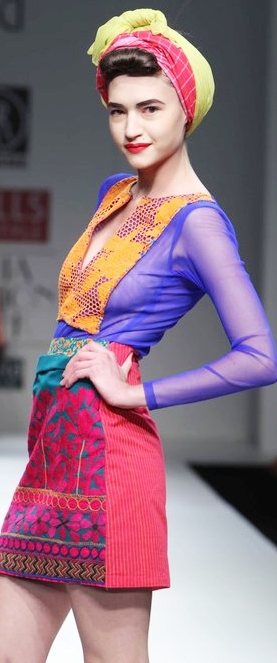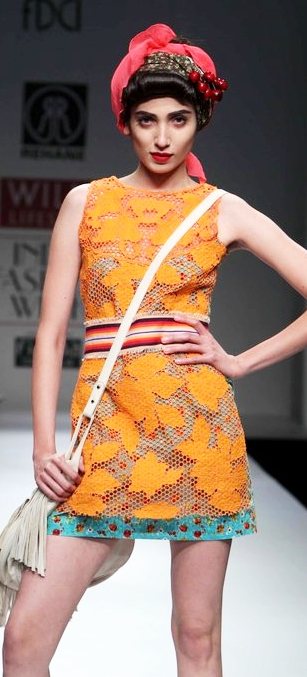 Designer Rehane brought lots of summery colours to the ramp with the overall impression being that of a fruity shower, apt for spring summer but not so much for autumn winter. The collection was flirty, fun and very feminine with its usage of embroideries, crocheted laces on tunics, dresses and skirts. There was an abundance of floral prints and sometimes the monotony was broken with stripes on fabrics such as mesh juxtaposed with cotton .The designer accessorised with interesting head gears having fruity-floral pieces and bags. Overall, minus the feel of the Autumn winter this collection scored big on colours, accessories and surface design.
Geisha Designs by Paras and Shalini A/W 2011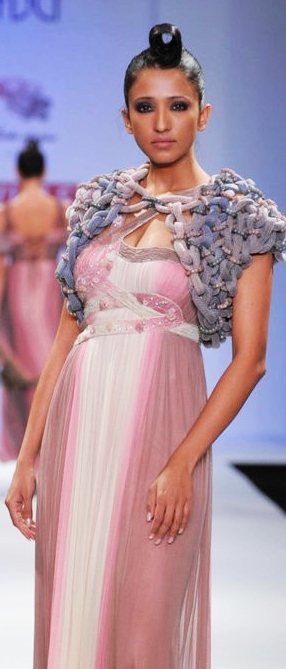 Geisha Designs by Paras & Shalini were inspired by the changes to the terrain of the earth due to movements in the earth's inner core. Their designs therefore reflected earthy colours – browns, greys, lava red ,sea green and had tons of detailing by way of prints, tulle work and appliqué work designs reflecting pebbles, water etc. There were halter necks, cascading gowns, jumpsuits paired with oversized tops. Fabrics had a summery feel to them with georgettes, net and raw silk.
Designer duo Mona and Pali A/W 2011


The designer duo Mona and Pali showcased what they are best at, ornamental and detachable cuffs, yokes and collars in interesting hues and combinations. There was a lot of surface traditional design in the form of gota work, zardozi and forms of embroidery. The colour of the main ensemble was mainly muted in tones of beige, brown and blue and the silhouettes flowy and free. Fabrics included chiffons, cotton, satins and silk. Styles included tube tops and harem pants, flowy dresses and oversized boleros.
Pankaj and Nidhi A/W 2011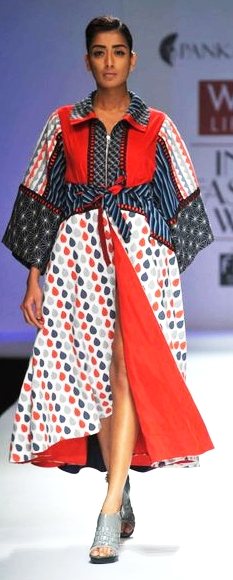 Pankaj & Nidhi's collection was a befitting tribute to Japan and the spirit and artistic forces of its people. The art forms used were graphic, geometric and had a strong element of futuristic influence. The silhouettes were straight and sharp . The colours were pretty pinks, blues and blends of oranges, blues and greens. Prints had the oriental influence and some were woven mat like. There were short dresses, draped coats and oversized tunics. Overall, the collection was mighty impressive and its ode to Japan clearly visible.
Rishta by Designer Arjun A/W 2011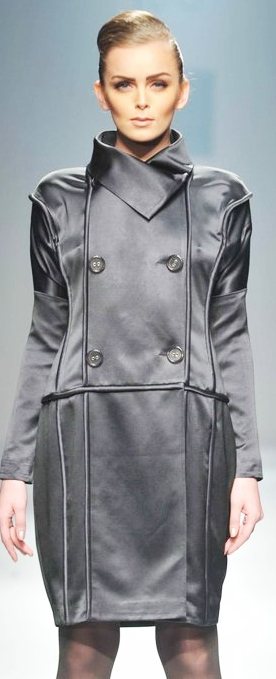 Rishta by Arjun had a boyish, global feel to it. The silhouettes were simple and structured, the look was covered and voluminous, making it perfect for winter wear. The colour palette of blacks, greys, browns, mustard yellows and whites ensured enough balance between brights and neutrals which was a perfect ten for the intended season. Garments included voluminous sleeved shirts, A line skirts and trousers and stockings. No wonder then, that the perfect balance between colours, detailing and shapes got the designer a standing ovation and huge applause from the crowd.
Designer Varun Bahl A/W 2011



Designer Varun Bahl showcased a stylish with great classic items in his autumn winter collection. His collection had prominent layering and asymmetrical silhouettes, staple colours black and white in forever green winter fabrics such as velvets, satins and wool, made enticing by subtle embellishments. The refined, asymmetrical cuts were represented by panels, balloon sleeves and circular hemlines. Short cropped jackets, skirts, shifts and tunics were made interesting by attention to detail such as ribbons at waist, hems and sleeves, finely 3 D embroidered tunics, scalloped edges and sheer sleeves etc. Varun's collection was truly a celebration of cuts and embellishments in the winter style!
Designer Trun Tahiliani A/W 2011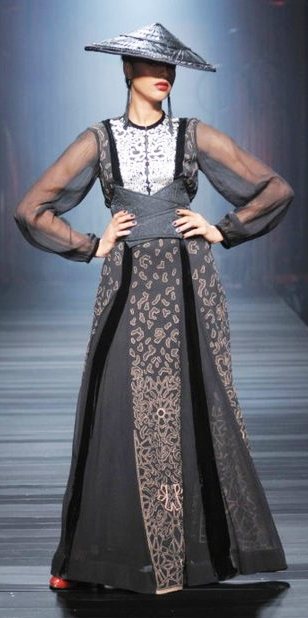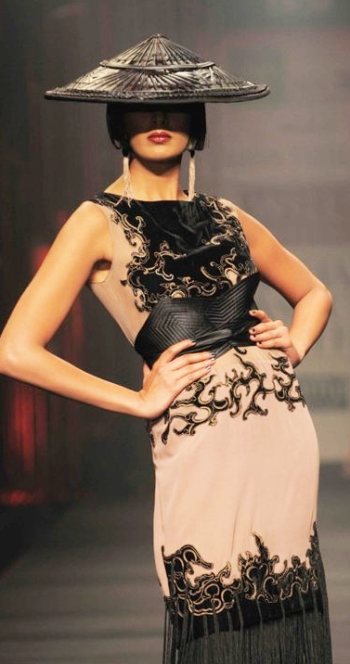 The first day of the show ended with the show of one of the stalwart's in the design field – Tarun Tahiliani . His collection was heavily inspired by the Orient and had a touch of Indian to it too. The colours were rich such as wine, teal and fiery red aptly balanced with muted charcoals and blacks. There were paisley and vine prints and the traditional Chikankari embroidery intermingling with mandarin collars. The shapes had a well defined waist and were a mix of Indian saris with western pants, kaftans, tunics. The models wore conical hats which added to the Zen like feel and were a great representation of how the two neighbouring countries can create beautiful impressions by mixing the best features of their design world.
Images: WIFW