Day 2 of WIFW was a mixed bag of some established designers and some relatively new faces presenting their collection.
Designer Komal Sood A/W 2011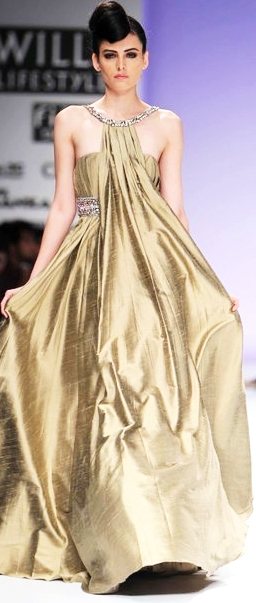 Komal Sood's collection was out and out an evening wear collection as made evident by the choice of fabrics – sheer chiffons, satins and taffeta gowns. The shapes were fluid and combined corsetry with fitting making the collection look rich yet wearable. Colour palette included dull pastels and  bright orange, purple and reds. Overall the collection was more for warmer months than the intended winter season. Trend to watch out for would be the fluid evening gowns and colours.
Designer Jaya Rathore A/W 2011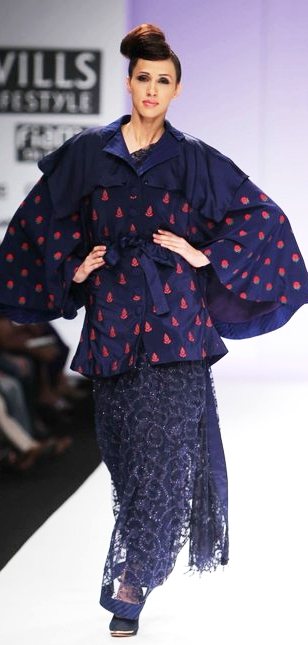 Jaya Rathore's show was a step forward from her usual ethnic influenced haute couture, in which she delved into prêt luxury range with her collection. The collection had a very Spanish influence. The colours were a good blend of rich – mustards and wine with muted yet classics – navy, green and white. Forms were free flowing. There were loose kaftans worn over ankle length loose skirts, tops worn over fitted pants and embroidered tunics too. The trend to watch out for is the rich colours and the loose fitting kaftans.
Designer Dolly JS A/W 2011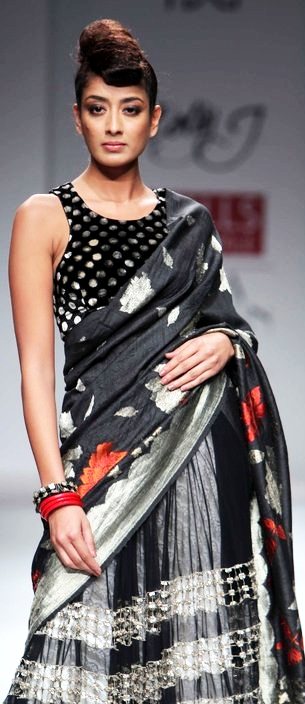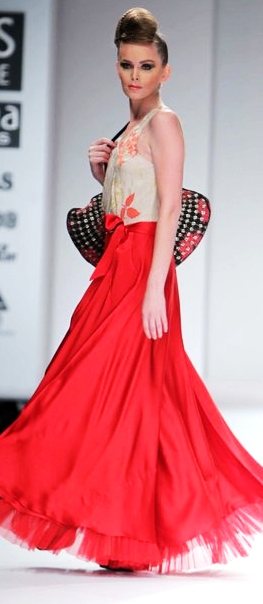 Dolly Js theme coincidentally too was Spanish, though her take on it was quite different with the kind of embroideries, which were more Indian in form – cut glass and jaali embroidery. Colour palette was rich, pleasing and contrasting – reds interspersed with classic black and white. Fabrics used were a mix of what is best for summers and winters– chiffons, net, velvet etc.  Loose pajama sort of cropped trousers with embroidery on each of the legs, dresses and sheer tunics amongst Indian wear which included saris and flouncy kurtas were the shapes showcased. The trend worth watching was the loose pants with embroidery which may need to be subdued for day to day wear.
Designer Rahul Singh A/W 2011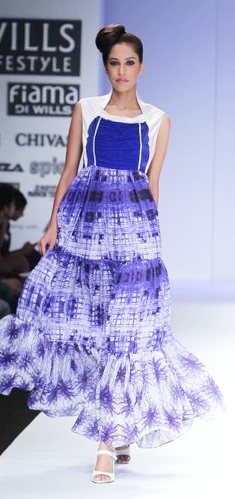 Designer Rahul Singh used the colours blue and white in abundance in his designs aptly reflecting the main theme "Sea of Science'. The collection was symbolic of power and struggle with the silhouettes and designs reflecting power dressing to the core. There were jackets, trousers and short and long dresses . Fabrics were mostly cotton and engineered wovens. The scribble print looked apt on long dresses , however would be challenge to wear on shorter jackets and trousers. Trend to watch out for would be the pleasing mix of white and blue.
Designer Payal Jain A/W 2011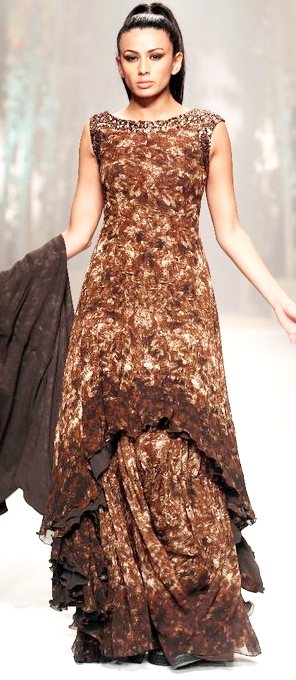 Designer Payal Jain went traditional, collection named FIVE, central theme being the five elements – water, earth, fire, air and void. No wonder the colour spectrum included earthy browns, sunny reds and oranges, water colour blues and teal and not to forget smoky charcoals. Dense floral prints dominated her designs and shapes included long flowy gowns, tunics worn over comfortable parallel pants, fitted jackets. Trend to watch out for is definitely the colour palette and the comfortable silhouettes.
Designer Preeti Chandra A/W 2011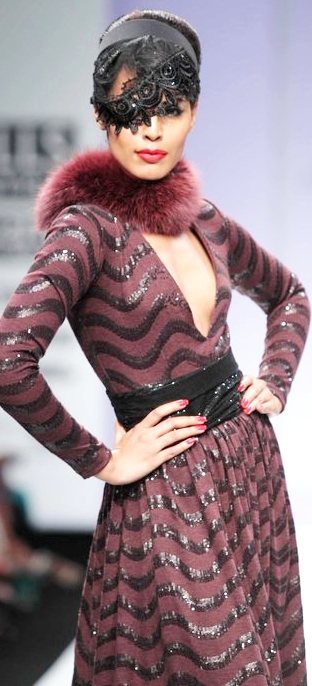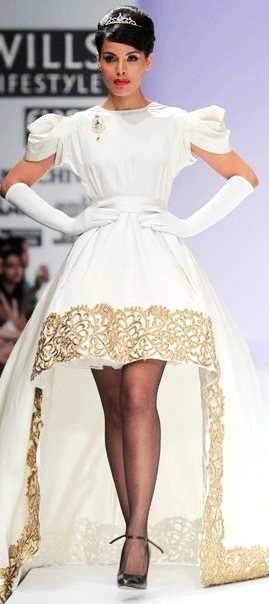 Designer Preeti Chandra went to the Victorian era, where women wore elaborate dresses and looked pretty in rich colours. What's more, to add to the mood, was the opera music playing as the models strutted down the ramp. The look was romantic and dreamy and not surprisingly, the colours of the season projected were rich reds, purples, emerald greens and navies interspersing with ivory and beige. The silhouettes included voluminous skirts, gowns with long trails, one shoulder dresses, butler jackets etc, basically classic forms which would take anyone back to the classic era. Fabrics included silk, chamois satin, organza and detailing included soft and delicate embroidery, lace work, bows and flowers to add to the charm of the designs. All in all a beautiful collection, great for satisfying the feminine side in each of us! Go for the colours and the evening gowns form this collection.
Designer duo Ankur & Priyanka Modi A/W 2011



AM:PM, the collection by the designer duo – Ankur and Priyanka Modi showcased a contrast between everything manly and mafia like and delicate and feminine designs; start of the show the stage was swamped with men in black tuxedos coming from all over and slowly a whiff of colour – model dressed in placement printed orange asymmetrical dress walked in, giving the viewers an insight into what more to expect. Satins, georgettes and velvets were the flavour of the season. Prints, checks and ombre effects were used on winter colours such as wines, blacks, mustard and orange and undoubtedly looked great on the ramp. Shapes included well fitted parallel pants, dresses and skirts, handkerchief hems too were projected. The duo used placement prints on a lot of designs and that is one trend to watch out for in the upcoming season.
Designer Zubair Kirmani A/W 2011



Designer Zubair Kirmani proved with his collection that simplicity is still fashionable and beautiful. His designs were neat and simple, cuts straight and there was a good mix of traditional shapes with traditional fabrics and prints. The designer used a line and straight line in almost all his shapes – short embroidered or panelled dresses with short and ¾ sleeves, cropped pants with mandarin collar fitted shirt . Detailing on his designs included – 3 D flowers, quilting, thread work and intelligent colour play looked great. Colours included maroon, red, black, mustard yellow and lime. Trend of simple, straight cuts, cool colours and extremely wearable styles for the modern woman is sure to rock this winter.
Designer duo Ashima Leena A/W 2011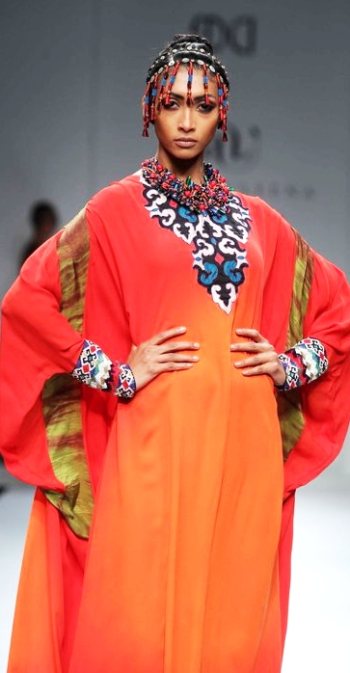 Designer duo Ashima Leena went bright and chunky with their design story. Capes, kaftans, saris, dhoti pants all found their way in their traditional Indian collection. The detailing included – embroideries which had a kashmiri influence, metallic . The colours used were contrasting – orange with black, turquoise with chocolate browns. Almost all designs included one or more of the following – prints, embroideries, metal work etc.
Designer Ritu Kumar A/W 2011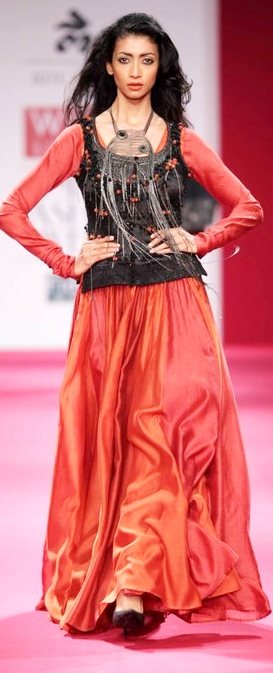 Ritu Kumar's show in the evening was what everyone expects from her label – rich and warm colours, convention blending in with modernity features and feminine to the core. The collection by her designer son – Amresh Kumar kept the flag of the label flying high. Silhouettes included cape hoodies, dresses and leggings, tunics and dhoti pants and were mostly form fitting. Prints were India inspired – paisleys, florals and  Rajasthani block prints. Detailing included frills, appliqués and  engineered wovens worn over tunics. The models sashayed down the ramp donning some of the most pleasing accessories – metal neckpieces, bags and bangles. The overall trend to watch out for is the juxtaposition of Indian prints with international shapes in very wearable styles and the evergreen colour palette of browns, oranges, beiges and blacks.
Designer Rajesh Pratap Singh A/W 2011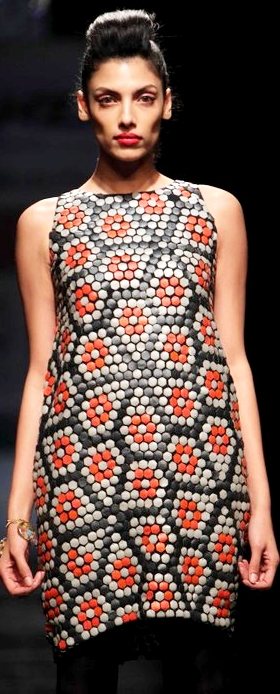 Day 2 ended with designer Rajesh Pratap Singhs show. Rajesh is known for his edgy and unconventional designs and he surely did not disappoint his followers. The shapes were both fitted as well as anti fitted structured garments and included shift dresses, short jackets, oversized coats, tunics, leather leggings etc. As if to recreate the magic of his designs, the ramp had metallic lit trees in neon blue. There was a mix of colours ranging from greys, blacks, whites and blues, navy and purple. There was a presence of solids as well as floral prints especially rose print and a unique pixelated print in reds and oranges done on neutral bases. Embellishments included appliqués, pleats and 3 D patterns. The overall trend to watch out for was the hexagonal prints and anti fit dresses and of course the leggings in different colours with shiny crystals and prints.
Overall Day 2 projected a trend of colourful Indian-ness, with a variety of embroideries, prints and embellishment ideas.
Images: WIFW