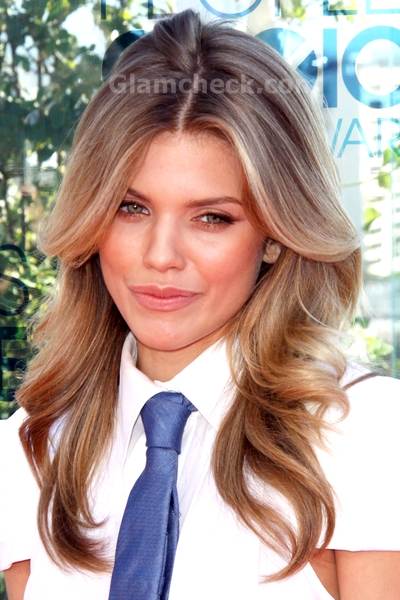 Every once in a while you come across people who although have been in focus for a little time, but they manage to grab the right kind of attention and spotlight. What becomes difficult is to live up to the expectation of the people and media. But as even a tiny sparkle in the diamond catches the eye instantly, any newbie with a sensible and classy taste in fashion becomes the sparkly diamond.
With movies like Transporter 2 and Day of the Dead, AnnaLynne McCord has succeeded in turning heads towards her direction. One of the lead castes in the CW series 90210 she proved her acting skills were worth a watch and left people wanting for more. A humanitarian in nature, she comes across as one of the most humble and down to earth people coming for her generation. She has been a part of various charity programmes and has been awarded"Woodland for Women Worldwide highest Humanitarian award".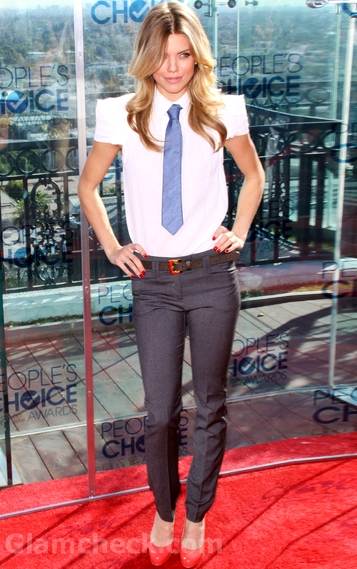 This 23-year-old girl has the right kind of talent and the perfect eye for fashion. Seen here at West Hollywood, she was every stylist's dream. Dressed in a fitted white buttoned up shirt top with a minimal and clean cut exaggerated rectangular sleeve give her body frame the prefect look. The pencil fit trousers enhance her long legs and give an illusion of an elongated figure which works well for her. The dash of red and orange mix in her pumps makes the entire our fit look very interesting. The blue tie takes all the credit for making her ensemble a full on hit. She carries the androgynous look with sheer perfection and utter style. The red nail paint and the red buckle strike a perfect balance. Her golden brown hair is absolutely flawless with minimal make up and the emphasis being on the eyes and lips.
There are very few people who can carry style and maintain a great poise at the same time.  AnnaLynne does it effortlessly. You can have all the clothes in the wardrobe, but the eye for teaming it up perfectly ain't everyone's cup of tea.
Image: P R Photos