"Boots not only look good, they feel good. How far and how fast can you walk in a pair of high-heeled pumps?" – quote from Cheap Chic
Women boots are one of the most popular types of footwear of all times. Their origin could perhaps be traced as far back as 8000 BC when a similar kind of footwear was discovered in a cave painting. Designed primarily for protecting your feet from rogue weather – cold, rain, sludge and snow primarily, women boots are also a big fashion statement these days, owing to the style quotient and comfort that this style provides.
What are boots?

Boots for women
Boots are a type of footwear style which covers your feet, ankles and a part of your legs – they may sometimes be as low as just above the ankle, or as high as the knee or even thigh-high. What distinguishes the boots from other shoes, such as the sport shoes is the presence of a distinct heel at the sole area.
Types of boots for women
Boots are created for different uses and can be categorised into Work, winter and Gothic boots.
Work boots for women
Work boots or boots worn for industries such as mining, metal moulding, chemicals, or something as simple as working in the farm fields, are made of sturdy material such as rubber or leather and are usually with lace tie ups. These kinds of boots have anti slip soles and may have steel or metallic toecaps to give added protection to the wearer. Boots which are worn by the riders or skaters will also fall in this category.
Gothic boots for women
Gothic boots are meant for the non conformists and the designs are usually dark, edgy and beyond the ordinary. They are usually characterized by the presence of Gothic metallic buckles, medallions and other such embellishments, all having a rebellious undertone.
Winter boots for women
Winter boots are perhaps the most common boots that you would be already having and come in a variety of materials, shapes, designs and heel types and are primarily for wear in the cold weather. They are usually padded on the inside to give more warmth to the wearer. These are the statement making fashion pieces and will be discussed in more details now.
Boots – popular heights, designs, colours
Depending upon the height, boots can be categorised into:
Hip waders or boots for women

Hip boots for women
These reach all the way above your thighs, till almost your hips. Not very popular for day to day wear, these are great if you intend going fishing or wading into deep waters.
Thigh high boots for women

Thigh high boots for women
Thigh-high boots were initially considered provocative and sexy, owing to their association with the flesh industry. While the notion has somewhat changed over the past few years, these are usually relegated to being worn only by the extremely fashion forward as they also tend to be a little low on the comfort meter.
Knee high boots for women

Knee high boots for women
Knee high boots are the most versatile of all boot varieties and are found in a variety of materials such as leather, suede, fabric and can be teamed with almost anything – skinny jeans, miniskirts, dresses etc. Knee high boots include the boots which end just below your knee. Most common example of this kind of boot is the cowboy boot.
Calf length boots for women
Calf length boots for women

Calf length boots are the tricky variety. As they end at almost mid calf, they tend to make the legs of the wearers look fat. No wonder then, that these are mostly worn under pants, dresses or long skirts.
Ankle length boots for women

Ankle length boots for women
Ankle length boots are the most common form of boots worn by both men and women. These usually just skim your ankle. Modern day moccasins are a good example of these kinds of boots.
Generally, the boots are categorised into different varieties depending on their length. However, sometimes, they may also be known on the basis of their styling, variations in their heel design and length, kind of fastening etc.
Cowboy boots for women
The most popular of all boot kinds, these get their name from the people who wear them – cowboys and girls. Pointed toes, pointed heels make these a fantastic pair of boots for climbing and riding a horse.
Valenky Boots for women
Valenky Boots are the most common form of winter boots made popular by the colder nations such as Russia and Ukraine. These are usually knee length for offering more protection to the wearer and are generally made of felt. Valenky boots may be embroidered or plain, may be with a flat or pointed heel.
Ugg boots for women
Similar to the Valenky boots, these too are best for winters. They are very comfortable as they are made with sheep skin and leather on the outside and are usually lined with wool on the inside.
Go go boots for women
Go go boots are boots which are tight fitting and go up to the knee. They may have lace fastenings or the more contemporary zip fastening at the side or back. They may be flat, or may have a raised 'platform' sole or pointed 2 inch heels, but they are tight fitting.
Beatle boots for women
Made popular by the Beatles, these are ankle high boots with pointed toes and Cuban heel. They could have elastic or zipper fastening.
Chelsea boots for women
These are ankle length, tight fitting boots normally worn for riding. They usually have an elastic siding, which makes it comfortable for the wearer to wear and take off.
Winkle pickers for women
Winkle pickersare characterized by their rather long and pointed toes. These could come in a variety of lengths from ankle to thigh.
Tips to keep in mind while choosing boots basis your body shape
Boots come in a variety of shapes and lengths, how to choose one which will most suit your body shape or what you are wearing. Here is the most concise yet comprehensive guide that you could ever lay your hands on.
Boots for Tall and thin women
If you are tall, you could perhaps carry off all lengths of boots, yes, including the calf high boots.
Boots for Tall and fat women
Avoid anything above the knee as it may make you look shorter.
Boots for Short and thin women
Ankle and calf length and knee high boots look great.
Boots for Short and stocky women
Ankle length and knee high look great. Avoid calf length boots as they tend to make you look stockier.
Teaming boots with your apparel
Boots can be teamed with dresses, skirts and jeans. Usually, higher boots are worn when the length of your attire is small, so that boots are visible; however, this is not a rule. Generally, Knee high and thigh boots are worn with miniskirts, short dresses or shorts. Ankle high boots could be teamed with either long garments or extremely short garments, do not team them with mid calf length garments, which leave a gap of your skin showing between the hem of your dress and the boots – that is a fashion disaster. They look great with jeans or long skirts and dresses.
Color and comfort of your boots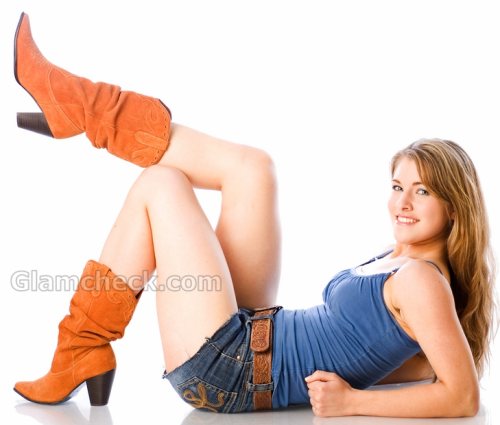 While choosing your boots, pay attention to the colour and comfort too.
Color
If you are a shoe lover, I suggest going in for something classic such as a knee high boot in a neutral color – black, tan, mahogany or chocolate in classic materials such as leather or suede and something fancy as well – such as red or white in PVC in a thigh high, pointed heels design.
On the other hand if you are the one who wants to buy a classic style, something which will go with almost everything that you want to wear – opt for ankle high or knee high in neutral colours and time tested materials.
Comfort
Flat boots are the most comfortable as they are roomy at the toe area. Pointed toes may be difficult to squeeze into and may not be all that comfortable. While choosing boots, as is the case with any other shoe, do take your time in trying out different styles and walking around in them to make an informed choice.
Last but not the least, take care of your boots. Well cared for, quality boots can last you for years!
Images: Shutterstock