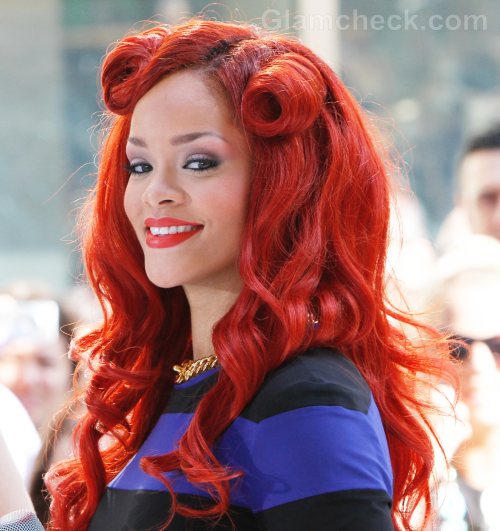 Rihanna's New Hairstyle
Rockfeller Plaza, New York City saw a new Rihanna hairstyle for her Today Show Summer stage performance.The "Umbrella" singer wore her fiery red locks in vintage style reverse roles.
It added drama to her look and was apt for commanding attention to the performance.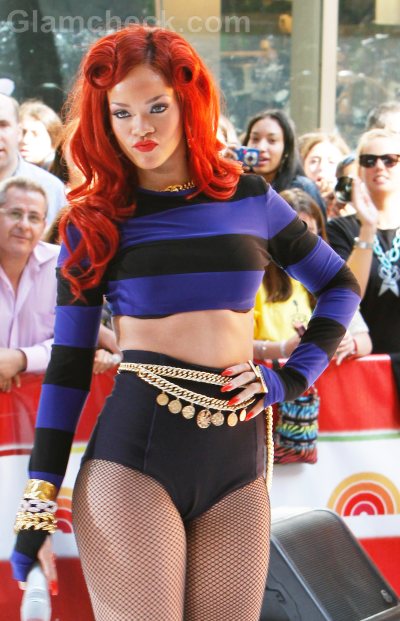 Rihanna's new hairstyle went hand in hand with her make-up. The deftly applied cosmetics enhanced her features and the outcome was just right for the stage.
Her eyes were lined with a heavy hand of kohl and eyeliner. Pink and grey eye-shadow contoured the eyelids to give depth and elongation and reddish pink blush covered her cheeks. The lips matched Rihanna's hair color, with the bright red shade applied on to them.
The red haired singer wore a striped blue and black top with a gold chain around the neck. Heavy golden hoop style earrings added to the showbiz glamour.
However, the ensemble could not take away attention from Rihanna's new hairstyle. Miss Redilocks carries that color on her hair really well!
Image: Shutterstock