We already know by now that denims are a hit in the market and everyone is wearing and styling them accordingly. This is one thing that celebrities and the general public have in common.
One such example is the American actress, musician and who also happens to be an ex flame of Kevin Jonas, Zoe Myersa.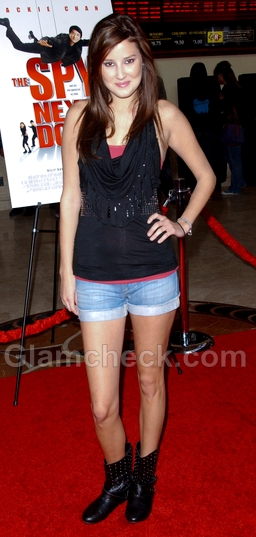 Zoe Myers in shorts
Seen here is a black halter top with a pink tube top and the classic faded denim shorts, she looked every bit of the star image she has developed. It's interesting to see as to how the denim shorts can be worn and stylized in innumerous ways and yet be so refreshing. The shorts are in the typical faded blue color which makes a modish statement any time. The hem line is folded which further enhances the look. The black leather ankle length uggs are a total steal. The one advantage in wearing shorts is the fact that they define your legs beautifully.
So if you want to grab a look like that, then you just need an eye for style and a hand for dressing and you are good to go.
Image: P R Photos